With the 2013-14 season rapidly coming to a close, the Florida Panthers are looking towards an early summer vacation. Since the 2000-2001 season, the Panthers have only made it to the playoffs once and it is unlikely that they will make the playoffs this year either. Interestingly enough, there is a plus side to this.  Between a few stellar trades and some up and coming young stars, what's next on the horizon for the Panthers might be something to really look forward to. The hard part will be figuring out what, exactly, they need and more importantly, who they need.
If you take a long, hard look at the team on paper, there is a lot of potential and talent. At the top of the list is the team leader (Captain Ed Jovanovski) and newly added superstar goalie, Roberto Luongo, a team and fan favorite. Both were members of the team once before, and both have come back at a critical time. Jovanovski's return in 2011 played a paramount role in getting the Cats to the playoffs that season, and though he's been plagued by injuries and hip surgery, his popularity with his teammates and the fans makes him somewhat indispensable.
Luongo is also a former Florida player who has literally brought a whole new vibe to the team since his being picked up at the trade deadline. With several wins, including playing spoiler with the New Jersey Devils, who are vying for a playoff spot, this is almost a new team. Almost. After a 4-3 loss to Luongo's former team, the Vancouver Canucks, it becomes abundantly clear that something is still missing.
What They've Got
In addition to a few exceptional players, what the Panthers have going for them is lots and lots of talent. Fresh, young, malleable talent. Jonathan Huberdeau, though going through a bit of a slump in his second season, is only 20 years old, but has 27 points and the potential to be a super star. 18 year old Aleksander Barkov isn't playing as well as expected, but his possibilities are endless. There are eight players who are 22 years old or younger, and all of them will be strong, valuable players if the Cats don't get antsy and trade them away. Expect to see names like Nick Bjugstad and Quinton Howden a lot more in the next couple of seasons.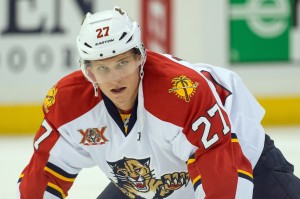 On the veteran side, there's Alternate Captain Brian Campbell, a defenseman who's tied for second on the team in points (32). He's a solid player with both defensive and offensive skills, and a crowd favorite to boot. Alongside Campbell is Brad Boyes (also with 32 points) who has been lighting it up in the last few games. You also can't discount what you get from players like Scott Gomez, despite his only coming up with 10 points so far this season, and Scottie Upshall, who leads the team in points (33). These are the kind of players that bring longevity and teach younger players what teamwork and winning is all about.
What They Need
While there are players with experience, players with talent, and players with a combination of both, the fact remains that the team is light on scoring. Regardless of the specific reasons, the Panthers need a couple of serious scorers without giving up the chemistry they've been building with their young players. As the end of the season approaches, the team needs to look closely at who they can bring in that will get them the goals they so desperately need.
There's going to be a long list of unrestricted free agents at the end of this season, and though some of them were just recently traded so they might not be up for grabs, there is no denying that there have to be a few interesting prospects. One thought might be Jaroslav Halak. At 28, he's got quite a few good years ahead of him, and he's at 28-11 so far this season. Another possibility is Thomas Vanek, who already has 24 goals and 33 assists, and is probably reaching the height of his career at 30. Other potential prospects might include Mike Cammalleri, Marion Gaborik or even a slightly older player like Jarome Igilna, who's 36, but still hot.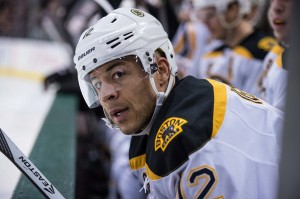 Making A Difference
The big variable will be who they give away to get a player of this caliber. Their rising young stars need time to grow and flourish, and historically, trading them away for more experienced players hasn't been beneficial. Instead, the team needs to focus on finding a couple of high scorers that will round out a growing team who seems to be lacking nowhere except the score board. But they still need to be careful not to let go of the players that represent their future.
Defenseman Tom Gilbert will be an unrestricted free agent as of September. He was signed in September 2013 to a one-year contract and while his future may be up in the air, he's fifth on the team in scoring with 28 points so far (just 5 points less than the team's scoring leader, Scottie Upshall). As another offensive defenseman, it's hard to imagine him being let go.  On the other hand, 36-year-old Scott Clemmensen will also be on that list, and with a save percentage of just .896 and a goals against average of 3.02, his future may be undecided. There's no denying he's been a decent back-up goalie with a 6-6-0 record, but there are probably better options for his cap hit of $1.2M. Finally, Ryan Whitney might be ripe for the trading block with no points at all this season in the six games he's been called up from the team's AHL affiliate, the San Antonio Rampage.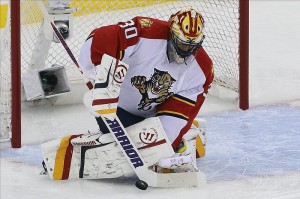 On the Horizon
The Panthers are just a few players shy of having a strong, stellar team with lofty goals and all the pieces to take the NHL by storm. It's a storm that's been brewing for years, but with a few changes, they could be hard to beat.  The change in chemistry just since the addition of Luongo has been interesting already, so finding the right players for the offense could be another huge boost for them. Trades in the off-season are going to be crucial to the team for next year, so hold on to your hats because this could be the team to watch out for!
I'm a born and bred South Floridian who's been lucky enough to wander the U.S. a bit, broadening both my life and writing horizons. I've been writing since I was old enough to form letters, and don't plan to stop any time soon. I have a Bachelor of Science in Communications, two kids, a husband and a house in the suburbs of Atlanta. I worked in the music business for a decade, as a legal assistant for about as long, and was lucky enough to intern for the Manchester Monarchs in the mid-2000s. I like to think I'm well-rounded, but you be the judge.