No, the NHL regular season isn't quite done yet, as the Maple Leafs are currently right in the thick of the Eastern Conference playoff race with less than a month of hockey to go. So, it's not quite time to announce award winners, but, it is absolutely clear that the fate of the Leafs playoff hopes (and playoff position) lies in the hands of two players: Phil Kessel and Jonathan Bernier.
Bernier may be out at the moment with a minor groin injury, but I expect him to be back very soon and his play so far this season has, along with Kessel's, gotten the Leafs into a decent position; just  five points back of 2nd in the division and home ice in the first round. So the question must be asked: who has been more valuable to the Leafs so far this season? And who will be by season's end? It's time to let the debate begin…
@Hope_Smoke kessel is great, 1 of elite players in league, but bernier is the mvp. without his great play, leafs not in playoff position

— Sensärmy_11 (@mlimlo_11) March 13, 2014
https://twitter.com/TdotSportsFeed/status/446462137595338753
New Sheriff in Town: Argument for Bernier as Maple Leafs MVP
Jonathan Bernier was acquired this past off-season in a trade with the LA Kings in which Toronto gave up relatively little. Frattin, Scrivens and a 2nd round pick was all it took to acquire what is now certainly a number one goalie. And it didn't take very long for Bernier to dethrone Reimer: Bernier started five of the Leafs first seven games. But the fact that Bernier overtook Reimer for the starting job is not all that relevant to this discussion. Instead, what is relevant are Bernier's numbers.
Bernier Stops A Lot of Pucks
Jonathan Bernier is currently third in the NHL in saves, with 1,509. Some might say it is because he plays a lot, which is true, as he's 10th in games played at 50. But, he is tied for sixth in save percentage, at .925. and, according to behindthenet.ca, Bernier is first in the NHL in shots against per 60 minutes (5on5) with 32.3, for goalies who have played at least 30 games. (Funny that Reimer faces even more, which, as we all know, proves the Leafs tend to leave their goalies out to dry). Bernier has made 40 or more saves nine times this season, more than any other goalie in the league. He is 6-1-2 in those games. So two things are clear: a) Bernier faces a lot of rubber, and b) Bernier stops a lot of rubber
But does he win games? After all, you aren't valuable to your team unless you win them games.
Jonathan Bernier Wins When He's Peppered
Bernier is 25-16-7 on the year; good, but not eye-popping. However, he is 21-10-5 when facing at least 30 shots, and just 4-6-2 when he faces less than 30. When facing 35 shots or more, Bernier is 13-3-2. This says two things: first, that he is very capable of stealing games for the Leafs, and second, that the Leafs give up 30 or more shots way too often. The fact that he can stand on his head and win games makes a pretty convincing argument for team MVP.
A goaltender's value to his team also means making the timely saves, like this one against Martin St. Louis with the Leafs up 3-2 near the end of the third period:
Would Reimer be able to do the same? Most Leaf fans would say no, given his 11-11-1 record, 3.29 GAA and .910 save percentage. His performance last night against the Lightning made Bernier's value to the Toronto Maple Leafs vividly clear. Reimer, for whatever reason, is not the same goaltender he was last year.  Against Tampa Bay he appeared to be fighting the puck all night, and even the saves he did make appeared to be lucky. Bernier may exude too much confidence at times, but Reimer right now would not be able to lead this team into the playoffs.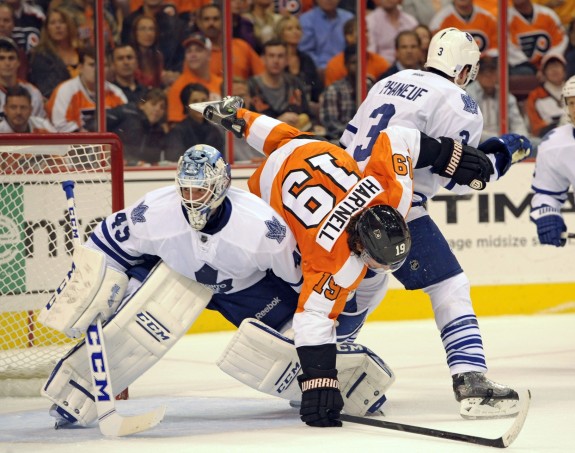 The bottom line is Bernier and Reimer have both faced tons of rubber this season and Bernier has been able to do more with it than Reimer has. Reimer has won 11 of 27 games started (.407 win percentage) while Bernier has won 25 of 44 (.568 win%). Without Bernier, this team would not be in the playoff picture. Period.
In fact, his injury may be a blessing in disguise if he comes back 100% this Saturday against Montreal. To me, it was much needed rest, and having Bernier rested is clearly crucial for this team in the stretch run for the playoffs.
The Case for Kessel for Maple Leafs MVP
Phil Kessel signed an eight-year, $64-Million extension earlier this season, and boy was I happy. Some thought it was a bit much, but in my mind Kessel had proven to be an elite goal scorer in the NHL without star linemates. That was enough for me. And this season, Kessel has simply taken it to another level.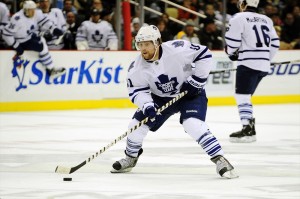 He currently has 74 points, good enough for third in the entire NHL. He is on the verge of his first 40-goal season, sitting at 35 with 11 games to go. His 35 goals have him third in the league, while his six game-winning goals are the fourth most in the league.
Kessel is also incredibly consistent. Though he was in the midst of a four-game pointless streak before last night's game, it is only the second time this year he has gone four games without a point, and he has never gone pointless longer than four games.
Kessel also averages more than 20 minutes of ice time per game, third of all forwards on the team, and barely behind linemates Bozak and van Reimsdyk. It has been clear this season how much this team relies on that top line: as a trio they have combined for the 2nd most points in the league at even strength with 86 (stats courtesy of DobberHockey's Frozen Pool tool, a great fantasy asset). Only the Lucic, Krejci and Iginla line have produced more as a line at even strength. And Kessel is the motor that propels the trio.
Kessel's Value to the Leafs
The next question becomes is Kessel the motor that propels the team? The stats indicate he in fact may.
When Phil Kessel records at least one point in a game, the Leafs are 30-7-6. When Phil Kessel scores a goal, they are 18-5-4. When Phil Kessel records two points or more they are 19-2-2. When Phil Kessel plays well, the team wins.
When Phil Kessel doesn't record a point they are 6-20-2. When Phil Kessel doesn't score a goal they are 18-22-4. When Phill Kessel plays bad, the team doesn't win.
Isn't that the definition of an MVP?
And he isn't just a goal scorer anymore, as it evidence from this beauty of a pass to Paul Ranger:
Season Not Done
The Hart Memorial Trophy in the NHL is often confused with the Ted Lindsay Award (formerly the Lester B. Pearson Award). While the Hart is often given to the best player in the NHL, this is not it's purpose. The Hart Trophy is awarded to the player "judged to be most valuable to his team", not "most outstanding". It's an important distinction, and over the years it has become ever more difficult to determine which players are the most valuable to their team.
So while Bernier and Kessel have clearly both been instrumental to this team's success so far, the nod for MVP will be given to whichever player does more for this team in the final 11 games. Value to a team is determined when the most is at stake. And during the final push for a playoff spot, one of these two will prove more valuable than the other.
Will Bernier come back from injury this weekend and pick up where he left off (5-0-2 in his last eight starts)? Will he stand on his head again and get Toronto more than just a wildcard berth?
Or will Kessel score more than 40 and continue to make his linemates better and better?
Verdict if the Season Ended Today
It's difficult to tell, but if I had to choose one right now, it'd be Kessel, because when he scores, Toronto wins. There's your Maple Leafs MVP.
Agree? Disagree? Let me know below or follow me on twitter @NathanKanter11