It's finally here! NHL 17 has arrived and with it a whole bunch of new modes and customization options. I'll get more in-depth with the game as the season goes along, this piece however, much like my recent Florida Panthers article, will concentrate solely on the Colorado Avalanche player ratings.
Colorado had an up and down season which unfortunately ended quite dramatically for them, missing the playoffs by five points, and losing eight of their last ten.
This year there is cause for optimism, as this group is too talented to miss the playoffs, along with a new coach and system, look for the Avalanche to surprise many. Now let's see what EA Sports' NHL 17 thinks about Colorado and their players.
NHL 17 Individual Player Ratings
Offense = 90 Overall
Forwards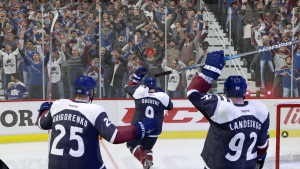 Matt Duchene – 88
Gabe Landeskog – 88
Nathan MacKinnon – 87
Carl Soderberg – 86
Joe Colborne – 84
Jarome Iginla – 84
Blake Comeau – 83
Mikhail Grigorenko – 82
Mikko Rantanen – 81
John Mitchell – 80
Andreas Martinen – 80
Cody McLeod – 80
Gabriel Bourque(PTO) – 80
Rene Bourque(PTO) – 80
Defense = 91 Overall
Defenseman
Sergei Belski-USA TODAY Sports

Tyson Barrie – 88

Erik Johnson – 87
Francois Beauchemin – 84
Eric Gelinas – 83
Fedor Tyutin – 83
Patrick Wiercioch – 83
Chris Bigras – 82
Nikita Zadorov – 82
Goaltending = 89 Overall
Goalies
Semyon Varlamov – 88
Calvin Pickard – 82
Overrated or Underrated?
The biggest thing that jumps out to me is that the Avalanche are especially known for their offense, and absolutely not their defensive prowess. Yet the defense is given an overall rating of 91, while the offense is rated lower!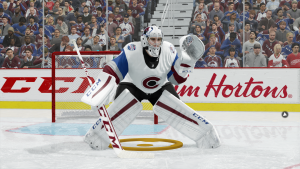 Perhaps NHL 17 is counting on solid defensive structure under new head coach Jared Bednar. They did improve with some under the radar signings on the back-end so we'll see, most teams in these NHL games have pretty high overall scores, so nothing to worry about just thought it was a bit odd.
I think they've given everyone a fair score on the Avalanche, maybe being a little harsh on John Mitchell who should be a bit better than 80. I'd also switch MacKinnon's rating of 87 with Landeskog's 88. Besides that all seems well, no player rated too high or too low really.
What do you guys think? Should certain players have better or worse ratings? Let us know in the comments section below!