NHL 17 was just released yesterday and many Florida Panthers fans are eager to get their hands on it, if only to use the new jerseys. After Florida's impressive season last year, it's no surprise(especially in South Florida) that more fans are now popping up.
I'll take a quick glance at how the new look Panthers players are rated in the game, and you can decide if they are fair or not. Included will be some screenshots I took so you guys can see the new sleek jerseys in action as well.
Not all the Panthers players/prospects are on the team when you go to quick play obviously. So to find out the ratings of their top prospects, you'll have to get into the revamped Franchise Mode. I can't give everything away!
So here is the default lineup for Florida, let's get to it!
Individual Player Ratings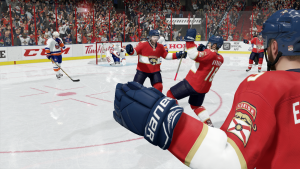 The new jerseys look slick. I got this nice angled screenshot(above) after a goal scored by Aleksander Barkov. You can see the brand new shoulder patch designs up close(which aren't shoulder patches anymore) on Aaron Ekblad's sleeve.
Speaking of Barkov, he unsurprisingly leads the Panthers forwards with an overall rating of 88.
Offense = 89 Overall
Forwards
With the Panthers steamrolling the last few weeks, Aleksander Barkov is a player to watch going forward in fantasy hockey. (Jerome Miron-USA TODAY Sports)

Aleksander Barkov – 88

Jonathan Huberdeau – 87
Jaromir Jagr – 87
Jussi Jokinen – 87
Nick Bjugstad – 86
Reilly Smith – 85
Vincent Trocheck – 85
Derek MacKenzie – 81
Colton Sceviour – 80
Jonathan Marchessault – 80
Jared McCann – 80
Logan Shaw – 78
Shawn Thornton – 77
Greg McKegg – 74
Defense = 90 Overall
Defenseman
Aaron Ekblad – 87
Keith Yandle – 85
Jason Demers – 84
Alex Petrovic – 82
Mark Pysyk – 82
Jakub Kindl – 81
Steven Kampfer – 80
Goaltending = 90 Overall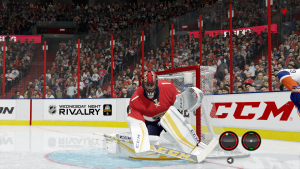 Goalies
Roberto Luongo – 88
James Reimer – 82
Reto Berra – 78
Overrated or Underrated?
Since the Panthers are coming off one of their most successful seasons to date, it was likely that we'd see an improvement when it came to the player ratings, and we have.
With all NHL games, you'll have some players who are overrated and some who are underrated. In Florida's case, they got it down pretty well. Players like Trocheck and Smith may be considered overrated based upon only one season of success, and if they are, it really isn't by much, maybe a point or two.
I found it interesting that Marchessault and McCann each received an 80 overall rating without having played much NHL hockey yet, but they are promising youngsters, and these NHL games take those kids seriously(see Trocheck)!
Overall, NHL 17 has gotten the ratings right and playing with the Panthers is now a lot of fun, which hasn't been the case in past years. It's a testament to what the Panthers organization has done in real life, by going from a cellar dweller into a true competitor.
What do you guys think meow? Are these ratings spot on, completely wrong, or somewhere in the middle? Let us know in the comments section below!