Each year, a small group of individuals take a giant leap towards stardom in the NHL. While top tier prospects like Auston Matthews and Patrik Laine are able to have an immediate impact upon arriving in the league, many players take upwards of three years before establishing their true mark on the NHL.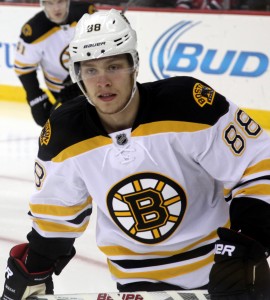 The 2016-17 edition of the NHL's breakout stars included David Pastrnak, Mikael Granlund, Viktor Arvidsson and Jaccob Slavin. All four had a few years of experience in the league and were known for their potential. However, it wasn't until last year that they exploded for success, and even dominance, in the NHL.
Forecasting a breakout for young players who have yet to show the necessary consistency and dynamic ability is a tough task. While the potential is visible as a result of draft position and junior performance, breakout seasons are a product of several variables that are fluid from player to player and team to team.
When considering this list of candidates for the 2017-18 season, remember that only non-rookies are recognized. Also, players who have already established a near point-per-game rate will be considered stars of the league prior to this upcoming season, and therefore, no longer eligible to breakout.
5: Anthony Mantha – Detroit Red Wings
Age: 22
Position: RW/LW
Size: 6'5″, 214 pounds
Drafted: 20th overall in 2013
2016-17 Stats: 17 goals and 36 points in 60 games.
Drafted from the Val-d'Or Foreurs of the QMJHL, Anthony Mantha loaded up the hype train in his first post-draft year. After netting 50 goals in 67 games during his draft season, Mantha bettered those numbers to an astounding 81 goals and 158 points over 81 regular season and playoff games in 2013-14.
The following year, Mantha made the jump to the AHL, where Detroit Red Wings senior vice president, Jim Devellano, expected big things. After posting a respectable, yet underwhelming, 33 points in his rookie campaign Devellano reflected on Mantha's performance calling it, "very, very, very disappointing."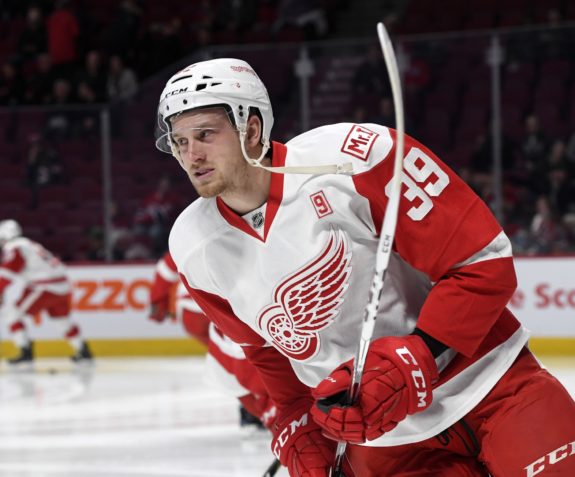 Well, flash forward two years and Mantha is back on track as one of the Red Wings' top prospects. To begin the 2016-17 campaign, Mantha tallied eight goals in 10 games with the Grand Rapids Griffins. He was then called up to the Red Wings where he played his way into the lineup for the remainder of the season. By year's end, Mantha had solidified his spot in the top-six, finishing sixth in points on the team and averaging nearly 16 minutes of ice time per game.
Heading into 2017-18, Mantha is more prepared than ever to hit the ground running. With a year of experience under his belt, Mantha will be given ample opportunity to become a consistent difference-maker in the Wings' top-six, as well as on the power play. After playing at a 23-goal, 49-point pace last season, which would have ranked second on the team in both categories, Mantha will be relied upon to produce offence. The 22-year-old could realistically reach the 30-goal, 60-point plateau depending on the team's quality of play.
4: Robby Fabbri – St. Louis Blues
Age: 21
Position: C/LW
Size: 5'10", 194 pounds
Drafted: 21st overall in 2014
2016-17 Stats: 11 goals and 29 points in 51 games.
Riding a tremendous playoff and Memorial Cup performance in 2014, Robby Fabbri tallied a combined 60 goals and 121 points during his NHL-Draft year. He returned to the Guelph Storm for an additional year, adding 25 goals in 30 games, including a World Junior gold medal before jumping directly to the St. Louis Blues in 2015-16.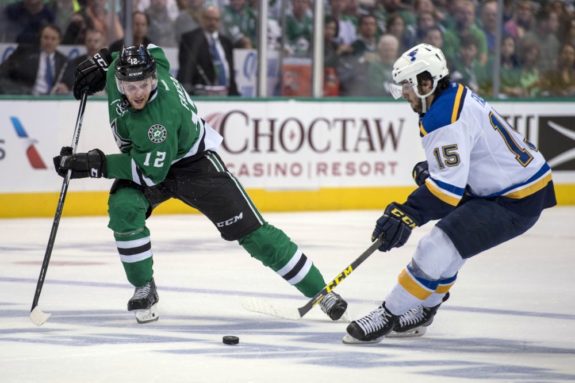 After making a positive impression during his rookie season, including a 20-goal, 20-assist pace, Fabbri's sophomore season was cut short due to an ACL injury. Known for his speed, he transitioned into the NHL relatively easily, slotting right into the Blues' third line center spot. Over the course of his two-year career, Fabbri has played to a 19-goal, 44-point pace and his 47-point pace during 2016-17 had him on track to rank fourth among Blues forwards in points.
Entering 2017-18 on a healthy note, Fabbri should be able to crack the second-line center role. With the addition of Brayden Schenn, the Blues' top-six has great potential to put up strong numbers all around. As a result, Fabbri is on track to be a top breakout candidate so long as he remains healthy. The 21-year-old will also gain valuable power play time, giving him another opportunity to boost his offensive production. Seeing Fabbri's numbers jump to a 25-goal, 60-point campaign in 2017-18 would not be surprising.
3: Ivan Provorov – Philadelphia Flyers
Age: 20
Position: LD
Size: 6'1″, 201 pounds
Drafted: 7th overall in 2015
2016-17 Stats: 6 goals and 30 points in 82 games.
Ivan Provorov fell into the Flyers' lap at the 2015 NHL Draft after posting more than a point-per-game rate in his first year in the WHL. The mature Russian was one of the last cuts at training camp in 2016, but ultimately went back to the Brandon Wheat Kings for one more year. He improved his offensive numbers and logged huge minutes en route to being named the CHL Defenceman of the Year.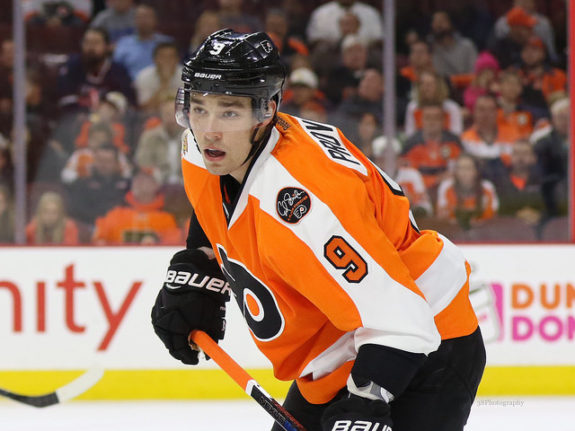 The Flyers could delay Provorov's debut no longer, as he would play an integral role for the team during his rookie season in 2016-17. After quickly proving his ability to thrive at the NHL level, Provorov's minutes continued to climb. By year's end, he led all Flyers' defencemen with an average of 21:58 minutes per game. His 30 points also ranked second among Flyers defencemen. As a result of his strong play, the 20-year-old finished ninth in Calder Trophy voting.
Looking forward to 2017-18, Provorov's responsibilities will only continue to increase as he becomes a star in the league. Already relied upon as the team's top defender, Provorov should see increased power play time as well as more freedom to play his two-way style. Showing his offensive abilities throughout his junior career, it's only a matter of time before they translate to the NHL. Expect Provorov to not only push 50 points in his sophomore season, but become a menacing defender who can dominate the game at both ends of the ice.
2: Brayden Point – Tampa Bay Lightning
Age: 21
Position: C
Size: 5'11", 165 pounds
Drafted: 79th overall in 2014
2016-17 Stats: 18 goals and 40 points in 68 games.
Despite piling up 36 goals and 91 points in his draft year, Brayden Point slipped all the way down the draft board into the third round. He would return to junior with the WHL's Moose Jaw Warriors for an additional two years, increasing his points per game rate each season. Point captained his team in back to back years and was a key piece of Canada's World Junior squad each of those years.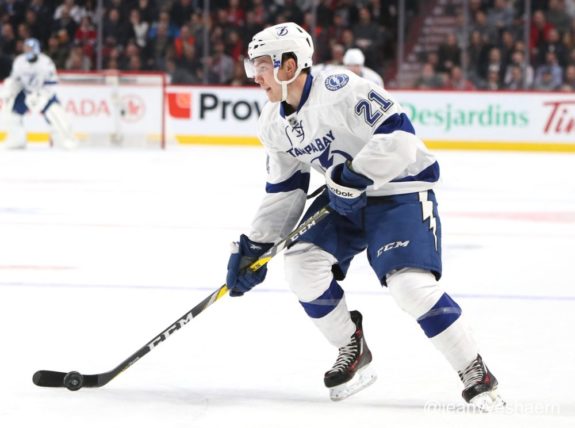 In 2016-17, the 21-year-old made his NHL debut with the Lightning. Point quickly rose up the team's lineup and into a consistent top-six role with time on the second power play unit. While the centerman uncharacteristically struggled in the faceoff dot, he was a key contributor to the Lightning's offence. By year's end, Point racked up 18 goals, fifth most on the team, and 40 points, sixth best, for a 48-point pace over 82 games.
Entering the 2017-18 campaign, Point will see an increased role with higher expectations. With the loss of Jonathan Drouin, Point will be looked to as one of the team's most effective producers. More time on the ice, both at even strength and on the man advantage, will spell an increased rate of production for the young Canadian. After finishing 10th in Calder Trophy voting, Point is in a position to become a game-changer for the high-flying Lightning. Fitting in with the team's level of speed and skill, Point could be looking at a 20-goal season with upwards of 60 points.
1: Alexander Wennberg – Columbus Blue Jackets
Age: 22
Position: C
Size: 6'1″, 198 pounds
Drafted: 14th overall in 2013
2016-17 Stats: 13 goals and 59 points in 80 games.
The young Swede is quickly becoming one of the most dynamic playmakers in the league today. Think, the next Nicklas Backstrom. Drafted out of Allsvenskan, Wennberg made the jump to the SHL in his first post-draft year, leading all U20 players with 16 goals. He also captured back-to-back silver medals at the World Juniors, playing a key role on a skilled Swedish squad.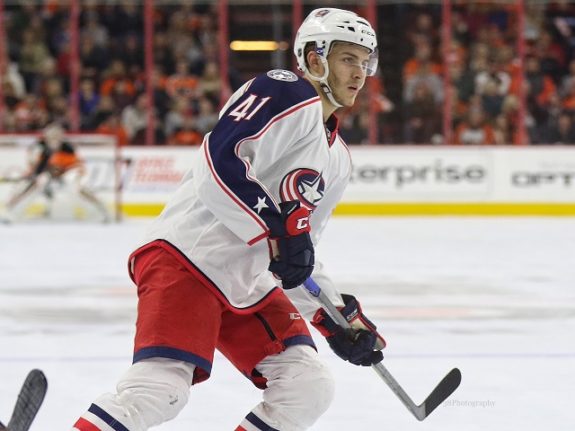 In 2014-15, Wennberg made his NHL debut. He has made great strides in each of his three NHL seasons, bumping his point totals from 20 to 40, and now 59. This past season, Wennberg earned a role as one of the Blue Jackets' most heavily relied upon forwards. The 22-year-old ranked second in team points, three behind Cam Atkinson, and was second among forwards in time o the ice playing 18:22 a night, just three seconds less than Nick Foligno.
Heading into the 2017-18 campaign, Wennberg is slated to slot into the first-line center role. He will see valuable power play time on the team's first unit as well. Most significant, will be the likely addition of Artemi Panarin on his wing. Acquired from the Chicago Blackawks, Panarin has surpassed 30 goals and 70 points in his first two NHL seasons. He's also added a total of 41 power play points in that time. As a result, Wennberg will find the perfect beneficiary to his speed and playmaking abilities, ultimately offering a tremendous boost to his offensive production. We could easily see a 20-goal, 75-point campaign from Wennberg this year.
Contributor for the Toronto Maple Leafs and Prospects. Scout with the Oakville Blades of the OJHL. For questions, concerns, or comments, contact me at devinslawson123@hotmail.com or on twitter @SlawsonTHW.