by Eldon MacDonald (edited by @ChrisRalphTHW)
The annual CHL Top Prospects Game is only one game in the season but many times it has been a harbinger of what's to come in the remainder of the season for many of the participants. Here are my 10 thoughts on some of the prospects from this year's game.
Pierre-Luc Dubois – Trending Up
6'3, 202, C/LW, L, Cape Breton, QMJHL
Rankings: Central Scouting Combined – 10; E-Mac – 11
2015-16: 47-30-38-68 +21
Yes, I was a little slow in showing my love for Pierre-Luc Dubois earlier in the season. I was worried that he and Michael McLeod were not showing the offense necessary to justify their lofty position in some of the early rankings. However, Cape Breton Coach and General Manager, Marc-André Dumont, solved my dilemma by putting Pierre-Luc with two top-notch offensive players, Russian imports Maxim Lazarev and Evgeny Svechnikov. Not only did the results start to show but the offensive flourish trended upward as well.
The goal that he scored in the CHL Top Prospects Game is indicative of Pierre-Luc's game now: opportunistic, big-man, up tempo, offensive flourish, drive to the net, and finish. He didn't neglect his defensive game either as he took a few of the key defensive zone face-offs at the end of the game. Most scouts were probably well aware of how good Pierre-Luc was before the game. I suspect, however, that the game will be a nudge to move him up a rung or two. For me, he was the player of the game – big man, speed, flourish, defense – what's not to like (plus 2nd in off-ice testing at the Top Prospects Game). Watch the game a second time and you start to really notice what a dominant game Pierre-Luc had.
https://twitter.com/WillyPalov/status/693564950179135489
Pascal Laberge – Trending Up
http://gty.im/507347914
6'1, 162, C, R, Victoriaville, QMJHL
Rankings: Central Scouting Combined – 39; E-Mac – 41
2015-16: 37-14-27-41 -6
Earlier in the season, I had relegated Pascal to late second or third round in the rankings. This was due to his average production, rail thin physique and his penchant for injury, breaking his hand twice. However, Pascal showed in the Top Prospects Game why he was chosen 2nd overall in the 2014 QMJHL entry draft, scoring two goals and adding an assist in addition to being named the official player of the game for Team Orr. Hopefully, he will remain injury free and sustain the level of play that he displayed in the Top Prospects Game for the remainder of the season. He has the offensive capability to sneak into the bottom half of the first round if all continues to go well. He is the player whose stock most improved as a result of the Top Prospects Game. He will need to add some weight and strength to succeed at the next level to reduce the likelihood of injuries and to be more assertive in defensive battles.
Logan Brown – Trending Up
6'6, 222, C, L, Windsor, OHL
Rankings: Central Scouting Combined – 17; E-Mac – 14
2015-16: 39-9-36-45 +20
Logan Brown is a player that I had in the top ten earlier in the season. He had all the physical tools – size, strength, decent but not breakaway speed, good although seldom used shot, formidable net presence, and the ability to dominate in board battles. However, the mental tools that lead to consistency and drive were not always present. Often he would make a brilliant NHL calibre play in a game and then go among the missing. I think Windsor General Manager, Warren Rychel, may have found a solution to the Logan Brown enigma much like his Cape Breton counterpart Marc-André Dumon, did for Pierre-Luc Dubois. Before the OHL trade deadline, Warren brought in the super pest and supercharged Brendan Lemieux. Brendan has publicly stated that he will dedicate himself to bringing the most out of his new linemate, Logan Brown. Judging by the over the top celebration that Brendan showed when Logan scored his first goal with him, I will take him at his word. The results so far are impressive even if the sample size is low – 9 points in the last 4 games plus a goal and one of his best games this season in the CHL Top Prospects Game. If Claude Lemieux's little boy (Brendan, 6'1, 210) can bring out the most in Jeff Brown's little boy (Logan, 6'6' 222), then Logan will find himself in everybody's top ten including mine.
Sean Day – Trending Up
6'2, 224, D, L, Mississauga, OHL
Rankings: Central Scouting Combined – 56; E-Mac – 44
2015-16: 38-3-11-14 -9
Sean Day has been this season's whipping boy. Blessed with a linebacker's frame and a running back's speed, Sean Day was good enough to be granted exceptional status to join the OHL at the age of 15. His play lately has often been anything but exceptional – the drive and the focus often seemed to be missing. However, Sportsnet recently published an article on what may be part of the Sean Day lack of drive and focus puzzle. In the article, Sean Day described his feelings and reaction to his brother being sent to prison for a DUI conviction resulting from a fatality. Hopefully now that Sean has opened up about this traumatic part of his life, he will be able to deal with the situation better and focus on the hockey part of his life. The CHL Top Prospects Game was Sean's first game after the article came out. It was one of his best games of the year. He showed off his elite mobility and was good defensively as well.
Mikhail Sergachev – Trending Up
6'3, 206, D, L,, Windsor, OHL
Rankings: Central Scouting Combined – 13; E-Mac – 7
2015-16: 47-13-24-37 +10 (Note: slightly over a point a game in the last two months)
OK, I know that most people have Jeff Chychrun or Olli Juolevi as the top defenseman in the draft. However, the more games I see him, it's getting increasingly more diffcult not giving top billing to Mikhail Sergachev. He has the size, the elite hands, and elite shot that scouts drool over. What excites me even more is he is starting to show an elite drive to the net that is rare even among NHL defensemen. He didn't have a dominant CHL Top Prospects Game but he wasn't bad either.
Mikhail Sergachev unleashes a bullet from the point, 13th of the season for the top #2016NHLDraft prospect. https://t.co/wtqTrf59GS

— Kathryn Jean (@msconduct) January 31, 2016
Logan Stanley – Trending Up
6'7, 220, , L, Windsor, OHL
Rankings: Central Scouting Combined – 29; E-Mac – 25
2015-16: 45-5-10+15 +9
It's hard not to like a 6'7 defenseman with decent skating, a big shot and who seems to be getting progressively better every game lately. He didn't stand out particularly at the CHL Top Prospects Game which for a defensive defenseman is generally a good thing. Like his teammate, Logan Brown, Logan seems to have upped his game since the arrival of the infant terrible, Brendan Lemieux.
Lucas Johansen – Trending Up
6'1, 174, D, L, Kelowna, WHL
Rankings: Central Scouting Combined – 48; E-Mac – 48
2015-16: 46-7-21-28 +8
Lucas Johansen, younger brother of Ryan Johansen of the Nashville Predators, said before the game that he wanted to play an efficient, Duncan Keith-like game. Lucas succeeded in his goal as he was very strong defensively and made some nice passes. If he were to get a little bit bigger and stronger, he would push for a late first round. As is, he has a fairly solid lock on being drafted in the 2nd round.
Lucas Johansen: the making of an NHL prospect #ProspectsGame https://t.co/1Ny77I9xEO via @theprovince

— Steve Ewen (@SteveEwen) January 28, 2016
Julien Gauthier – Trending Stationary
6'4, 225, RW, R, Val D'Or, OHL
Rankings: Central Scouting Combined – 7; E-Mac – 9
2015-16: 35-33-10-43 +21
Julien Gauthier showed in the CHL Top Prospects Game why scouts rank him so high. No, he didn't score but he showed (at least twice) his dominant big-man power move to the net that caused a lot of consternation from the opposition as well as good scoring chances. Julien is your big-man power forward who plays a North-South game. He is not a physically punishing player but protects the puck well and battles hard for the puck. Despite his underwhelming number of assists, he is not a bad passer. Julien is that big man who succeeds in getting to the net that many teams are missing.
Michael McLeod – Trending Stationary
6'2, 188, C, R, Mississauga, OHL
Rankings: Central Scouting Combined – 9; E-Mac – 10
2015-16 – 46-19-34-53 +8
Don Cherry told Sportsnet.ca after the Top Prospects Game, McLeod has a "long, long future in the NHL." I don't usually agree with Don Cherry but this time I do. Michael MacLeod is this year's every coach's dream player. He possesses all the hard skills, all the soft traits and does whatever the coach asks of him. He usually scores an "A" or "A+" in the eye test of most games like he did in the CHL Top Prospects Game. Everybody loves his acceleration and his separation speed. The conundrum that I have in ranking Michael McLeod is that his offensive results are just ordinary for a guy with so many skills in spite of playing usually with two other likely first rounders, Alexander Nylander and Nathan Bastien. I have no doubt Michael will be a solid NHL player but the question remains – Is this a solid second line player or is this a solid third line player who can play second line occasionally?
I thought Michael McLeod had a fantastic game. Had some great zone entires (speed, strength), but was also great defensively.

— OHL Prospects (@BrockOtten) January 30, 2016
Jakob Chychrun – Trending Down
6'2, 215, D, L, Sarnia, OHL
Rankings: Central Scouting Combined – 5; E-Mac – 5
2015-16: 43-7-24-31 +10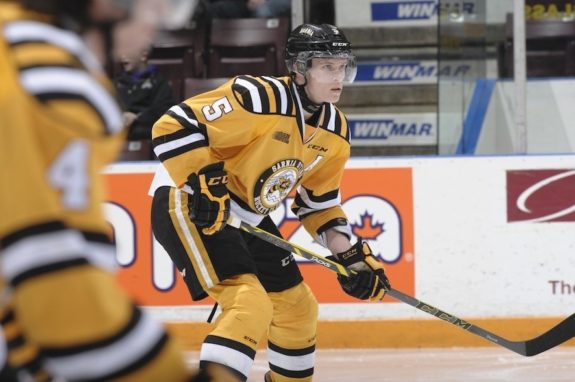 Here is the situation with Jakob Chychrun: his abilities and style of play evoke memories of Aaron Ekblad, a player good enough not only to go number one in the 2014 entry draft but also good enough to be a NHL impact player with the Florida Panthers right away. Jakob Chychrun has been a very good player for Sarnia, a player most if not all coaches would love to have on their team. He is an impact player – size, skating, shot, drive, defense. The trouble scouts have with Jakob Chychrun is similar what General Managers have when a player does not play up to his CAP value. Jakob has been good, maybe even very good this year, but he has not met the expectations of scouts coming into the year – mainly his offensive contributions but a little bit in his physicality too. The CHL Top Prospects Game, in which he had a minus 2 rating (love or hate the plus-minus stat), is an indication of why he is trending downward. He wasn't particularly bad but he didn't live up to expectations either. Jakob will have to pick up his game or his current ranking in the range of 2 to 5 in most lists will likely fall to 6 to 12. The season is not over so Jakob still has time to prove that the scouts were right in determining his value at the start of the season. An illustration of the potential of Jakob Chychrun – he led the off-ice testing component and was second only to his teammate Jordan Kyrou in the on-ice testing portion at the Top Prospects Game.