For as long as professional athletes have played the sport of hockey, a battle has been raging, an ongoing arms-race pitting performance against safety. And with injuries to players last season, like Bryan Little of the Winnipeg Jets and the New York Islanders' Johnny Boychuk looking to be of the career-ending variety, it's becoming clear that performance has reached the point where it far outstrips safety.
Costly Examples in the NHL
During a game against the Montreal Canadiens, Johnny Boychuk sliced his eyelid on a falling player's skate doing something as routine as clearing opposing forwards away from the crease. Throughout his 13-year career, he had done this without incident multiple times a game. This one ended with him ultimately calling it quits prematurely as he deals with permanent eye damage. And his visor? Well, it didn't do him many favours on the play.
And as for Bryan Little, he was skating behind the net when a blast from the point by his own teammate missed high and wide and struck him in the ear. The worst part? His injury could have been almost entirely mitigated by using ear guards—something few players employ in their standard safety gear.
I kind of kick myself over how much those could have saved me, having those in. Where the puck hit me, it's crazy, it didn't even touch my helmet, it hit perfectly in that ear hole. I would recommend everyone wear them after what happened to me.

– Winnipeg Jets forward Bryan Little
Have NHL Players Forgotten the Ultimate Lesson?
Of course, the ultimate example remains that of Bill Masterton 52 years ago. Still the only NHL player to die directly because of an on-ice incident, the league awards a trophy to a player annually in honor of him. Masterton was taken off life support less than two days after receiving a check that knocked him to the ice onto his head. Like most players of the time, he was unhelmeted—though helmets were available.
Today's players are often similarly cavalier with their safety equipment. One has to wonder if Masterton's example has faded from the league's collective consciousness and no longer serves as a cautionary tale to curb a player culture that scorns anything that isn't "tough" enough.
And as unconscionable as it might be for millionaire athletes—and the league that profits off of their abilities—to so poorly prioritize player safety, their focus on performance is understandable. It's what puts butts in seats and keeps eyes glued to screens. Safety isn't sexy. Powerful shots, hard hits, razor-sharp blades flying fast—these are the reasons people pack arenas to watch hockey games (or at least they did before the pandemic).
At All-Star games and team skills competitions, the events that measure these are always the biggest draws. But a horrific injury or even worse seen by thousands live and then streamed online to millions more has the potential to drive fans away, especially more casual viewers of the game. 
Calgary's History of Horror
Calgary Flames fans are no strangers to seeing horrific injuries to their favorite players that show the gaps in their protective armor. Some may remember a pushed Daymond Langkow pitching forward into an Ian White point shot and breaking a vertebra in his neck in 2010. (I remember it vividly; he was the first Flames player I ever met.) 
More recently, Johnny Gaudreau suffered a broken finger against the Minnesota Wild in 2016 on a slash. Or 21—but who's really counting? This forced him to use modified gloves going forward. (from 'Equipment tweaks let Flames forward Johnny Gaudreau return to lineup early,' Calgary Herald, 12/05/2016)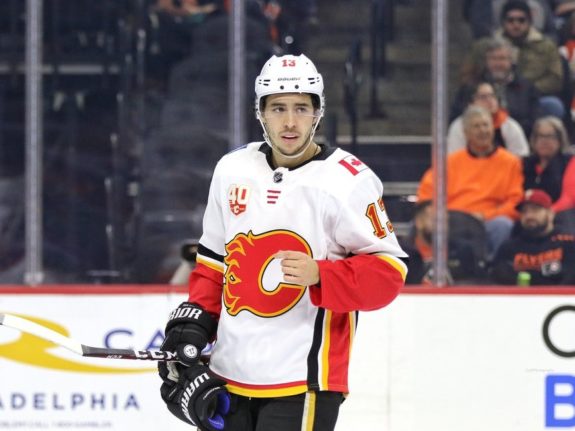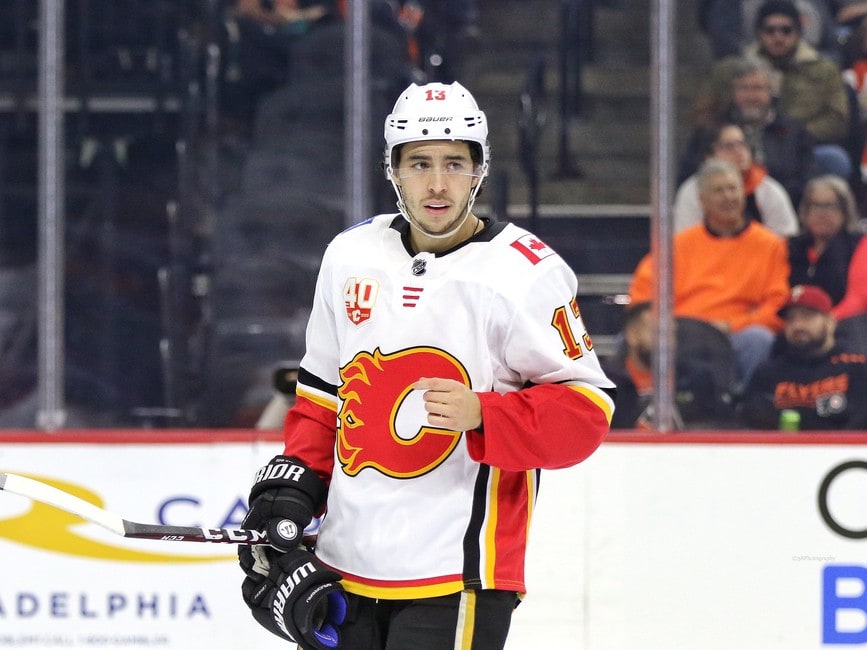 The list goes on, both league-wide and with Calgary connections. Most famous of all is likely the case of Alberta native and recent Flames goaltending coach Clint Malarchuk, whose throat was slashed by a skate blade while playing net for the Buffalo Sabres in 1989. The incident was said to be so traumatic at the time that fans were seen passing out in the stands and players became sickened on the ice. 
What Has the NHL Done to Protect Players?
All this, of course, begs the question: Why aren't the league and players doing more to protect themselves? 
Now, the league has taken small steps in recent years. Its emphasis on enforcing rules against late and blindside hits is a positive. Awareness has increased in supporting players with concussion issues—both with physical recovery and subsequent mental health issues. Furthermore, one of the newest rule changes no longer allows players who lose their helmets to remain on the ice. Even Flames fans can likely agree that this is a step in the right direction, chagrined as they might be that they'll never again see anything like "The Shift" by Jarome Iginla in the 2004 Playoffs. 
But despite rule changes, concussion protocols, and precautions implemented, the worst-case scenario cannot be prevented until the safety equipment itself is enhanced or overhauled—and the players change how they use it. 
Flames Hero at Risk?
Though nearly every player is lax with their safety equipment, one of the prime culprits on the Flames is Sean Monahan. While watching a Flames game, marvel at just how little No. 23's visor actually protects his face. Despite the instincts and experience each player cultivates before they ever reach the highest level, the game of hockey is fast, and things can happen in a blink.
Combined with the loose chin strap—characteristic of every NHL player—there is enough give in Monahan's gear that the worst-case scenario is too ugly to even consider. And much more likely, he is open to suffering the same injury Johnny Boychuk did last season. Losing a player and person of Monahan's caliber to injury or worse would be devastating for the Flames and the city. Not only is he the team's number one center, but is a role model and example to thousands (he's even my own young son's favorite player).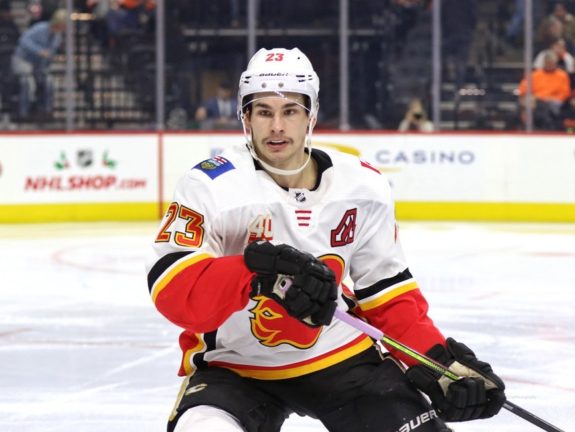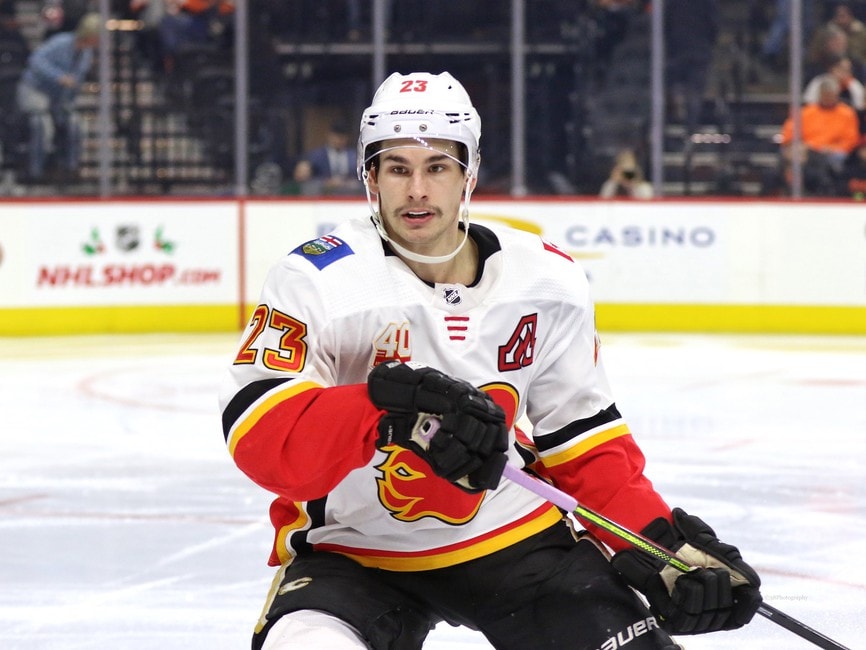 The solution to this? Mandate a league-wide increase in safety equipment requirements. Cut-resistant kevlar fabrics for the neck and wrists. More padding for players. Larger, longer visors for all, with no exceptions for long-time players who were grandfathered into the last visor rule changes—though somebody else can tell hulking Zdeno Chara he has to put a visor on, lest a puck deflecting somewhere way up near the rafters strikes his face.
For Boychuk, his eye injury could have been prevented with a longer visor, or even a snug chin strap designed to keep his helmet from migrating too far. And though it feels foolish to even suggest it to anyone playing at a higher level than your local beer-league, a full cage or face shield would reduce injuries like this to zero.
Players wearing no facial protection were twice as likely to be injured as players wearing a half-visor, and seven times more likely than a player wearing full facial protection. The risk of eye injury in players wearing no protection was 4.7 times higher than players wearing partial protection. No eye injuries occurred in players wearing full protection.

– Mark Steven Lloyd Web, St. George's, University of London
Failure to implement these changes and more will result in dire consequences, given enough time. The precedent is already set. 
After the Flames faced the Columbus Blue Jackets in Columbus in 2002 and a puck leaving play struck a young fan and killed her, the league took measures to ensure the safety of attendees by ringing the glass with protective netting. Because of this, we already know that pucks fired in the NHL can kill. With a frozen rubber disk moving faster than 100mph, it's a wonder it hasn't happened more. 
Don't Expect the NHL or Players to Change Their Ways
So the potential for catastrophe is there; the league's policies have proven themselves to be reaction instead of action. Every year, we see stronger, lighter sticks and players that can shoot harder. We see bigger hits. We see faster athletes at a physical level unmatched in prior eras of league history.
This is building into a perfect storm where the players' performance on the ice is the very thing endangering their safety. This is especially true given a league culture so set in its ways and slow to change, and a Players Association that has consistently shown itself to be more interested in protecting players' rights instead of protecting its players.
So before the league and today's players really take the dangers of the sport more seriously, will they first need a deadly example?
---
---