The season is halfway through and there is finally a clearer separation of who will be favorites to win the Stanley Cup and who will be favorites to land McEichelfiner at the draft. The middle of the pack is as muddied as it has always been but the top dogs are already baring their teeth and getting their warm up reps in.
The East is led by the youthful and exuberant Tampa Bay Lightning as well as the resurgent New York Islanders. Not far behind are the Pittsburgh Penguins who have been perennial Cup favorites since Sidney Crosby first complained to a ref about a missed high sticking penalty.
Out west, where the sun is brighter and the mojitos have more kick to them, the not-so-western Nashville Predators and Anaheim Ducks are making the other 12 teams marvel at their majesticness.
Teams at the top of the standings might be reluctant to make a big splash at the deadline because they don't want to risk messing up the chemistry that has led to their success all year. So, below is a list of teams who would do well to boost their lineup to keep up with the lead of the pack with whatever scraps they can find from the bottom-dwellers.
The 2015 NHL trade deadline is March 2nd
Buyers
Vancouver Canucks
The Canucks sit third in their division but things are tight between them and the teams fighting for the two wild card spots. One losing streak and they could easily see themselves out of the playoff picture.
With that said, if the teams trying to climb over each other to reach the wild card position continue to beat each other up, the Canucks look like they will be back in the postseason after a one year hiatus.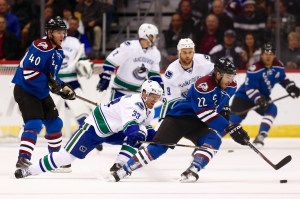 To improve their lineup, they will be targeting a puck moving defenseman and a top-six left winger for their second line. Currently, the Canucks are a one-line team. Their second line needs a big boost if they want to be contenders and not pretenders.
Assets that fans could stand to lose to improve their team for a Cup run includes promising prospects Hunter Shinkaruk, Brendan Gaunce, and draft picks outside of the first two rounds.
Winnipeg Jets
The Jets are in possession of one of two wild card spots and ahead of the San Jose Sharks by one point. If there are any additions to their team this year at the deadline, it would also be preferable if the additions somehow fit into the Jets' long-term plans.
At the top of their list is an upgrade from their current third line right winger, Matt Halischuk. Halischuk so far this season only has six points in 31 games. The Jets would like to see Halischuk bumped down to their fourth line and someone to take his place on the third line with Evander Kane and Adam Lowry.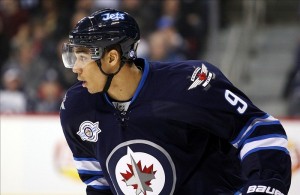 Next on their list, and this one might be a bit harder to acquire, is a second pairing left-handed defenseman for Dustin Byfuglien to play with. If they can find such a player in this year's trade market, it would allow them to ice a deadly top-four.
Additionally, the Jets would like to do a complete overhaul of their fourth line. Jim Slater, Anthony Peluso, Chris Thorburn, and TJ Galiardi are simply not getting the job done no matter how you put them together. Combined, they have a total of nine points.
The Jets' farm system is one of the better ones in the league and they could stand to lose their draft picks this year but as strong as the draft class is, it would be hard to see the team want to part ways with their first round pick for nothing short of a sure thing. However, their second round pick, as well as prospects like Lowry, Chase De Leo, and Brenden Kichton are fair game.
St. Louis Blues
Out of the teams listed, the Blues are probably in the best position right now to compete for the Stanley Cup without making any adjustments to their roster. But in today's cap era, no team has the perfect roster and everyone always has an area of weakness they would like to see addressed.
For the Blues, they would be a more confident bunch if they can find an upgrade to their third line winger, Patrik Berglund. Berglund, the Blues' first round pick from 2006, currently has 15 points in 41 games while playing with Paul Stastny and Dmitrij Jaskin. An upgrade would allow the Blues to drop Berglund to the fourth line.
In addition to an upgrade over Berglund, a more physical top-four left handed defenseman to pair with either Kevin Shattenkirk or Alex Pietrangelo to help repel any hard-hitting forecheckers like those of the Los Angeles Kings, would be a welcome addition to the team.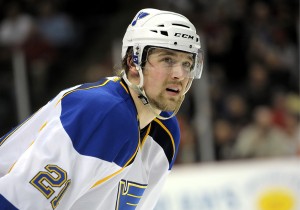 The Blues roster is good as it is and only minimal changes should be made. Any trade pieces going the other way would have to be non-roster players or draft picks. The Blues also have the rights to Vladomir Sobotka that might intrigue some teams willing to take the risk and willing to pay his asking price.
Montreal Canadiens
The Canadiens are often joked about as a very soft team and those who would dare poke fun of the NHL's most storied franchise might have a point. Habs fans would like to see their team acquire a top-six winger with some meat on his bones and a toughness to his game. They already have their fair share of soft perimeter players. What they are lacking is someone who is willing to drive to the net and play in the dirty areas.
Likewise, their blueline could use a player from the same mold. A second pairing defenseman with size and a physical edge was on the team's Christmas list but Le Pere Noel did not deliver.
If Marc Bergevin is not too busy at the shopping mall this spring looking for some colorful swimshorts to pair with his fedora, maybe he should take a look at the trade market and see what kind of players he can pick up with David Desharnais, Michael Bournival, and some draft picks to shop with.
Detroit Red Wings
The Red Wings haven't had much luck the past few summers attracting top free agents to sign with their team so maybe it's time for them to look to the trade market for both short and long-term solutions to their weaknesses. If they want to be properly rated relative to their rivals in the Eastern Conference they are going to need to improve the right side of their defense. Preferably with someone who doesn't treat the puck as if it were a hand grenade.
A name that has been thrown out there quite a bit has been Jeff Petry of the Edmonton Oilers. A trade for Petry would not only give the Red Wings their top-four right shooting defenseman for the playoffs but for many years down the road as well.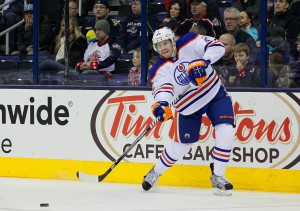 Petry, an Ann Arbor native, will be an unrestricted free agent this summer but by trading for him the Red Wings would give themselves a head start at negotiating a contract extension.
Assets they could offer the Oilers include Tomas Tatar, their second round pick, and any defensive prospects from Grand Rapids.
Sellers
Carolina Hurricanes
Hockey fans don't look too happy in Raleigh these days and it's all because of the Hurricanes. It looks as if the team has given up on trying to win anymore games for the rest of the season. That's bad for the fans but good for other teams because the Hurricanes have two players in their lineup that teams will be trying their hardest to acquire.
The first player teams will be trying to steal from the Hurricanes is Jay McClement. The Kingston native's days of putting up 25 or 30 points a season are over but his penalty kill and defensive game are still top notch. He makes a good addition for any team's bottom-six especially in the playoffs where your third line is vital to winning games. His cap hit is so low that any team looking to add will have an easy time squeezing him in.
Andrej Sekara is another Hurricanes player who is on a bargain contract. Cap hit is very important as Cup contenders usually are spending close to the salary cap as it is. At just 28 years of age, Sekara is ready for his big payday but before someone opens up their wallet to him, he will be a great deadline acquisition for a team looking to get the most bang for their buck.
Both McClement and Sekara are set to be unrestricted free agents this summer.
New Jersey Devils
No one has a clue what Lou Lamoriello is doing with the Devils these days but since losing to the Kings in the 2012 Stanley Cup Finals the team has been in a state of disarray from the top to bottom. Losing Zach Parise and Ilya Kovalchuk didn't help the state of the franchise but that's old news and the team has to look to the future to see any bright spots.
Jaromir Jagr signed two contracts with the Devils but unless he is offered an exorbitant amount of money to stay another year it may be time for him to ask for a trade out of the Garden State to seek that last Cup win of his career. He isn't putting up mind blowing numbers this year but he is leading the team in scoring at the age of 42. On a team with other players who can do the heavy lifting offensively, he can be a very good passenger and complimentary player.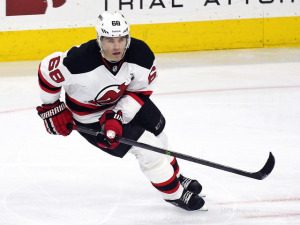 Another player on the Devils roster that could garner some significant interest is Jordin Tootoo. Tootoo's past problems have been well documented but to his credit he has been trying to get his life and career back on track for a while now. He is still a useful player who despite his smaller stature can still throw the body around and be an energy player. If a team is willing to give up a late round draft pick, they should be able to land themselves this heart and soul type of player that embodies what playoff hockey is all about.
Buffalo Sabres
The Sabres haven't exactly kept it a secret that they really want all 30 first round selections in the 2015 draft so it's easy to imagine that just about anyone on their roster can be had for the right price – first round draft picks the preferred currency.
Chris Stewart is one player that could fetch Tim Murray a first round pick. Albeit a late first rounder but a first rounder nonetheless. Stewart has flirted with his 2009-10 season pace when he scored 64 points in 77 games but all flirtation has been short and sporadic. The Blues found his lack of consistency frustrating and sent him packing to Buffalo. He is still a big bodied right handed power forward who with the right coach can find his stride and heavy shot again. If anything else, he can still be an effective forechecker that can strike fear into opposing defensemen foolish enough to mishandle the puck in his presence.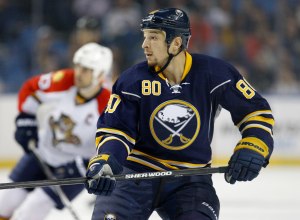 Like Stewart, Stafford's glory days are seemingly behind him but his skills are very much still there. He once scored 52 points in 62 games for the Sabres and followed that up with a 50 in 80 campaign but his last few years have been disappointing to say the least.
Stewart and Stafford are both still young and not yet 30 years of age. Any team looking to acquire them may do so with the intention of giving both a season long shot at playing with their top playmakers.
Both are UFA's at the end of the season.
Arizona Coyotes
Just like the Devils, the Kings' Cup run in 2012 saw them plow through the Coyotes and the team has been in turmoil since. Their ownership situation has improved and they may have found an owner who still stick with the team even as it hemorrhages cash and tries to subsist on taxpayer dollars.
On the hockey side of things, the future does look bright but it could look even brighter if they use the 2015 draft as a chance to pack their cupboards with even more goodies.
The primary asset on its way out of Glendale could be Keith Yandle. It is not because Yandle is performing poorly, but because the Coyotes have a lot of young players in their system who could replace Yandle on the blueline. Yandle's next contract will see him get a significant raise from his $5.750m he is set to receive next season and for a cash strapped team like the Coyotes that might be too rich for their blood.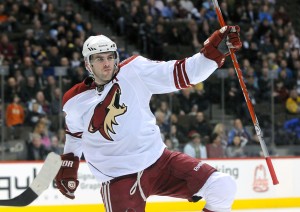 Yandle has 26 points in 41 games this year.
Edmonton Oilers
The vultures have been circling over the Oilers for a while now and at this point all the Oilers can do is raise their hands in defeat and beg for mercy. If putting together an NHL team was like putting together an Ikea desk, the Oilers lost the instruction sheet and are using a Phillips screwdriver when they need a flathead.
The team is a mess in the front office and a mess on the ice. They have not made the playoffs since losing in the finals to the Hurricanes all the way back in 2006.
It's time to turn the page over on this rebuild and the 2015 draft would be a good year to start a new chapter. No player should be deemed "untouchable," even Taylor Hall. They should accept nothing short of a package deal including a first round pick and at least a high-level prospect or good roster player for Jordan Eberle and Nail Yakupov. An even bigger deal should be made for Hall.
While picks should be included in any deal involving their young players, they need NHL caliber players in return as well. As it stands, the current team they are icing every night would have a hard time being competitive in the AHL.