With the free agent market opening on Friday, teams are scrambling to keep their unrestricted free agents or figure out how to replace them. The new CBA has added a twist for NHL free agents though – at 12:01am on July 3rd, an "interview period" began for unrestricted  free agents to talk to all teams about potential contracts (per Exhibit 16-B of the CBA).
Army called the current period in which #nhl teams are allowed to talk to UFAs "legalized tampering." #stlblues

— Jeremy Rutherford (@jprutherford) July 3, 2013
Now that the Pittsburgh Penguins have taken care of the Kris Letang extension and also re-signed Pascal Dupuis, here's a look at how they stand right now.
Penguins' Remaining Free Agents
Dustin Jeffrey (RFA): Received a qualifying offer from the Penguins. Jeffrey has played on all 4 forward lines and the 2nd powerplay, but has yet to find a consistent spot in the lineup. He had 3 goals and 3 assists in 24 games last season.
Robert Bortuzzo (RFA): Received a qualifying offer from the Penguins. Bortuzzo only played in 15 games last season and was stuck as the 8th or 9th defenseman on the Penguins for much of the year. He should be ready for a 3rd pairing role if it's ever available.
Jarome Iginla: Iginla had 11 points in 13 regular season games for Pittsburgh and added an additional 12 points in 15 playoff games. Despite being used in questionable ways, Iginla proved he can still be a top 6 scoring asset and can add to any top powerplay line.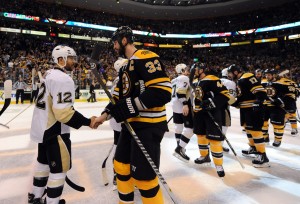 Brenden Morrow: Morrow scored 14 points in 15 regular season games but only added 4 points in 14 playoff games. His regular season performance demonstrated he can still play in a 3rd line capacity and add to a 2nd powerplay unit.
Matt Cooke: The infamous Matt Cooke recorded 21 points in 48 games for the Penguins while only adding 36 penalty minutes. Cooke received some time on the 2nd line, but mostly made his mark on the 3rd line and was a key component of the penalty kill.
Craig Adams: Adams scored 9 points in 48 games as a 4th line winger and occasional center. His biggest value tends to be on the penalty kill.
Douglas Murray: Murray joined the Penguins as a stay at home defenseman and contributed a surprising 3 goals in the regular season and playoffs. He was used mostly in a 3rd pairing role and also on the penalty kill.
Mark Eaton: Eaton ranged from the 2nd defensive pairing to a healthy scratch after being signed midway through the regular season. He finished with no points in 23 games.
Current Roster
Without those players, here is an estimate of how Pittsburgh's current NHL roster plays out.
*Note: Numbers from capgeek, plus the qualifying offers for Jeffrey and Bortuzzo, minus Steve MacIntyre's contract since he likely would start in the AHL.
Forwards ($37.31 mil.)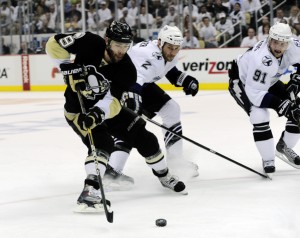 Kunitz – Crosby – Dupuis
Bennett – Malkin – Neal
Jokinen – Sutter – ?
Glass – Vitale – ?
Jeffrey(RFA)
Defensemen ($16.54 mil.)
Orpik – Martin
Despres – Letang
Engelland – Niskanen
Bortuzzo(RFA)
Goalies ($7 mil.)
Fleury
Vokoun
The goaltending appears to be set despite concerns about Marc-Andre Fleury in the playoffs. The defense will likely round out at 7 once Bortuzzo is signed. General Manager Ray Shero may want to upgrade his defense, but he will likely have to move someone out first. The only real holes left for the Penguins are in the bottom 6 forwards, where there are 2 open winger spots and an extra roster spot.
Therefore, Pittsburgh will likely just be looking for some 3rd and 4th line options in the free agent market. Within this positional need, the Pens are facing a huge potential loss of penalty-killing abilities since Adams and Cooke were the team's top 2 forwards in terms of shorthanded ice time per game.
With the Penguins roster as it looks above, Ray Shero has roughly $3.45 million under the salary cap to work with. Here are some players to look at with that money.
5 Free Agent Targets
Jack Skille – If the Penguins want to add some youth and energy, Skille would be a great place to start at right wing. He had 3 goals and 9 assists for the Florida Panthers last season while leading the team with 96 hits. He averaged a little over a minute on the penalty kill as well. The former first round pick (7th overall in 2005) may never reach the ceiling he was projected for, but he would be a solid role player for the Penguins with some upside. Skille had a cap hit of $825,000 last season.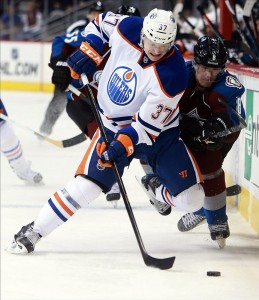 Lennart Petrell – After spending most of his career in Finland, Petrell joined the Edmonton Oilers for the past two seasons, accumulating 18 points in a total of 95 games. The 29 year old left winger averaged 2:35 of short-handed ice time last season with the Oilers and would give the Penguins a big body to use at 6'3, 215 lbs. He is another energy guy that finishes his checks and would be useful in a bottom 6 role. His 63 hits were 2nd among Edmonton's forwards last season. Petrell had a cap hit of $825,000 last season.
Ryan Jones – Petrell's teammate in Edmonton could also be of use to the Penguins. Ryan Jones was close behind Petrell in hits with 55 and also added to the penalty kill, averaging 1:23 per game there last season. Jones has a bit more of a scoring touch than the rest of the list so far, recording 18 and 17 goals in the '10-11 and '11-12 seasons respectively. He carried a cap hit of $1.5 million last season.
Boyd Gordon – Another man on the list should be faceoff specialist Boyd Gordon. As a former first round pick (17th overall in 2002), Gordon has found his niche in the NHL when it comes to faceoffs and penalty killing. He won over 57% of his faceoffs last year for Phoenix and also averaged 2:51 of PK time per game to lead the team's forwards in both categories. He also finished 9th among all NHL forwards in blocked shots with 44. Gordon's defensive and penalty kill abilities could be a bargain for Pittsburgh. Gordon had a cap hit of $1.325 million last season.
Maxim Lapierre – Lapierre might be the perfect replacement for Matt Cooke with his pesky style of play. He can contribute to the penalty kill (averaged 1:38 per game last season) and certainly isn't afraid to defend himself or his teammates as he led the Canucks in penalty minutes in '11-12. If the Penguins are trying to replace one of the most controversial players in the game, perhaps they will take a look at one of the most hated players in the game. Lapierre had a cap hit of $1 million last season.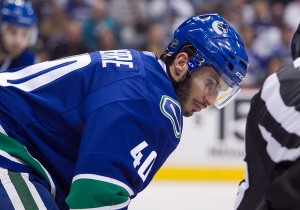 Four more:
Peter Mueller – Has plenty of talent, but would come with injury concerns and questions if he can ever reach the scoring potential he saw before having concussion issues.
Matt Hendricks – Could bring toughness and leadership to the Penguins, but may be overpriced for a 4th line role.
Brandon Yip – Demonstrated strong scoring potential as a rookie back in '09-10 and can be a capable role player, but has struggled to stay in the lineup over the past 2 seasons.
Andrew Ference – Incredibly unlikely, and the Penguins would need to move a defenseman (Niskanen?), but Ference could be a nice mentor and stopgap to have on the 3rd pairing.
Meanwhile, if anyone needs a reason to come to Pittsburgh, please talk to Pascal Dupuis:
Pascal Dupuis, on bottom-line reason for re-signing with Penguins: "It came down to, you don't mess with happiness."

— Dave Molinari (@MolinariPG) July 3, 2013
On that list or otherwise, who would you try and pick up if you were Ray Shero?