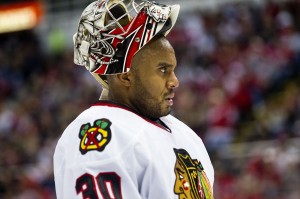 Hopefully for players and fans alike the hangover from the Blackhawks cup victory has faded, and if not please seek medical help. For the Blackhawks management its back to business as usual and the preparations for next season has already begun. In the salary cap era it is very difficult to keep a championship roster together for long, that's one thing the Blackhawks learned in 2010 when they had to ship out many notable names from their 2010 Championship team. As the team gets ready for the off season we take a look at who stays and who goes in Chicago.
The Blackhawks already had to do some maneuvering sending Dave Bolland to his home town team the Toronto Maple Leafs and Michael Frolik to the Winnipeg Jets. Causalities of the cap for sure as the Blackhawks received draft picks in return for the extra space financially.
Free agency unofficially kicks off today, with teams being allowed to talk to players but not being able to make anything official until July 5th, sounds confusing? Of course it does, it's the NHL. We take a look at the Blackhawks restricted and unrestricted free agents and who will be back for next season.
RFA's: Marcus Kruger, Nick Leddy
UFA's: Michal Handzus, Viktor Stalberg, Jamal Mayers, Michal Rozsival, Ray Emery
Dealing with the Blackhawks two restricted free agents GM Stan Bowman has kept it no secret he would like to bring both back into the fold for next season. Kruger did not take any monumental steps forward in his second full NHL season but at 23 he still has plenty of upside. The addition of Handzus limited Kruger's minutes down the stretch and in the post season and he should get a bigger role with the club next season.
Though Nick Leddy did not have the playoffs he wanted to and despite rumours of him being shopped, Bowman has stated his interest in getting Leddy re-signed.
While Michal Handzus has stated his interest in staying with Chicago, a team he gelled with fairly quickly after his mid-season acquisition, Bowman may wait awhile before making a decision. As he has done before Bowman has shown a tendency to wait for the later stages of free agency and pick up someone at a reduced price, if Handzus is still available around then it wouldn't be a shock to see him back next season.
All signs are pointing to Viktor Stalberg walking as a free agent, and Jamal Mayers talking about going out as a champion leads many to believe he will retire.
Michal Rozsival came to the team as a bottom pairing defenseman looking for a bounce back to revive his career. Rozsival was a +9 in 23 playoff games and averaged 19:15 a night and had a strong final against the Bruins. Rozsival is coming off a $2 M contract and could see anywhere in the range of 2.5-3 M this season given the shallow UFA defenseman pool. If Rozsival is willing to take under 3 M it is likely Chicago re-signs him.
Stan Bowman has already been in discussions to re-sign goaltender Ray Emery, despite his great season Crawford proved he was the undisputed starter with his amazing playoff run. For Emery, who has moved around quite a bit since leaving Ottawa, re-signing with a team he likes is a big factor. Sources say they are closing in on a contract agreement.
It wouldn't be a Chicago offseason without constant juggling to keep the core players together, Bowman has proven he can do it before and is looking to do it again.