The 2013 NHL Entry Draft is now in the books and what a marathon day of emotional and strategical ups and downs it was. It was a day of intrigue and building excitement. From Cory Schneider getting traded to the hosts New Jersey Devils for the 9th overall pick (ultimately Bo Harvat), to Seth Jones falling to the Nashville Predators at pick number 4, to offensive dynamo Hunter Shinkaruk slipping to the Vancouver Canucks at  number 24. Shinkaruk's hometown Calgary Flames passed on him just two picks before – a team desperate to find that shiny new forward they can call their own new franchise player.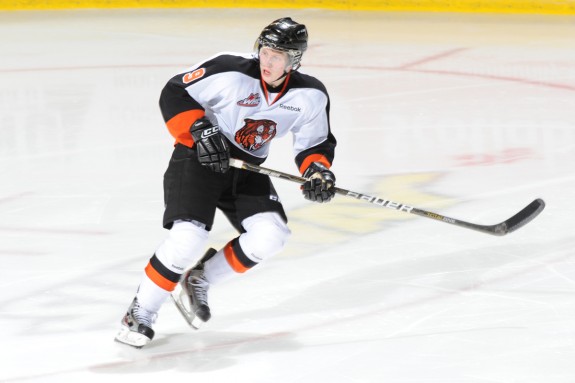 While it is way too soon to tell if picks like Emile Poirier by the Flames is a winner or a swing and a miss, early impressions are in and here are the early perceived 2013 NHL Draft Top 10 Team Performances.
In most instances it will be three to five years or longer to truly evaluate how teams did at the draft table this year.
Early Impression: 2013 NHL Draft Results – Top 10 Team Performances
(Selection information from NHL.com)
1. Buffalo Sabres
From the onset to the conclusion, from round 1 through to round 7, from Ristolainen to Locke, no team had a better overall draft than the Sabres. Each pick presented really good value from the respective draft position. While Ristolainen and Zadorov add the obvious size, skill and skating ability to the blueline every team covets, the true gold mine was in the second round, where Cup contenders often find key contributors (see Blackhawks and Bruins lineups).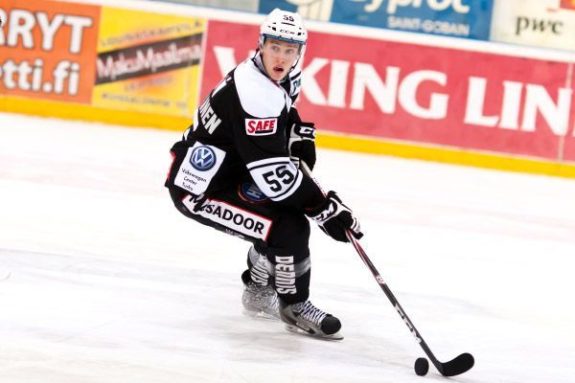 J.T. Compher
has the skill and will to be a winner.
Connor Hurley
possesses an impressive offensive skill-set; the youngest player drafted will need some time to develop before being NHL ready, but should be well worth the wait.
Justin Bailey
, son of former Buffalo Bills linebacker Carlton Bailey, has immense potential, but was slowed by injuries this past season. Eastern hockey bird dog Eldon MacDonald has stated that Bailey reminds him somewhat of former NHL great – the gentleman and ultra-smooth Jean Beliveau.
2. Vancouver Canucks
While the Cory Schneider trade made the draft almost stand still and stole many of the headlines,  the Canucks scouting squad made a killing on the draft floor. While some perceive Bo Horvat as too little a return for the star netminder, the all-around Ryan Kesler 2.0 type forward has a bright NHL future ahead of him and will not be denied.
Hunter Shinkaruk is perhaps the biggest draft day steal, despite being drafted in the first round. The Canucks committed Grand Theft Hunter, after his hometown Calgary Flames opted for Emile Poirier at 22nd.
Cole Cassels, son of former NHLer Andrew, was a solid 3rd round choice, but maybe taken slightly higher than projected. Jordan Subban could very well prove to be a 4th round steal with many projecting him to be a second rounder. Size is the issue; skill certainly is not. Anton Cederholm is definitely 5th round worthy and Miles Liberati is one to watch for the 2013-14 season.
3. Winnipeg Jets
Some thought Morrissey was a reach at 13th, but The Next Ones had him ranked 12th overall. Morrissey has been called a blend of Kris Letang and Niklas Lidstrom by NHL scouts – decent praise indeed.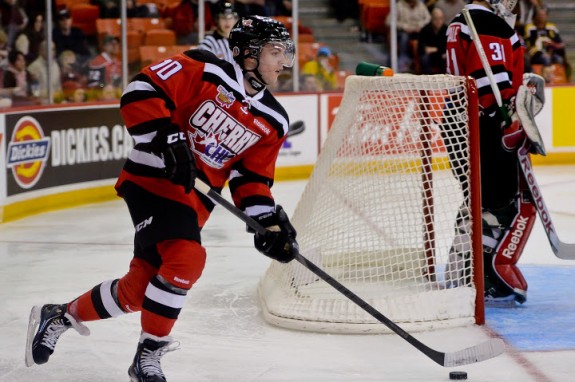 Eric Comrie
was one of the best goalies available in this draft class.
Jimmy Lodge
was a steal of a 3rd round pick. He had an outstanding second half of the season and some thought he might even squeeze into the latter part of the 1st round, or at the very least a surefire 2nd round pick.
Third time eligible J.C. Lipon should be able to find a role as a bottom six forward in the big league. Andrew Copp was slotted as a sleeper pick by more than a few hockey scouts. Jan Kostalek is a solid and mature two-way who has 2nd-3rd round talent, making him a very crafty 4th round pick.
4. Columbus Blue Jackets
The Blue Jackets continue to add tons of talent, now under the direction of GM Jarmo Kekalainen. Alexander Wennberg projects to be an all around super effective 2nd line center. Kerby Rychel adds a physcial goal-scouring presence. Agitating, but skilled two-way Slovakian forward, Marko Dano, was taken a little earlier than projected, but Kekelainen and staff obviously could not want to say, "Book 'em, Dano!"
Heatherington was a very astute 2nd round pick; he is a tantalizing combination of size, very good skating ability and defensive acumen. Bjorkstrand is a very talented forward pegged by many to be a 2nd rounder himself. Nick Moutrey has plenty of upside and presented outstanding 4th round value.
5. Colorado Avalanche
The Avs draft was more than about the explosive and supremely talented Nate MacKinnon. Chris Bigras is an ultra-steady blueliner who will help solidify any blueline he is a part of with his reliable, mistake-free play.
Spencer Martin was one of the better netminders available. Mason Geertsen is extremely tough and has very good size – the potential is there. Will Butcher's stock dropped this season, but the undersized blueliner was well worth a 5th round selection. Swedish blueliner Wilhelm Westlund was slated to be a 3rd rounder by many, but fell to the 7th round.
6. Edmonton Oilers
The nephew of former NFL QB Donovan McNabb and son of former CFLer Richard Nurse, the athletic, talented and nasty two-way blueliner Darnell Nurse was the obvious cornerstone of the Oilers 2013 draft class, but a team already full of young guns added plenty of talent in New Jersey.
Marc-Olivier Roy possesses plenty of upside as an offensive, gritty and defensively responsive forward. Yakimov and Slepyshev are talented and intriguing Russian forwards who are 3rd round worthy.
Houck was a nice 4th round find – he had a tremendous second half for the Dub's Vancouver Giants. Kyle Platzer is a forward who is a candidate by many hockey bird dogs to be a breakout player next season. When you can get a player with 3rd round talent in the 7th round, like Calgary Hitmen forward Greg Chase, you do so without blinking. Chase's drop was a curious one, as the two-way extremely competitive forward has really good upside.
7. Montréal Canadiens
A power forward, a surefire two-way 2nd or 3rd line NHL all-around forward, the best goalie in the draft, an accomplished Finnish sniper along with a couple of slippery diminutive forwards from the Q – a Swiss and a Czech. Bergevin  along with Trevor Timmins and staff do their thing.
8. Nashville Predators
If Grand Theft Seth at 4th overall wasn't enough, the Preds added another huge blueliner who can skate and has intriguing upside in Diaby. They were not done there as they were able to land the #1 rated European goaltender (NHL CS), the undersized Juuse Saros, in the 4th round. Forward Felix Girard had a breakthrough season after going undrafted last year – he is a two-way centre who is difficult to play against. Puckmoving defender Kivihalme was amongst some of their other stealth-like picks throughout the draft.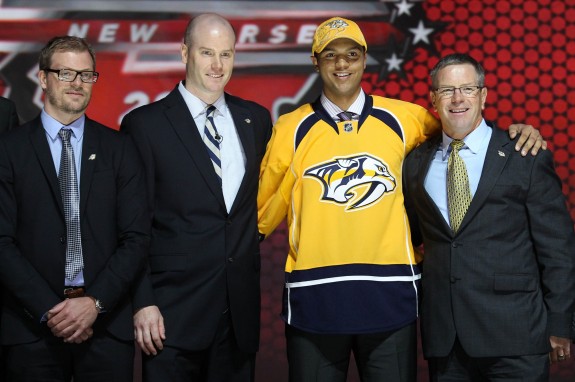 9. Phoenix Coyotes
The Coyotes get an offensive centrepiece in Domi and a Patrice Bergeron clone in Dauphin. Laplante is a good skating versatile forward with offensive upside. Redl Line Report's Kirk Luedeke had Clifton as a draft day sleeper (New England Hockey Journal).  Netminder project Brendan Burke goes to the team for which his father is the goaltending coach – one of the best of his trade on the planet.
10. (t) Detroit Red Wings
In tenth place, we have a tie between the Red Wings and Flames. Neither team knocked it out of the park with each and every pick. Each team raised more than a few eyebrows with some selections early on. Both teams, on the whole, however, added some intriguing talent.
When you can get the only draft eligible 50 goal scorer, 6'3″ winger Anthony Mantha, at 20th overall, you're doing okay. Some scouts would like him to give a more consistent effort, but he has the ability to dissect goalies in multiple ways. It's not easy to teach that.
Nastasiuk kept raising his stock as the season went on. Tyler Bertuzzi has the obvious good hockey bloodlines as the nephew of Todd. He was widely regarded as more of a late round talent. Mattias Janmark-Nylen was a bit of an unknown, but can anyone really doubt when Detroit ventures to Sweden for their draft choice?
Pope, Wheaton and McNulty were very good value picks for where the Red Wings landed them.
10. (t) Calgary Flames
What could have been versus what will be…the curious draft day of the Calgary Flames:
Sean Monahan was a smart money pick for the Flames.  The perplexity came with the 22nd overall pick, Emile Poirier. Poirier bring speed, offensive potential and much needed grit. Then what was the problem? Although some had him ranked as a 1st rounder, the consensus seems to be that he was more of a second round talent. But the Flames see more and view him differently than most. That's okay – isn't it?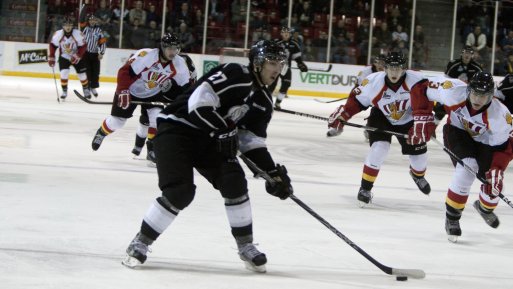 The major issue with hockey fans and specifically local Flames fans was the fact that one of the draft's potent offensive threats was still available – Calgary's own Hunter Shinkaruk. Some question his attitude; in my dealings and observations, Shinkaruk always gives maximum effort and is a very composed, confident and articulate young man. He is always dangerous on the ice. In my opinion, he was a top ten talent in this deep draft class.
The fact that he was snatched up just two picks later by the rival Canucks makes it all the more bitter for Flames fans – potentially, of course. I'm not sure why Flames brass would take the chance at this point in the rebuild phase – if Shinkaruk, for some strange reason, does not excel at the next level, no one would fault them for taking him 22nd. Poirier, on the other hand, has to turn out or this pick will be yet another that haunts the scouting staff.
They did strike gold at 28th with the selection of hometown kid Morgan Klimchuk, an all around very talented forward who should develop into a top six forward.
The Flames made a mammoth splash in the 3rd round selecting collossal blueliner Keegan Kanzig, the biggest player drafted who is deemed to be a project with skating and puck skill issues that need development.
The 5th round saw Calgary getting a probable steal in defenseman Eric Roy. Many projected him as a 2nd/3rd round pick. He is an extremely intelligent young man with obvious offensive upside and in definite need of refining his defensive game.
Ironically, I would have more favourably view the Flames draft had they had taken Eric Roy in the 3rd and Kanzig in the 5th. It's odd how things works out sometimes.
Honourable Mentions
A) New York Islanders
Ryan "The Rifle" Pulock adds another weapon to the Isles' attack. McAdam was a solid 3rd round goaltender to take. Cammarata is undersized but very talented. Crus Rydberg may prove to be a very savvy 5th round selection.
B) New York Rangers
Despite not having any 1st or 2nd round selections, the Rangers came away with a very solid haul. Tambellini, Buchnevich and Duclair were three outstanding 3rd round selections with all three pegged by most to be second round talents. All three may, in fact, have 1st round skill level, but each have their own respective obstacles to overcome.
C) Tampa Bay Lightning
When it's all said and done, the Lightning may very well have the best player out of this draft class in Jonathan Drouin, the Human Hockey Highlight Film.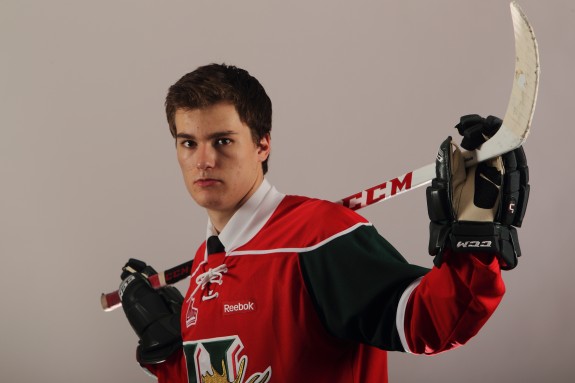 To get 1st round talent Adam Erne in the 2nd round was a bonus for Yzerman and crew.
***
Let's reconvene in 3 to 5 years and revisit this discussion, shall we? How do you think your team did in Newark, NJ on June 30th, 2013?
***
[NHL 2013 Draft Guide – The Next Ones Draft Headquarters: 
Your quintessential draft resource]
***
[THW The Next Ones Rankings – Final Top 210]
Chris is THW's senior draft/prospect analyst and a Managing Editor. Watch for "The Next Ones" Prospect Profile series, exclusive rankings, mock drafts, as well as the annual THW NHL Entry Draft Guide. Follow @ChrisRalphYQ on Twitter as he infiltrates, dissects and analyzes all happenings of hockey prospects and the NHL entry draft. Email: cralph[at]thehockeywriters[dot]com