Jan Kostalek THW Close-Up:
Date of birth: 2/17/1995
Place of birth: Prague, Czech Republic
Height: 6'0″ Weight: 182
Shoots: Right
Position: Defenseman
Twitter Handle: None
NHL Draft Eligibility: 2013 1st year eligible
THW Ranking (April 2013): 59
Other Rankings: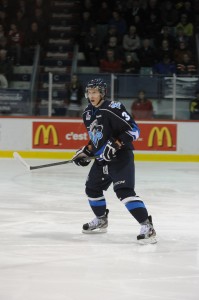 Largely unknown outside of Rimouski where he plays for the Oceanic (Sidney Crosby's junior team), Jan Kostalek was drafted 10th overall at the 2012 CHL Import Draft. The unheralded defenseman suited up for ten games for HC Sparta Praha of the top Czech professional league, playing against men, before moving to North America.
A defensive rearguard who is not afraid to lay big hits, Kostalek played 48 games with Rimouski this season, recording 5 goals and 13 assists for 18 points to go along with a impressive +17 rating and 53 penalty minutes. He missed 22 games after breaking his collarbone at the beginning of November.
A smooth skater with quick feet, Kostalek likes to hit and is not afraid to be physical in his own zone. The Czech even dropped the mitts a few times this season… without much success, getting used as a punching bag more often than not. A very mature defender despite his young age, Kostalek makes a good first pass and is a smart player with the puck.
Kostalek was also named to the Rookie All-Star Team along with teammates goalie Philippe Desrosiers and centre Frederick Gauthier, as well as Baie-Comeau right winger Valentin Zykov, Halifax defenceman Mackenzie Weegar and Moncton left winger Ivan Barbashev.
Kostalek can play on the second power play unit, has a decent and accurate shot, and boasts a good hockey IQ. The rookie is a steady defenseman who moves the puck up ice very well, makes solid passes and is patient with disk when pressed by opponents in his own zone.
His very effective two-way game is what scouts really like about him as he is not a flashy puck-handler with a blazing slapshot like PK Subban; he is more likely to become a very reliable second-pairing blue liner with the ability to shut down the other team's top line.
As most Europeans coming to North American, Kostalek needs to bulk up and strengthen his upper body to be even more effective along the boards and in front of his net. Nothing a rigorous summer of strength conditioning can't fix. Kostalek also needs to work on his shot as he has the tendency to look for the pass instead of taking a good shot on goal. Kostalek is expected to have a lot more responsibilities next season along with other draft-eligible defenseman Samuel Morin.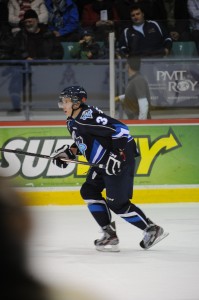 Similar to his team who suffered an early first-round exit to the hand of the underdog, the Gatineau Olympiques, Kostalek had a disappointing playoff performance. The rookie blue liner finished the series with a single assist and a -5 plus/minus rating in six games for the Oceanic.
Finally, Kostalek is currently slated to be drafted in the second round of the 2013 NHL Entry Draft, most likely at the end of that round. Still, some pundits see him going as early as the end of the first round, so don't be surprised if a team pulls a rabbit out of their hat and draft him early.
Scout's Honour:
Mark Edwards and Simon Larouche of Hockey Prospect:
"Blueliner Jan Kostalek is proving to be a strong two-way defenceman. Although he is a rookie in the QMJHL, Kostalek has played in several international tournaments for his native Czech Republic and in a handful of games for HC Sparta Praha of the Czech Extraliga.
"His physical game is excellent and he plays the majority of his minutes against the opposing team's top line," noted Edwards. "He has proven to be tough to beat one on one and he has shown scouts the ability to be a good body checker."
"He is a confident puck-mover who is solid in all the skating areas," said Larouche. "He plays smart hockey in his own zone and handles the physical game well. Kostalek makes good transition plays making smart passes." Follow Mark Edwards on Twitter @HockeyProspect.
Kevin Forbes from Hockey's Future:
"In a word, he's solid. Playing in his first season in the QMJHL as a 17-year-old, his poise and steady play made him look like a veteran player, as opposed to a rookie trying to adapt to new country. The youth on Rimouski and the injuries they suffered, especially in the second half of the year, led to him playing a big role and he carried himself well. Although only average sized for a defenseman, Kostalek plays a polished game at both ends of the ice. He reads the play well, makes smart decisions with the puck and has surprised many QMJHL players with his physicality. His offensive zone talents aren't as polished yet as his defensive play, but he progressed in that area as the season went along and as his responsibilities grew. Meanwhile, when projecting his game to the next level, he'll need to continue to get stronger." Follow Kevin on Twitter @kforbesy.
Statistics:
Interviews:
None
International Tournaments:
Czech Republic U18: 1 goal and 2 assists for 3 points in 21 points with 14 PIMs and a -12 rating
ETA: 3-4 years
Risk-Reward Analysis: Risk = 4/5, Reward = 3.5/5
NHL Potential: shutdown defenseman
Strengths:
Smooth skating
Excellent passing
Accurate shooting
Great hockey IQ
Sound positioning in his own zone
Flaws/Aspects He Needs To Work On:
Needs to bulk up and improve his upper-body strength
Has to use his shot more often
Fantasy Hockey Potential: Offensive = 4/10   Defensive =9/10
NHL Player Comparison: Dan Hamhuis
Video(s):
Kostalek destroys Christopher Clapperton then fights with Xavier Ouellet
Kostalek working on his skating
Follow Fred on Twitter for more hockey commentary and updates.
THW's The Next Ones prospect profile template design architect: Chris Ralph