The 2020-21 NHL season is underway and it's about one-fifth complete. With the shortened season and the compressed schedule, games are happening rapidly with shorter turnover than usual. This is giving some NHL backup goaltenders a higher percentage of ice-time, earlier in the season than they would typically experience. In more than one location, backup goaltenders are having stellar showings and upstaging their crease companions.
I rate these controversies on a one to five scale and after each rating, I'll provide analysis. The higher the rating, the more volatile a goalie controversy is. Lower ratings mean there is no controversy or there's another explanation for the happenings with that given team. In part one of this two-part series, I'll take a look at the teams where things are heating up and potentially shifting the boundaries between who is the starter and who is the backup.
Washington Capitals: Vanecek vs Samsonov
5/5: Scorching Lava Hot
There really shouldn't be that much controversy anymore because the Washington Capitals' net firmly belongs to Vitek Vanecek at this point. The road things took to get to this point is really the story here. This season began with Ilya Samsonov being the heir-apparent to Braden Holtby in Washington. As an insurance policy, the Capitals signed Henrik Lundqvist in the off-season. It's likely that a 1A/1B type of tandem was what the team had in mind with the young phenom and the old legend. At that point, Vanecek wasn't even third on the Capitals' goaltending depth chart. That spot belonged to Pheonix Copley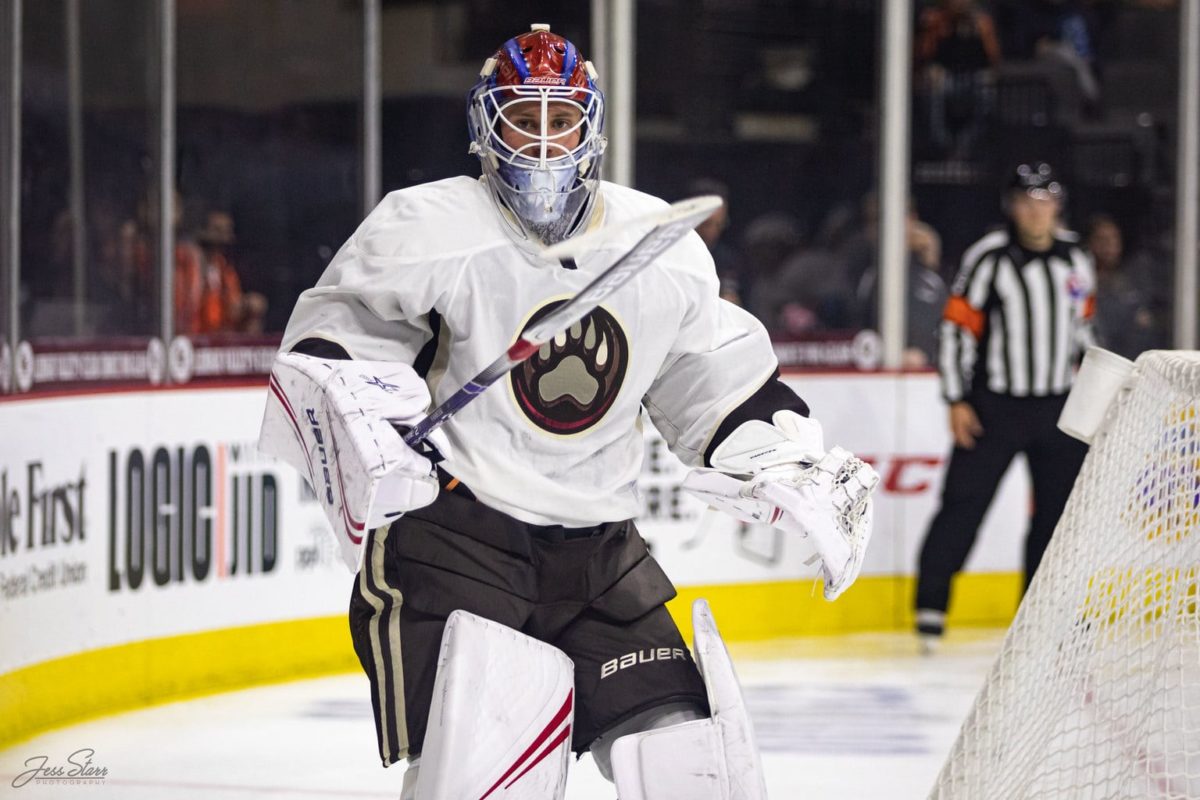 Before camp could even start, Lundqvist announced he needed heart surgery that would keep him out this entire season. The Capitals brought veteran, Craig Anderson, into camp and he looked really good. Vanecek also looked good though and had won himself the backup job. The Capitals started their season with a back-to-back series against the Buffalo Sabres. It's pretty standard to use a different goalie each night so Vanecek got his first NHL action against the Sabres on Jan 15. He was stellar, stopping 30 of 31 shots.
Samsonov looked a little shaky in his debut and in his second game also. On Jan 19 the Capitals went with Vanecek again. It was a rough game against the Penguins so maybe the Capitals would still be working a 1A/1B angle with Samsonov and Vanecek if not for COVID-19.
On Jan 20, it was announced that Samsonov and three teammates would be out due to league COVID protocols. With that Vanecek was effectively the starter and he hasn't looked back since. As of writing the rookie netminder has a 7-3-2 record with a .909 save percentage (SV%). In spite of three unfortunate losses, he looks confident in his net and the team looks pretty confident playing in front of him. The Capitals find themselves doing well in the MassMutual East division.
The real controversy now circles around what the Capitals will do going forward. Samsonov had not been cleared to play until recently, so the crease has belonged to Vanecek. I have to wonder how long of a leash he will be given once Samsonov is back into the rotation. If there's any kind of favoritism at work, the team will pull the plug on Vanecek at the first sign of struggle and reinsert Samsonov as the incumbent starter. It's also possible that they revert to a 1A/1B plan because that was the plan all along. In that case, Vanecek almost assuredly carries the 1A distinction, at least for a little while.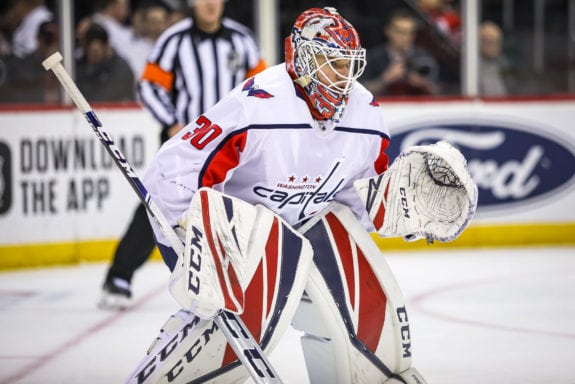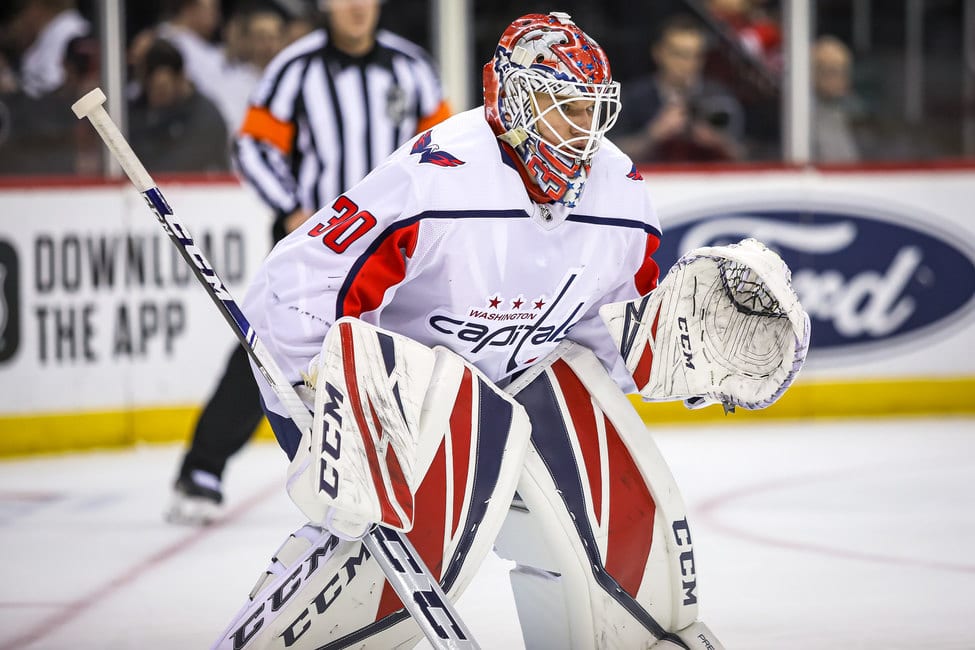 There are some implications beyond the on-ice product. Vanecek is in the second year of a three-year contract that pays him $716,667 per year. Samsonov is on an expiring contract that pays him $925,000 this year. If Vanecek were to continue to hold the starter's net for the remainder of the year, it would strengthen the Capitals' bargaining posture in contract negotiations with Samsonov. I strongly doubt the Capitals coaching staff is thinking about salary structure when it comes to their goaltenders and simply wants to put the best guy on the ice for the most games. There's a lot of games between now and the playoffs to see how the Capitals move going forward.
Florida Panthers: Driedger vs Bobrovsky
4/5: There's Smoke and Probably Fire
The Panthers are off to a 10-2-2 start and everything seems to be clicking. It's hard to believe that if you scratch the surface a little, a weakness starts to shine through. So far this year, when the Panthers play, they're winning with Chris Driedger and in spite of Sergei Bobrovsky. It's a small sample size, but Bobrovsky has conceded 24 goals on 207 shots through seven games for a .884 SV%. In the Jan 26 game against the Columbus Blue Jackets, he conceded two goals on the first two shots taken against him.
They weren't exactly great defensive plays, but the second goal came at the 9:20 mark of the first period. If your team doesn't allow the second shot on goal until almost 10 minutes into the game they're doing something right. Bobrovsky did manage to get it together and saved 19 of the next 20 shots in that game. To his credit, he has a 5-1-1 record. Four of those outings have seen him have a SV% below .900 but twice his team was able to provide him with the goal support to get the wins giving him a 2-1-1 record in those situations. More often than not, Bobrovsky has not been his best, the Panthers are able to rally as a team and get the job done in spite of his struggles.
Driedger on the other hand is coming off a breakout campaign as an NHL backup goaltender last season. He went 7-2-1 with a .938 SV%. He has started this season strongly too, going 5-1-1 with a .924 SV%. The sample sizes here are small and that's the saving grace for the Panthers in this situation. Driedger's performances have been stellar across the board and he's never conceded more than four goals against in a game for the Panthers. At first glance, it seems like a good problem to have. Maybe Driedger playing well, allows him to take a larger percentage of the starts, and lessens Bobrovsky's workload.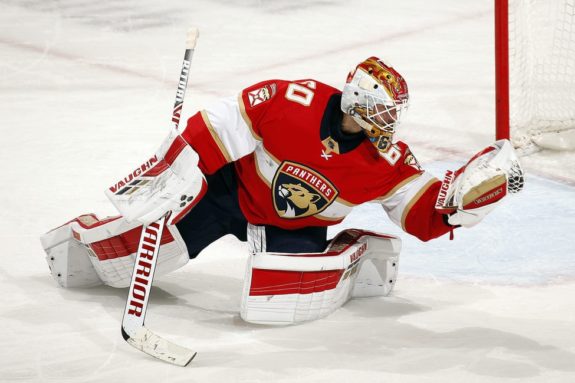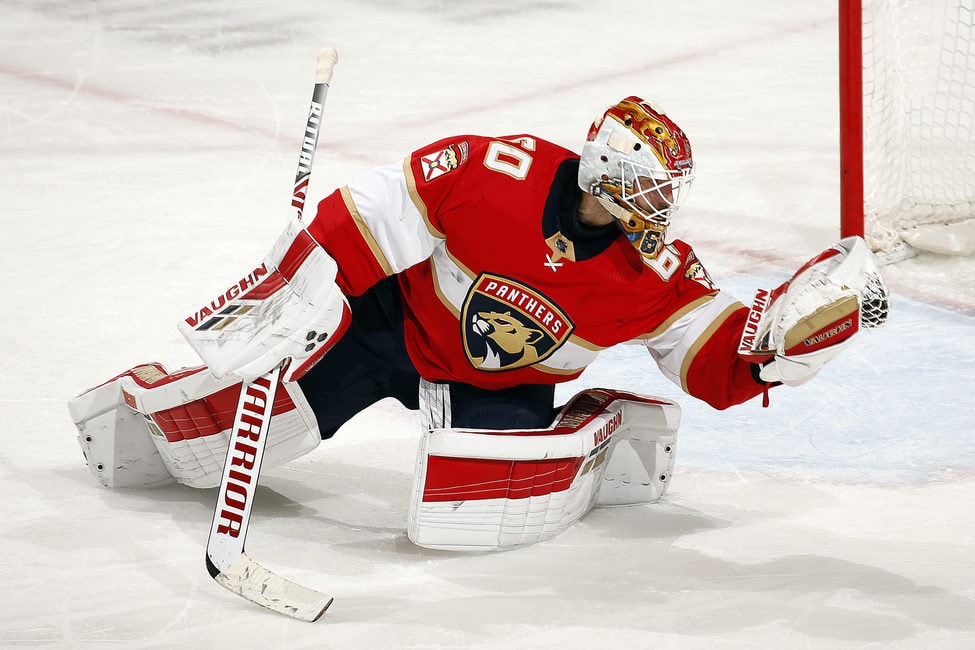 The truth though, is that the Panthers might actually have a big problem here. Bobrovsky is the second-highest-paid goaltender in the NHL, carrying an annual salary-cap hit of $10 million each year until 2026. That dollar amount establishes a certain level of propriety. He makes the big money so he has to be the starter even if he's struggling. The upside to that is he has played his way out of struggles before and has bounced back when some would have written him off. As players get older though, it becomes harder and harder to have those bounce-back years. At 32 years-old, one has to wonder how many times Bobrovsky can roller coaster between "dominant" and "not very good" until he becomes stuck at the bottom. He's already coming off a sub-par year last season.
RELATED: Panthers Need to Start Driedger to Lighten the Load
If Bobrovsky's play continues to suffer while Driedger shines, it will create a complicated situation. It's still early, but this has shades of Vancouver's goalie situation with Cory Schneider and Roberto Luongo that resulted in Schneider being dealt to New Jersey at the 2013 Draft. Bobrovsky's contract makes him impossible to trade and the term left on it makes a buyout unrealistic. The only option the Panthers have is for him to play his way out of whatever funk he's currently in. If Driedger continues to out-play Bobrovsky something is going to have to give. The salary implications alone make it a situation where the Panthers cannot just run with Driedger while allowing Bobrovsky to ride the pine.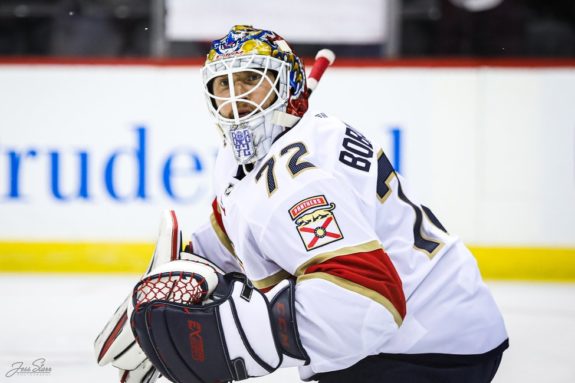 This goalie controversy is hot, but for now, it's still bubbling below the surface. As long as the team is able to win games with both goaltenders, this volcano can be kept from erupting. But if the disparity between Bobrovsky and Driedger's respective play begins to show up in the standings, this one will blow up in everyone's face.
New Jersey Devils: Dell vs Wedgewood
4/5: There's Smoke and Probably Fire
The starting net for the Devils belongs to Mackenzie Blackwood. That's not even a question, but COVID protocols have given the young netminder some unintended time off to start the year. The has put the Devils in a situation where they miss recently retired Corey Crawford more than they had thought they would. It was a worst-case scenario situation for the Devils. Even though Gilles Senn is a fine goalie prospect the Devils did not seem entirely confident having him be their full-time backup to start the year. This put Wedgewood into the backup role basically by default, though coach, Lindy Ruff, heaped praises upon him for the work he did in camp.
The Devils still didn't exactly seem comfortable with their threesome of Blackwood, Wedgewood and Senn. Fortunately for them, waiver-wire came to the rescue. Their struggles last season put them pretty high up in the waiver claims list so they were able to secure claims on both Eric Comrie and Aaron Dell. Comrie came up on waivers first, and he was claimed from the Winnipeg Jets on Jan 12. Dell was put on waivers by the Toronto Maple Leafs a few days later and the Devils claimed him on Jan 18. At first glance, it seems like a situation where the Devils got Comrie, but then a better option came along on waivers so they claimed Dell. Surely Comrie would just be put on waivers and go to another team.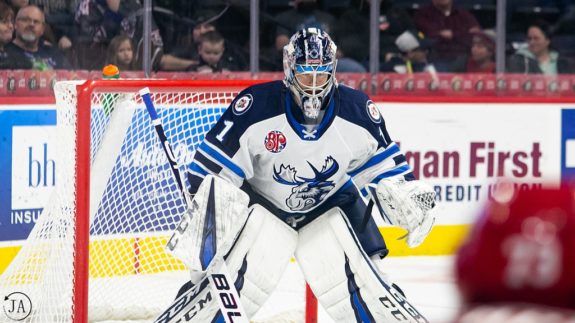 That ended up being what happened but not before Comrie was given an opportunity to shine. Before their Jan 21 game against the Islanders, it was revealed the Blackwood was on COVID protocol and Wedgewood would be pressed into service as the starter with Comrie now the backup on the bench. Wedgewood had mixed results as the starter and the Devils decided to start Comrie against the Buffalo Sabres, Jan 31. He made 30 saves on 33 shots, genuinely looked pretty good and the team came away with a 5-3 win.
I thought Comrie did enough to warrant a longer look from the Devils and that might have happened if not for an impromptu two weeks off due to team-wide COVID protocols. Because of the break, Blackwood was able to get healthy and reclaim his role as the starter. This put the Devil in a bind with too many goaltenders and not enough roster spots. Comrie was put on waivers on Feb. 17 and claimed back by the Jets, Feb 18.
Dell is a 31-year-old veteran backup with 89 NHL starts under his belt. He has spent the last four seasons plying his trade with the San Jose Sharks backing up Martin Jones. It's no secret that Jones' play has deteriorated over the last couple of years. Last season the Sharks gave Dell 30 starts versus Jones' 39 starts. For me, that's a bit of an indictment of Dell's abilities and maybe that's unfair on my part. Jones has not had a season with a SV% over .900 since 2017-18. Over the last two seasons, there have been times where he has just been plain bad. Yet even in the face of those struggles, the Sharks never saw fit to make the switch and give Dell the lion's share of starts.
Last season was the closest it got to a 50/50 split. It's just not a good look when the starter is so bad, but the team doesn't feel like the backup gives them a better chance to get the job done. The Sharks also let Dell walk to free agency, and the Maple Leafs clearly had the intention of having Dell be their third goaltender for this season.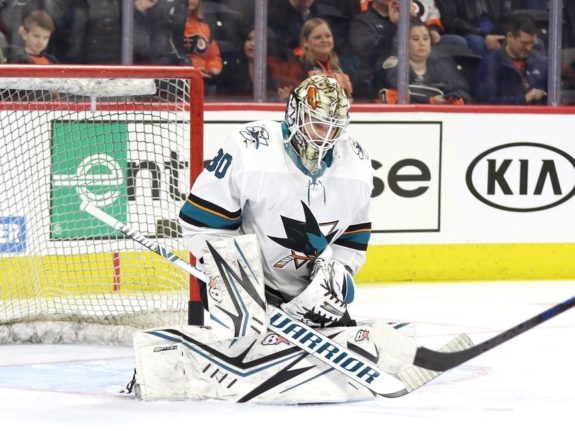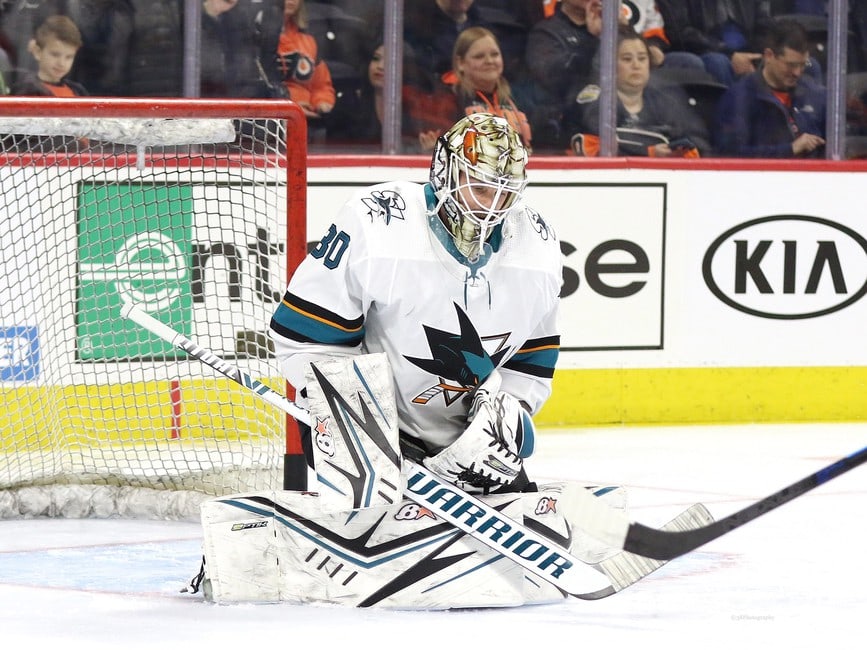 Wedgewood's .901 SV% through five starts for the Devils is not exactly confidence-inspiring and he's known to be a little uncontrolled in his play from time-to-time. His uneven play is likely a reason why he hasn't been able to cement himself as an NHL backup since his last tenure with the Devils. Dell is a more known entity and has been a serviceable, if uninspiring, backup before.
With Comrie out of the picture, it's a two-horse race between Wedgewood and Dell. The Devils' new schedule, as a result of COVID protocols, sees them having a game every other day or back-to-back for the rest of the season. The limited-time off will mean that they will need to rely on a backup goaltender to take some starts. At this point, it's tough to say who that's going to be.
Nashville Predators: Saros vs Rinne
4/5: There's Smoke and Probably Fire
John Hynes is a coach who is not afraid to let his big money, supposed starter sit in favor of the backup. He did this with the New Jersey Devils while Schneider battled through an array of struggles the last few years, culminating with his contract being bought out in this last offseason. Pekka Rinne is in the last year of his contract that carries a salary-cap hit of $5 million per year. He's 38 years old and had the worst statistical season of his career last season. In spite of his contributions to the franchise since becoming the starter in 2008, hockey is a business and Rinne seemed unlikely to get anything more than a one-year contract from anybody after this season concluded.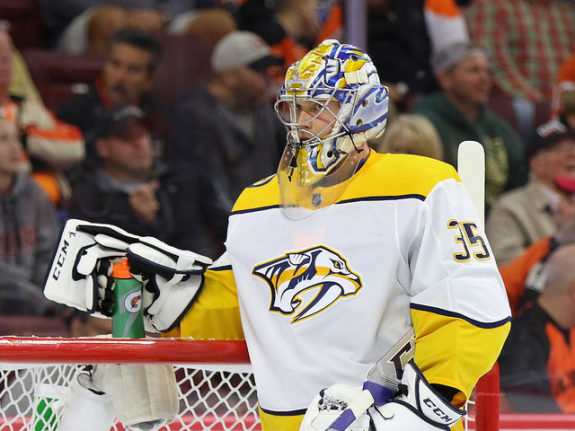 Juuse Saros, on the other hand, is a 25-year-old with restricted free agent status after this season. He was drafted by the Predators in the fourth round in 2013 and has been developed by the franchise through their AHL team, the Milwaukee Admirals. His Admirals statistics are incredible. He went 45-15-1 with the team averaging a .921 SV%. Since taking over as the backup for the Predators in 2016-17, his NHL numbers have been quite good. Prior to this season, Saros had accumulated a record of 55-36-16 with a save percentage of .918. He has very clearly been the heir apparent to Rinne.
Saros' history of stellar play is what makes this goalie controversy so interesting right now. Rinne hasn't been particularly good to start this year off, but neither has Saros. With Rinne's contract set to expire, the ideal situation for the Predators would be for this year to be the year Saros takes a noticeable step forward towards asserting himself as a capable full-time starter. Instead, Saros is off to a 3-5-0 start with a .882 SV%. Rinne's statistics to start the year are better but his record isn't. He's currently 3-5-0 with a .907 SV%.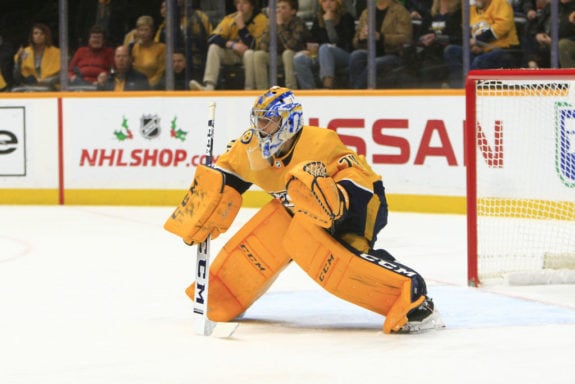 The team in front of these goaltenders has been so lackluster that it's quite impossible at this point to choose between them. They're below league average in both power-play percentage and penalty kill percentage. At present moment, the Predators have the second-worst High-Danger-For coefficient in the league at 5-on-5. That number currently sits at 34.4%, meaning that in their games, throughout their season, of the total high-danger-scoring chances that have occurred at 5-on-5, 65.6% of those chances are going AGAINST the Predators. The team is an analytical nightmare and this hinders both goaltenders' ability to help the team win games.
RELATED: Predators' Saros May Not Be the Best Option Just Yet
Working in Saros' favor is the fact that he has bounced back from slow starts in the past. The difference in those years was that the team in front of him was able to help support him when he struggled. The exact same thing can also be said about Rinne also. The Predators have not missed the postseason since 2013-14. Rinne has been a huge part of that. On the surface, it seems as though the Predators are ready to move on from their aging netminder.
However, if Saros cannot step his play up, and Rinne continues to be as-good or just slightly better, the Predators will have no choice but to go with the goalie that gives them the best chance to win. That goes for this season, and possibly the future. The uncertainty here is not going away and expect it to get worse if the Predators decide to cut ties with Rinne at the season's end, only to see Saros struggle in the future.
To wrap it all up in one sentence per team:
The Capitals have had a full-blown coup d'etat that has seen a new starter arise.
The Devils have too many cooks in the backup kitchen.
The Panthers are stuck weighing a promising upstart against the purchased big-money savior.
The Predators' heir apparent cannot climb out of the shadow of a mentor who's not quite ready to step aside.
These storylines will all inevitably be concluded one way or another. For the Capitals and Devils, the controversies they face are likely good things where the cream rises to the top and the franchise is made better by the competition. The Panthers and Predators, on the other hand, do not have such rosy outlooks. In an upcoming segment, I'll be addressing the teams where controversy might appear to be brewing, but I'm convinced there's nothing to worry about.
---
---
Jack Dawkins is a freelance scout, analyst and avid watcher of "way too much hockey." He has joined The Hockey Writers team to cover all things Washington Capitals, New Jersey Devils, Minnesota Wild, Los Angeles Kings, Arizona Coyotes and Florida Panthers. He's an absolute data hound and loves using stats and analytics to calculate and extrapolate data for analysis.