Per Sportsnet's Elliotte Friedman, the NHL is investigating the idea of selling advertisements on their helmets. Friedman noted that it was brought up during last Wednesday's Board of Governors call, but that there won't be any formal comment on the subject until team presidents are briefed early this week. 
Commissioner Gary Bettman has rejected the possibility of selling ad space on NHL gear on numerous occasions, the negative financial impact of the pandemic has forced the league to look at new methods of increasing revenue moving forward. Considering the halt in ticket sales and significant games lost in 2019-20 and again this season, it's understandable why the NHL is looking to expand its resources. 
Friedman went on to say that ads on jerseys will come eventually, but that there is a desire to be careful with it. It goes without saying that NHL fans will not take kindly to this motion, but if it's true that sponsors are destined to be displayed on the helmets and jerseys of NHL players, then it's not a matter of when, but where and would it be worth the backlash that may come from it?
How can the NHL follow in the footsteps of other professional sports in enacting new sponsorship opportunities and how will it impact their community as a whole?
Swedish Hockey League
Unlike the larger professional sports leagues around the world, the Swedish Hockey League can't rely on high capacity stadiums or lucrative broadcasting deals to generate their income. Instead, they use jersey advertisements to fill the void.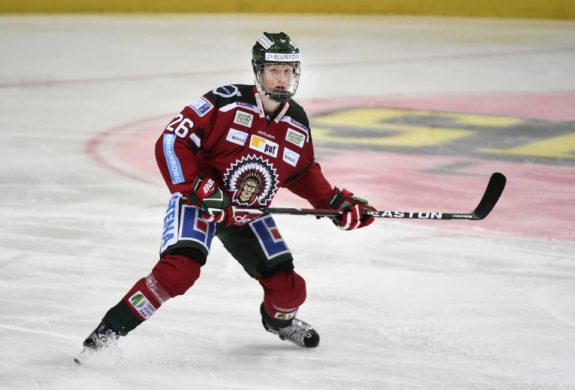 Pictured above, you can see Rasmus Dahlin covered head to toe in logos while playing for Frölunda HC of the SHL. However unlikely it is that the NHL progresses past one or two helmet advertisements next season, jerseys like those of the Frölunda Indians are an example of what maximized sponsorship exposure looks like on hockey equipment.
Assuming the NHL doesn't want to rush into anything as horrifically prominent as the ads on European hockey gear, Bettman and co. might be better off looking at the World Cup of Hockey for more modest jersey sponsorships. 
2016 World Cup of Hockey
For the first time, jerseys worn at 2016's World Cup of Hockey featured advertisements in the form of a small patch on the right shoulder. 
The NHL and NHLPA made a deal with a German software company called SAP, which brought in an undisclosed sum. With that being said, Sports Business Journal announced that the NHL had secured more than $25 million in sponsorships for the tournament overall, while the patch was only found on game-worn jerseys and not store-bought; to make sure fan jerseys would not be tarnished by the shoulder patch.
While the presence of ads on World Cup jerseys was unprecedented, a limited-game tournament isn't comparable to the NHL. A more apt and realistic blueprint for the implementation of jersey advertisements can best be seen in the NBA's most recent foray into the market.
NBA Blueprint
The NBA began its initiative to sell real estate on the upper left side of their jerseys at the beginning of 2017. Although their patch is more subtle than Frölunda's ads, the success of its program demonstrates the potential for what is currently untapped revenue for the NHL.
According to the Sports Business Journal, the NBA has made more than $150 million since adding the patches; with teams drawing anywhere between $5 and $20 million each. While the NHL's total revenue is dwarfed by the NBA's ($4.54 billion vs $8.01 billion), it's assumed that adding sponsored patches to NHL jerseys could fetch anywhere between $70-$80 million of new income every year.
With COVID unsettling many of the world's markets, it's unlikely that the NHL would get fair market value on a deal like the NBA's. And while it's clear that the NHL has plenty of options for implementing patch advertisements, it's unclear how fans will take to the news.
The Big Picture
NHL jersey advertisements have been a debated topic among fans for a while, and although most would prefer the NHL avoid further commercialization of the sport, odds are that we will likely see ads in the future.
It's hard to imagine the NHL leaning towards jersey or helmet advertisements without their fans' consent. But as Bettman said in 2017, "… it would take an unusual circumstance for us to even be thinking about it." COVID-19 could be that usual circumstance, but would ads go away once the pandemic subsides, or will they be here to stay? 
Hockey fans don't like to break tradition. NHL jerseys have remained without advertisements for good reason, and if the league decides to implement them, fans would surely be enraged. That said, what better reason do you need to introduce such measures than a pandemic that has affected the livelihoods of owners, players and fans alike?
---
---