In today's News & Notes, Sean Couturier will be out of commission for a few weeks with an MCL injury, Brady Tkachuk has picked his NHL number with the Ottawa Senators and John Shannon is reporting that there is no truth to the Vancouver Canucks being involved in the Erik Karlsson trade saga.
Couturier Out 4-6 Weeks
The Philadelphia Flyers got some bad news when they learned that Couturier would be missing some time due to an MCL injury. The team stated that the injury occurred on Aug. 10 in a recreational game in Couturier's home Province of Quebec. The team also said that this wasn't a "re-injury" of the injury Couturier suffered in the postseason against Pittsburgh in 2018.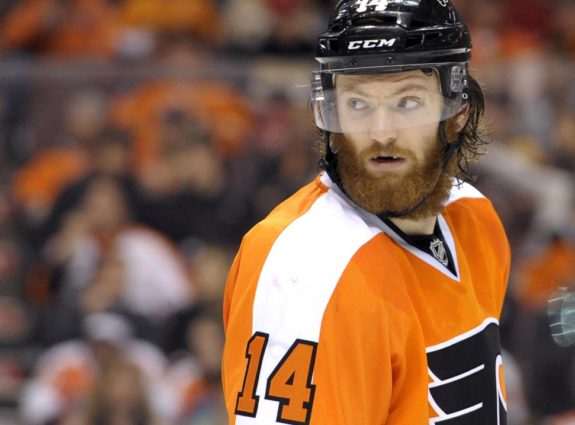 When speaking to the media to provide an update about the injury, Flyers' general manager Ron Hextall had the following to say:
"We anticipate Sean participating partially at the start of training camp and then approximately halfway through camp we believe he'll be full-go and participating in the last number of preseason games."
Hextall would also mention that based on the current injury timeline, Couturier should be back in time to play in some of the later preseason games.
"Right now we anticipate him participating in some drills at the beginning of training camp, but not all… our timeline right now is that he would participate in the back end of the preseason games. Somewhere in the 2, 3, 4, not the first four [games]."
Tkachuk Chooses Jersey Number
Tkachuk will be following in his father's footsteps, wearing No. 7 at the NHL level as a member of the Senators. Tkachuk wore No. 27 during his time at Boston University but has donned his father's number at the international level while competing with the United States at the World Junior Championships.
He'll be the 12th player in Senators' history to wear No. 7 with the most recent player to do so being Kyle Turris from 2012 until his trade in 2017.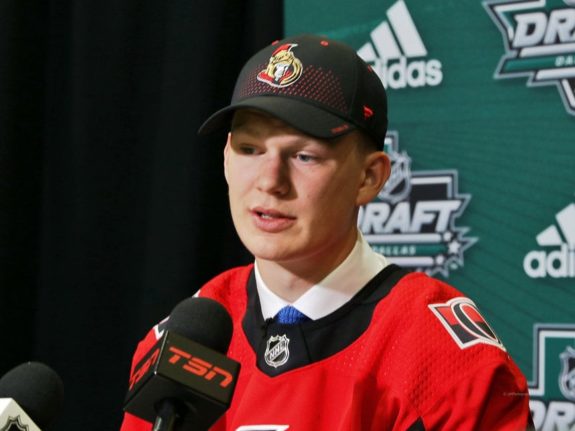 Tkachuk signed his entry-level contract with the Senators on Aug. 13 and will compete for a job on the team's NHL roster out of training camp. If the team determines that he isn't ready to contribute in 2018-19 then he'll ultimately be sent to the OHL where he'll play with the London Knights.
Related: NHL News & Notes: Desharnais, Fiddler, Randy Lee & More
The competition in the OHL won't be as good as it would be in the NCAA given the age-group he'll be playing against but rushing him to the NHL if he isn't ready might be even worse for his long-term development. Only time will tell what the team's decision is with him but when the time comes that he does become a full-time NHL player, he'll likely resemble his father – number and all.
Canucks Shoot Down Karlsson Reports
When Elliotte Friedman reported that trade discussions involving Karlsson had picked up pace around the NHL and mentioned that there was a belief that the Canucks were throwing their name into the hat, there was a collective afternoon of excitement. With major hockey news at a stand-still, as is the norm around this time of year, news about one of hockey's best players swirling in the trade market picked up more traction than it may have at a busier time of year.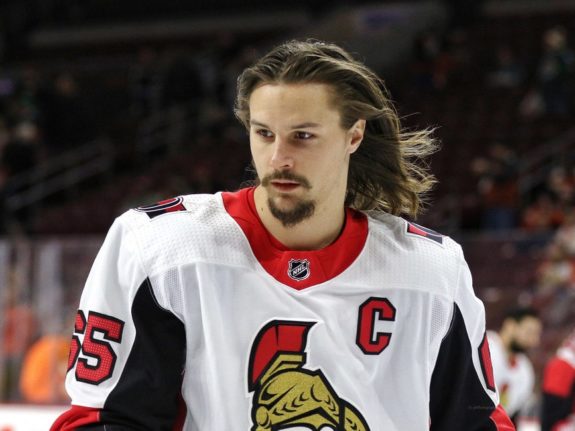 Just a few hours after the original tweet by Friedman was made, Shannon mentioned that he briefly spoke with Canucks' general manager Jim Benning who said that there was no truth to the Canucks being involved in the conversation.
At this point in the offseason, it's hard to know what's real and what isn't real. What is clear, though, is that all 30 teams should be making a call to Ottawa to at least inquire about the price of Karlsson. How far those discussions will go will vary by team but when a player of his caliber becomes available, general managers have to pick up the phone.