Last year, the Columbus Blue Jackets finally got a full season out of the second overall draft pick in the 2012 draft, Ryan Murray. Murray has had a tough string of injuries that have prevented him from being in the lineup for a full 82 games over his first three seasons.
82 was already out the door for this season when he missed a game after blocking a shot. Now, he's set to miss a few more. Murray left Friday's game with an upper-body injury. The team did not offer specifics on the injury, but the Columbus Post Dispatch's Aaron Portzline reports that Murray took an elbow to the head from Chicago's Brent Seabrook.
After the game, coach John Tortorella didn't do much to clarify the situation, but said Murray will not be joining the team on their upcoming four-game road trip.
Van Riemsdyk Out, Hossa Questionable
Every NHL club has a win now, after Columbus beat the Blackhawks Friday. Not only did Chicago take the loss and continue their struggles with a reeling penalty kill, they lost some players.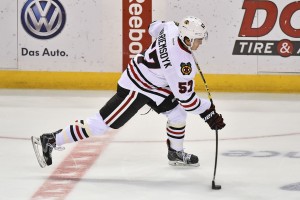 25-year-old defenseman Trevor van Riemsdyk was injured in the game. The extent and specifics of the injury aren't yet clear, but he's not expected to play in Saturday's game against the Maple Leafs.
Coach Joel Quenneville only said
that van Riemsdyk will be out for "a bit."
Van Riemsdyk's injury may stem from a collision where he ran into a goal post Friday. 
Marian Hossa may also miss a little time, though his injury sounds much less severe. Quenneville called Hossa "questionable" for Saturday's game.
Isles Down a Couple Defenders
In Friday's win over the Coyotes, defenseman Ryan Pulock suffered a lower-body injury in the first period and did not return to the bench for the start of the second. The severity of the injury is unknown, but it's another tough break for the Islanders, who have gotten off to a slow start.
Pulock, the Islanders' first-round draft pick in 2013 (15th overall), was recalled from AHL Bridgeport in place of the injured Nick Leddy. Now they're going down the depth chart once more. It's likely that Adam Pelech will draw into the lineup in place of Pulock when the Islanders face the Wild on Sunday.
UPDATE: The Islanders have announced that Pulock will miss the next four-to-six weeks.
#Isles Injury Update: Ryan Pulock will miss the next 4-6 weeks with a lower body injury.

— New York Islanders (@NYIslanders) October 22, 2016
MacArthur Forgives Sieloff
Ottawa Senators forward Clarke MacArthur has had a rocky road returning from concussion to say the least. He was dealt a major setback during training camp when he took a high hit from new teammate Patrick Sieloff. MacArthur suffered another concussion on the play and hasn't been able to return to practice yet.
But MacArthur told Bruce Garrioch of the Ottawa Citizen that he forgives Sieloff and understands the hit. "I talked to him a couple of days later," MacArthur said. "Am I happy with it? I'd love to not take that hit. At the same time I know what he was doing, he's trying to make a team.
"He's a young guy and probably didn't know the situation I was in. That's all good. That's behind us. I have no ill wishes on him. Let's move on. He's part of this team and this organization and that's the way it is."
MacArthur has resumed skating on his own and is hoping that he can return to the ice and continue his career. He will be traveling with the team on their upcoming road trip that starts Sunday in Vancouver.
Garbage Ice at Barclays, Still
Newsday's Arthur Staple reports that Islanders skaters were upset with the quality of ice at the Barclays Center during Friday's contest. Similar complaints were heard last year and some of the issues had supposedly been worked out.
Cal Clutterbuck called the ice "unplayable," while defenseman Johnny Boychuk described the ice as "bouncy."
The Michigan Goal Part Deux
Alumni from Michigan's 1996 national championship team took in Friday's Michigan versus Michigan Tech tilt. A trio of players took to the ice between periods to try and pot goals through a small opening from the defensive zone hash marks. Both Marty Turco and Brendan Morrison sank their long distance shots. Then came Mike Legg, owner of the famous "The Michigan Goal." He did a full-ice Michigan goal and it was amazing.
Tonight's Michigan Score-O insanity:
Legends & 1996 champs @mturco35, @7bmo & Mike Legg all 🚨🚨🚨 @Buccigross #SCTop10 https://t.co/MR2w1ICb7A

— Michigan Hockey (@umichhockey) October 22, 2016
Strome Family Unsure Who to Cheer for
That game between the Coyotes and Islanders was the first NHL summit between brothers Ryan Strome and Dylan Strome. Their parents were in attendance, but cheering was a complicated matter.
Ryan scored his second goal of the season at the game with brother Dylan on the ice. Cheer? Don't cheer? Cheer but look flummoxed about it?
Odds and Ends
– With an assist during Friday's loss to the Islanders, Shane Doan has moved into sole possession of second place all-time in assists for the Coyotes. With 551 assists, he passes Dale Hawerchuk and is now just two back of Tom Steen who holds the franchise record.
– Sergey Kalinin is expected to be taken off injured reserve Saturday morning. If it happens, he'll be in the lineup versus the Minnesota Wild on Saturday, according to NHL.com's Mike Morreale.
– Vancouver Canucks prospect and current University of North Dakota forward Brock Boeser put on some moves Friday night.
Brock Boeser scores a penalty shot for the hat trick and a 3-2 Fighting Hawks lead. #BrockAndRoll pic.twitter.com/4thQfKkDY1

— North Dakota MHockey (@UNDmhockey) October 22, 2016
– Also, this.
Props to The Weather Network for this #HeritageClassic weekend forecast pic.twitter.com/N3DZ2XKFwN

— Dave Stubbs (@Dave_Stubbs) October 22, 2016