With so much of the NHL's recent royalty now sidelined for the season, there's more than a few dejected fans out there right now.
The Sharks, Wings, Canucks, and Penguins have all left their sizable followings with an unexpected amount of free time on their hands (and don't even mention the situation in Leaf Nation or Hab-land).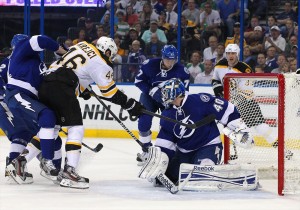 Some of these fans will happily adopt another springtime squad (it's a great time to adopt a random Sunbelt city for example), while a crotchety few will choose to remain aloof, cheerlessly regarding the remaining teams with equal disdain.
But neither of these solutions will be good enough for the true diehards.
For those select few, desperate, and angry puckheads there is a solution. But it takes courage. For those fans secure enough in their hockeyness, the AHL presents a honorable alternative for playoff hockey.
And what better team to adopt than the history-making Norfolk Admirals?
Here are the top-five things you have to know before you leap gleefully atop the Admirals' bandwagon.
5. They Own the Longest Winning Streak in (North American) Pro Hockey
Even those hockey fans who are blissfully unaware that 85% of the NHL's players come from the AHL may have heard of the Norfolk Admirals due to their historical 29-game winning streak.
4. They Are Only One of Two AHL Teams Tagged as the 'Admirals', Awesome!
The Admirals of Norfolk joined the AHL as an expansion franchise for the 2000-01 season secure in their choice of nickname.
After all, for a hockey club playing in a city that is also home to the largest naval base in the world the name made good sense. Made perfect sense. Booyah.
Then, with the folding of the International Hockey League, the AHL absorbed six teams for the 2001-02 season – including none other than the dastardly Milwaukee Admirals. Norfolk fans can take heart in the fact that while Milwaulkee's team can trace its roots back to 1970, it's actually named after a line of household appliances. Fridges or battleships…is that even a choice?
Long time fans of the Canadian Football League won't be bothered by this kind of duplication.
3. Cory Conacher
The Admirals earned their fair share of hardware this year. In addition to being the regular season champions, head coach Jon Cooper won the Louis A/R. Pieri Memorial Award, presented to the AHL's coach of the year – putting him in good company alongside former winners like Guy Boucher, Peter Laviolette, Jacques Demers, and, yes, even Don Cherry.
The Admirals' big winner however, earning the Rookie of the Year award and being named Most Valuable Player, was the supposedly undersized Cory Conacher.
The 22-year-old Burlington, Ontario native is listed on the AHL website at 5-foot-8 and 180 pounds, and went undrafted while playing at Canisius College before being invited to the Lightning's camp last fall. Conacher impressed enough to earn a contract with the Admirals and promptly went on to score an AHL-best 39 goals as a key component of the Admirals. He signed a two-way contract with the Lightning on March 1.
You don't get those kind of stories everyday.
2. They Have a Great Chance of a Deep Run
Chasing down the Calder Cup is no easy challenge. As one of the AHL's 30 teams, you first have to earn one of 16 playoff berths. And just like if you covet it's bigger cousin, Stanley, you then have to a four round-firefight of pounding, professional hockey in order to carve your name on it.
For the Admirals they'll have to first win the best-of-five series against the Manchester Monarchs (top-affiliate of the Kings), and then face another Eastern Conference rival in a best-of-seven, and then another, before earning the right to play whichever team emerges from the West.
It's a tough go anyway you look at it, but the AHL's top team has as good a chance as anybody of claiming the Calder. And unlike so many of our NHL squads, they're still in it.
1. They Aren't Affiliated with Your Hated Rival
The Admirals are the Tampa Bay Lightning's farm team, and so unless you're a Panther fan (or possibly a Flames' fan from 2004), you don't have fear cheering on your beloved NHL's team future antagonists.
So why not hold your head high, stay true to your NHL team, and jump into the playoffs…AHL style.
You'll be a better hockey fan for it.