There's a certain Christmas tune that comes on the radio at just about every turn that describes the time of year that the NHL is embarking on: "It's the most wonderful time of the year."
Yes, my friends, the NHL playoffs are finally upon us, with the first round series kicking off on Wednesday night. What is about to follow is two months of the most tense and thrilling action in the sporting world, where night in and night out gut-wrenching defeats and insanely glorious victories will take place at arenas throughout the United States and Canada. And, thanks to NBC and the NHL Network, all of it will be televised nationally in the US, much to the delight of hockey fans everywhere.
With that expanded coverage, more fans will be paying attention to more series than ever before, and the slate of first round match-ups this year is impressive, to say the least. You have some great geographical rivalries, some interesting decisions for snowbirds to make out in the deserts of Arizona, and oh yeah, some team in Florida that is making its first playoff appearance in 12 years.
This will be a playoffs to remember, and speaking of remembering, I am going to depart from my usual strategy of avoiding addressing readers directly for just this paragraph.  I encourage all of you to remember these picks that I will be making on this site over the next two days. I do not encourage you to do this out of an overabundance of hubris, because I'm quite certain that I will get picks wrong (I picked Anaheim and Buffalo to finish fourth in their conferences, and Ottawa to finish 15th before the season started), but I do that instead because I think that too often writers don't get held accountable when they spectacularly kick the pooch and screw up picks. Therefore, I encourage you to send me this link and ask "what the heck were you thinking?" if everything goes south.
Without further adieu, here are breakdowns of the Eastern Conference playoff series (Western Conference breakdown, as well as a revised Stanley Cup Final pick, will come tomorrow):
Number 1 New York Rangers vs Number 8 Ottawa Senators
The Senators made a triumphant return to the playoffs this year, riding the red-hot scoring of defenseman and widely debated Norris Trophy contender Erik Karlsson, as well as the leadership of Daniel Alfredsson and Jason Spezza. No one really picked them to do much of anything, but behind the stellar coaching of Paul MacLean, they turned things around and made it in.
On the other side, the Rangers made a huge splash in free agency by signing Brad Richards, and promptly followed that up with a fantastic march to the number one seed in the Eastern Conference. Their defense was stellar, their goaltending from Henrik Lundqvist was almost unmatched in the NHL, and their scoring came from all sorts of places.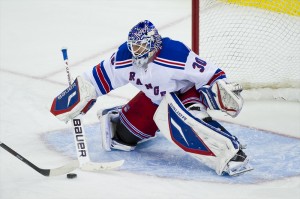 Normally, 1 vs. 8 series tend to be more of a coronation than an actual battle in sports, but in hockey, things are a little bit different. It isn't totally uncommon for a top seed to fall in the first round, and so the Rangers have to guard against thinking they have it made in the shade in this series. That is especially important for two reasons.
The first reason is that Ottawa is a very potent team in terms of putting the puck in the net. Even with teams who play with defensive mindsets like Boston and Buffalo in their division, the Senators racked up 249 goals this season, good for fourth in the East and tied with Vancouver for fifth in the whole NHL. That great amount of production is something that the Rangers have to respect, even with a bona fide Vezina contender in net.
The other reason is that Ottawa is one of the better road teams in the league. They actually gathered more points away from Canada's capital city than they did on home ice this season, so the Rangers have to play smart knowing that Ottawa's game, when simplified, as road teams do tend to do, can be even more dangerous.
All of that being said, however, the Rangers are the number one seed for a reason. Lundqvist aside, they finally have a healthy Marian Gaborik in the fold, and the leadership that captain Ryan Callahan provides cannot be oversold in terms of importance. It will be a closer series than John Tortorella and company would like, but with the gritty way they play the game, they should be able to finally make some noise in the playoffs in the Big Apple.
The Pick: Rangers in six
Number 2 Boston Bruins vs. Number 7 Washington Capitals
If the Eastern Conference playoffs were "Let's Make a Deal", the Capitals chose door number one and got shafted with a crappy prize, while the Panthers were patient and lucked into a nice prize. For the Caps, their prize was a date with the defending Stanley Cup champions, and the Panthers got home-ice advantage. Seems fair, right?
At any rate, the Capitals come into this series in a very unfamiliar position: as huge underdogs. Despite having elite level offensive talents like Alexander Ovechkin and Nicklas Backstrom in the lineup, the Caps barely made it into the postseason, and they may end up having to start newbie Braden Holtby in net because of Michal Neuvirth's injury. Add to that the continued sluggish play of defenseman Mike Green, and you have a potential recipe for disaster.
Meanwhile, the Bruins have had more hot and cold streaks than Nicolas Cage's career this season. They started out the season looking like they were worn out from too much partying, went through a blazing stretch of quality play after that, and have kind of coasted into the playoffs, albeit with a fairly strong finish to the season with a 7-2-1 record over their last 10 games.
With both of those paragraphs in mind, it's all too easy to dismiss the Caps' chances against Boston, but that is a dangerous assumption. Coming into the playoffs as prohibitive favorites year in and year out should theoretically work to a team's advantage at some point (if they're good enough to be favorites, they're good enough to win the Cup), but it never has for Washington. This season, though, there are no expectations at all, so there is a distinct possibility that Washington will play like it has nothing to lose, and that could be dangerous for a Bruins team that isn't exactly brimming with confidence right now.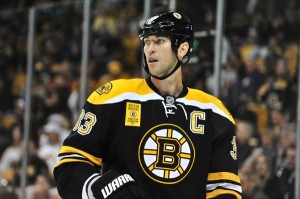 The key for the Bruins is going to be the play of Tim Thomas. If he can recapture the form he displayed last year, his team will be just about unstoppable. In the more likely event that he raises his game up a level, his team could still be thwarted, but at the very least it would make for a competitive series.
Here's banking on the fact that Thomas steps up enough, and that the Bruins find enough secondary scoring to overcome any scare that Washington can put into them.
The Pick: Bruins in seven
Number 3 Florida Panthers vs. Number 6 New Jersey Devils
Normally, a team that finished in fourth place in their division wouldn't be looked at as a dangerous playoff foe, but the Devils are just that this season. Not only do they have two of the premiere scorers in the NHL in Ilya Kovalchuk and Zach Parise, but they also have a veteran goalie in Martin Brodeur who is looking to make one more big splash in a career full of them. They are a team loaded with expectations despite their lower seeding, and they will be looking to make a statement against a crew of upstarts.
That crew has been thrilling fans all season in Southern Florida. Between Brian Campbell and his resurgence as an offensive defenseman in this league and the great play of some of Dale Tallon's controversial acquisitions, such as Kris Versteeg and Tomas Kopecky, the Panthers managed to claw their way to a division title despite struggling through the last part of the season.
It would seem that the smart money in the series would be on New Jersey, and there is good reason for that. The playoff experience that guys like Brodeur and Patrik Elias bring to the table is immeasurably helpful, and the stellar play of guys like Adam Henrique gives the Devils the depth that playoff teams covet. Add to that the fact that the Panthers had a minus-24 goal differential and scored the fewest goals of any team in the Eastern Conference, and you can pretty easily see why the media would tend to side with New Jersey.
As Lee Corso of ESPN fame would say, however "not so fast, my friend!" The Panthers may have the worst goal-differential of any playoff team, and yes they somehow managed to get charity points in an astonishing 18 games this season, but there are two key areas that they are good in, and those could be good enough to get them through the first round.
The first of those areas is their power play, which ranks 7th in the league at an 18.6% success rate. Converting on the power play and making teams pay for their mistakes is a crucial component to success in the NHL playoffs, and the Panthers can certainly do that. Their other area of strength is their defense and goaltending, which led them to 12th in the league in goals against. A strong defensive showing can win a playoff series, but will it be enough for the Panthers?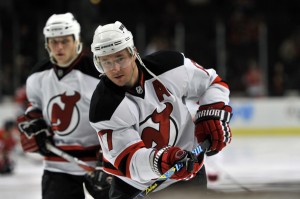 No, it won't.
The Pick: Devils in five
Number 4 Pittsburgh Penguins vs Number 5 Philadelphia Flyers
Finally, it's the series that everyone is talking about. The Flyers come into this series without a lot of momentum, but they do still have one of the league's most explosive offenses, a solid defensive core despite the loss of Chris Pronger for the whole year, and a penchant for physical hockey that makes them a dangerous playoff foe for any team.
Meanwhile, the Penguins come in with their two key weapons fully loaded in Sidney Crosby and Evgeni Malkin. Add to that the playmaking ability of Kris Letang on the back-end, their great scoring depth with guys like James Neal in the fold, and the fact that they had the league's second best goal differential, and you are potentially looking at a world-beating team.
This series is going to come down to a couple of key factors. The first of those is whether or not the Penguins will be able to match the Flyers' physical game without getting drawn into committing penalties. The Flyers are a very skilled team when it comes to getting under an opponent's skin, and if they are able to do that, they can bury you with scoring from guys like Claude Giroux and Jaromir Jagr.
The other factor is whether the Flyers can find any way to stop the Penguins offense. They have the second-worst goals against mark of any Eastern Conference playoff team, and the Penguins scored 282 times this year, the most in the NHL. Getting Crosby's legs back underneath him is only going to help matters for them, and they could prove to be a real headache for the Flyers if they can continue scoring like this.
Ultimately, however, this series will probably come down to which goaltender can hold it together the best. Ilya Bryzgalov has dealt with a lot of consistency issues in his first season in Philadelphia, and he wasn't exactly a primetime performer come playoff time during his seasons with Phoenix. On the other side, Marc-Andre Fleury is a frustrating guy who can be completely dominant one night and completely horrible the next. There doesn't seem to be a middle ground with him, so it will be interesting to see which side ends up coming out on top.
When push comes to shove, Pittsburgh's offense is just too good to bet against.
The Pick: Penguins in seven
Just for kicks, here are predictions for the rest of the conference playoffs, although the right to change these picks when the matchups are set remains that of the author:
Eastern Conference Semi-Finals:
Rangers over Devils in six
Penguins over Bruins in seven
Eastern Conference Finals:
Penguins over Rangers in six
Let the games begin!
You can follow Jim on Twitter @JimNeveau