In today's NHL rumors rundown, one insider suggests the Edmonton Oilers are still interested in Vladislav Gavrikov of the Columbus Blue Jackets. Meanwhile, as the Oilers talk with the San Jose Sharks about Erik Karlsson, there is no steadfast rule about how much salary the Sharks are willing to retain.

In Detroit, Dylan Larkin has advised the Red Wings about what he wants and there's a report about the terms under which he'd accept a trade. Finally, does Patrick Kane have his trade list down to two teams?
Oilers Still Have Interest In Gavrikov
According to Pierre LeBrun, and counter to some reports that say the Oilers have all but ruled out defense-first blueliners, Ken Holland is still having conversations with the Columbus Blue Jackets about Vladislav Gavrikov. LeBrun posted an update about everything he's heard when it comes to Edmonton's interest in different trade deadline defensemen and he believes Gavrikov is the most likely candidate to land with the Oilers.
Related: Oilers Stars Have Told Their GM Who They Want at Trade Deadline
LeBrun writes that the financial hurdles in the way of getting a Karlsson trade done seem too overwhelming. He adds that the Oilers and Arizona Coyotes had another chat a few weeks ago about Jakob Chychrun, but, ideally, the Coyotes don't want to take back any contracts just for cap reasons. He suggests there have been multiple conversations about Joel Edmundson, but Edmundson has another year on his deal at a $3.5-million cap hit and that isn't ideal for the Oilers.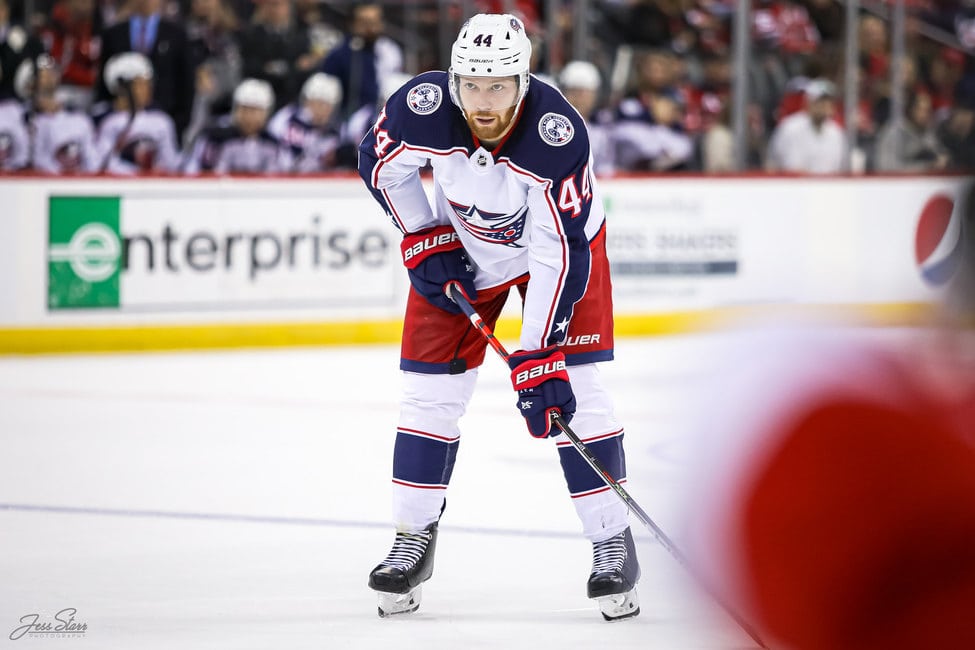 That said, when it comes to Gavrikov, LeBrun writes:
The appeal on the ice is that he fits on the left side in their top four. The appeal off the ice is that he's not on the books after the season, so his contract wouldn't jam up the books with Bouchard needing a raise. The appeal cap-wise at the moment is that his $2.8-million AAV is reasonable. If there's any way to move Puljujarvi in a Jackets trade or a separate deal, then the math works. 

source – 'LeBrun rumblings: Oilers trade options on defence — Karlsson, Gavrikov and more' – Pierre LeBrun – The Athletic – 02/14/2023
He also believes the Blue Jackets are willing to eat salary to make this deal happen.
Sharks Open to Retain More Salary on Karlsson Trade
LeBrun also noted during a recent episode of the Got Yer' Back podcast that any reports of the San Jose Sharks being unwilling to retain more than 18% of Karlsson's salary are not true. There has been no mandate suggesting this is the limit from a Sharks' perspective. That said, if the team is going to retain more than that, the assets need in the deal to make the Sharks consider it needs to go up.
If the Oilers are interested, that could mean another pick or potentially including Evan Bouchard in the deal.
Larkin Won't Accept a Trade Without a Contract in Place
According to Andy Strickland, it is believed Dylan Larkin has told the Detroit Red Wings that he wants $9 mill per year with his next contract. At this point, it is believed the best offer the Red Wings and Steve Yzerman have made has been in the $8 million range. Needless to say, there's still a ways to go here for the two sides to get something done.
---
Latest News & Highlight
---
Strickland adds, "Many believe he may not accept a trade without an extension in place. Told he's not in a rush to leave." Larkin has a full no-trade clause as part of his contract. If he doesn't want to accept a trade, the Red Wings can't do much about that. As a pending UFA, this puts the Red Wings in a tricky spot.
There are some other reports out there that Larkin may have come down from his ask, but it's not believed he's come anywhere close to being willing to accept something around $8 million.
Kane Has Two Teams To Which He'll Accept a Trade
According to former NHL player and current RSN 1050 broadcaster Carlo Colaiacovo, Patrick Kane has only two teams on his list for which he's willing to accept a trade before the deadline. Those two potential landing spots are the New York Rangers and the Toronto Maple Leafs. With the Rangers having added Vladimir Tarsenko, that likely takes them out of the running. Does that mean it's Toronto or bust for Kane? While he didn't say if things would change, Colaiacovo said in a recent episode of First Up that his sources have told him it's down to these two teams.
The Maple Leafs have been linked to a number of names heading into this season's trade deadline, but Kane hasn't really been a name frequently associated with what the Leafs are looking for. They would also have to pull off some salary cap gymnastics to make room for Kane's $10.5 million cap hit.