In today's NHL rumors rundown, what is the latest on trade talks involving Canucks forward Jake Virtanen? Meanwhile, there are other teams hoping the Nashville Predators make defenseman Mattias Ekholm available. If he's available, does this mean the team is officially already a seller? Could the Ottawa Senators be looking to trade Logan Brown? Ethan Bear has a setback for the Edmonton Oilers and finally, is there any chance Marc-Andre Fleury is traded?
Latest on Canucks and Virtanen
During a recent Insider Trading episode, TSN's Darren Dreger noted that there is still interest in Virtanen despite his lack of production this season. That said, teams are paying attention to his ice-time and it could affect the return the Canucks might receive.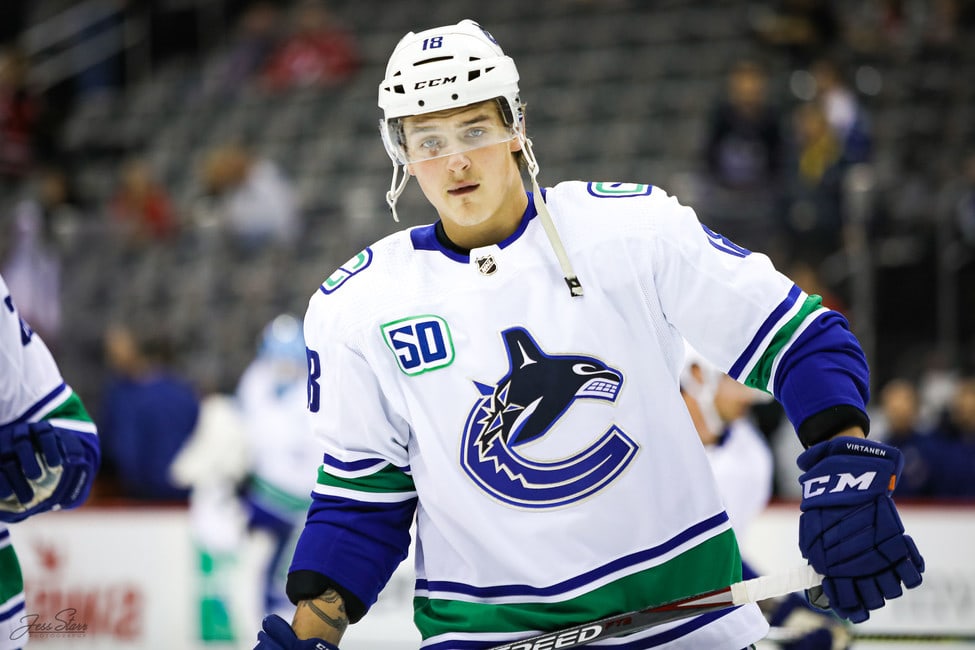 Dreger says:
"Keep in mind though that Jake Virtanen has another year left on his deal at $2.55 million and why that is important is because of that flat salary cap of $81.5 million, but it's also important to the Vancouver Canucks for a cap perspective and a cash standpoint. There has to be the right financial fit for the Vancouver Canucks to make this deal happen. Now Vancouver also wants a young forward in return, so we'll keep this one on the watch list."
Related: NHL Rumors: Flyers, Maple Leafs, Oilers, Wild, More
Teams Kicking Tires on Ekholm
There's no guarantee the Predators trade Ekholm, but according to Pierre LeBrun of TSN, the team is at least willing to listen to offers and there are a number of clubs hoping the Predators decide to let him go via trade. Eklhom has been a longstanding member of the Predators organization and he's got just over a year remaining on his current deal at a bargain price of $3.75 million U.S.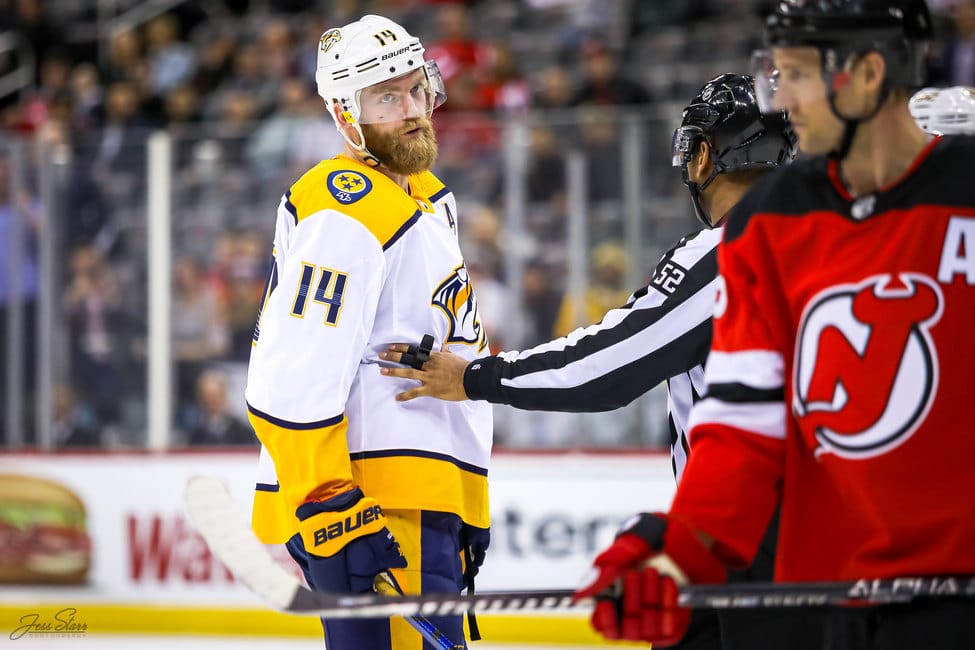 The defenseman lacks trade protection but the Predators won't move him if the price isn't right. LeBrun said, "Think of the Jake Muzzin deal of a couple of years ago where he had a year and a half left on his deal. The Alec Martinez deal last year… he had a year left, top four d that has a couple playoff runs in him could be appealing to a contender."
Most insiders believe it's only a matter of time before the Predators become sellers and players like Ekholm, Mikael Granlund, Erik Haula, Nick Cousins and Brad Richardson all become available before the trade deadline. The asking price for those players will probably be draft picks and prospects.
Related: NHL Rivalries Come at a Premium in Upcoming Playoffs
Fleury Not Available
We'd reported in the past that the Pittsburgh Penguins looked into re-acquiring Fleury, but Elliotte Friedman of Sportsnet says he doesn't believe the goaltender is available. He's playing extremely well for Vegas and Friedman notes, "In a year when some teams can't make it work even with four goalies, why would you move him?"
Remember too, the injury situation regarding Robin Lehner is often fluid and with the Golden Knights primed to make a run towards the Stanley Cup, it would be a mistake to weaken their goaltending depth.
Bear Has Injury Setback
Bear has had a "setback" according to Oilers head coach Dave Tippett. The defenseman won't play tonight in the game against the Winnipeg Jets after already missing seven straight contests. This is not great news for the Oilers who let in six goals against the Jets on Monday, but overall, could stand to have Bear back in the lineup.
In other pre-game notes, Mike Smith will start again after a tough first period and Connor McDavid is sitting on 499 points, needing only one more to tie Sidney Crosby with 500 points in 369 games played.
Could Brown Hit the Trade Market?
Last week, Bruce Garrioch and James Duthie were talking about how Logan Brown hadn't been in the lineup much. Garrioch said that there has been some talk of trading him if he isn't going to fit in with the Senators anymore. If they do decide to put him on the trade market, there would definitely be some interest in him.
Staying healthy has been a problem for Brown throughout his time with the Senators and he is out again and day to day with an injury.
Rangers Lose Trouba
The New York Rangers have announced that defenseman Jacob Trouba will be out four to six weeks with an upper-body injury. This is big loss for the Rangers and in a shortened season, that means he'll miss a huge chunk of the games. The team is struggling compared to expectations. The sit at 4-7-3 and are currently in seventh place in the East Division.
---
---