In today's NHL rumors rundown, the Pittsburgh Penguins announced Kyle Dubas as the new President of Hockey Operations. What is his plan for the vacant GM position? Just minutes before Dubas spoke with the press, Brad Treliving and Brendan Shanahan met with the media in Toronto. What are Treliving's plans for the roster, including his thoughts about the "core four"? Philadelphia Flyers announced changes to their management structure. Meanwhile, there is talk on how talks are progressing between the Montreal Canadiens and Cole Caufield. Finally, is Patrick Kane returning to the NHL after having a hip procedure done?
Dubas Talks Plans After Taking President of Hockey Ops Job
It was made clear by Kyle Dubas, the new President of Hockey Operations for the Pittsburgh Penguins, that for now, he will handle the GM duties on an interim basis for the time being and will begin to look at candidates later in the summer. Some are wondering who he's got in mind, with names like Jason Spezza and Brandon Pridham being candidates.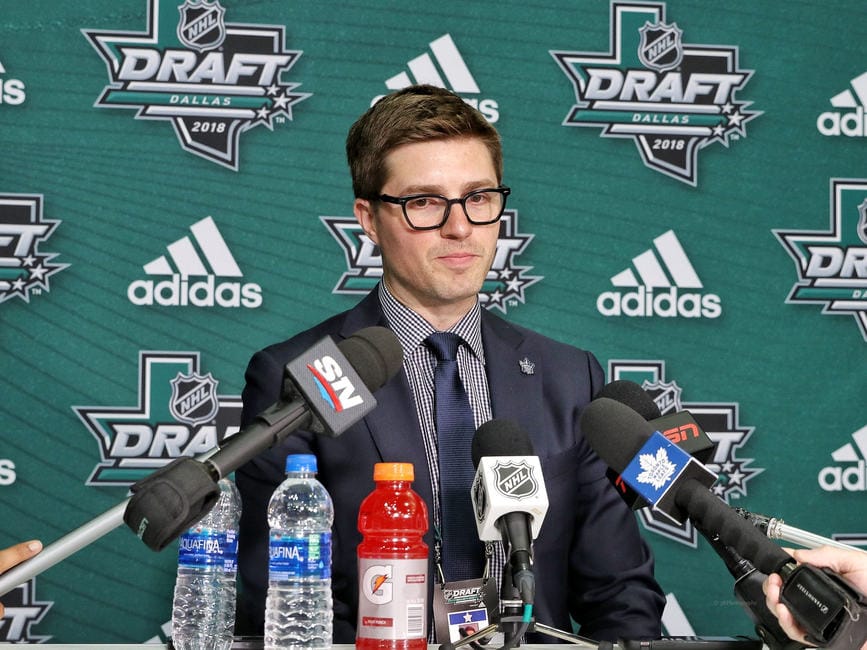 When it comes to items on his to-do list, it sounds like he has no intention of removing coach Mike Sullivan or trying to trade veteran stars Sidney Crosby, Evgeni Malkin, or Kris Letang. When it comes to goaltending and the future of Tristan Jarry, Dubas said, "I will rely on Andy Chiodo (goalie coach) and Mike Sullivan about what he's all about as a person. I will try to meet him and get to know him myself. Then we will be doing a very thorough evaluation of Tristan and review where he stands in the marketplace. That's a big priority because goaltending is vitally important."
Related: Whoa, Maple Leafs Treliving on a Prayer
He noted that the team would take a look at the open market and if Jarry is considered the best option available, he would try to sign the netminder.
Treliving Offers a Few Hints About His Plans for the Maple Leafs
When asked if Brad Treliving can be involved in the NHL Entry Draft, Brendan Shanahan says there were some restrictions imposed by the Calgary Flames but that he wouldn't go into those details. It was later reported by other sources that he's not allowed to sit at the draft table with his new team. Still, there is plenty Treliving can, and will probably do.
---
Latest News & Highlight
---
When questioned about potentially trading one of the "core four", Treliving says he's excited he's got really good players. "We will look at all things", but he's not coming in to make a statement. Not trying to make a headline. It's not about four players, it's about the 23 guys in the organization and on the ice each night. On the subject of head coach Sheldon Keefe, he said you can't really make a decision on someone until you get the chance to work with them. That said, don't expect Keefe to be extended, even though he's in the final season of his current contract.
When asked about the timing of Dubas' release, a new hire, and the candidates interviewed, Shanahan says the change wasn't because he was "suddenly feeling the pressure." He's always felt pressure and that's part of the job. This is about what the team can do to become better.
Flyers Make Executive Changes
The Flyers have announced a few front-office changes. Alyn McCauley has been promoted to Assistant General Manager from pro scouting, player personnel, and AHL. Meanwhile, Riley Armstrong becomes the new director of player development. Nick Schultz is now the new Assistant Director of Player Development.
Not everyone was promoted as the Flyers also fired Mike O'Connell, John Riley, and Kjell Samuelsson.
Caufield Getting Closer with Canadiens
According to podcast host Tony Marinaro, "Cole Caufield contract update: Yesterday, I reported that I'm hearing @colecaufield's new contract with @CanadiensMTL will NOT be more than Nick Suzuki's cap hit of $7,875M Today: I was just informed talks progressing – all signs point towards a 7 or 8-year deal."
Kane Undergoes Hip Procedure
Patrick Kane underwent a hip resurfacing procedure today, according to his agent, Pat Brisson. The expected recovery time is four to six months, which will keep Kane out for most of training camp and makes a return to the NHL for the start of next season questionable.
As per a tweet by Elliotte Friedman on Thursday afternoon, "Patrick Kane's representative, Pat Brisson, says Kane had a hip resurfacing today under Dr. Edwin Su. As is normal, follow-ups are planned, but roughly 4-6 months recovery is expected. Brisson says Kane "wants to play for a long time," and doctors are optimistic that will happen." It's not clear if he'll be back with the New York Rangers, but it's starting to feel unlikely.