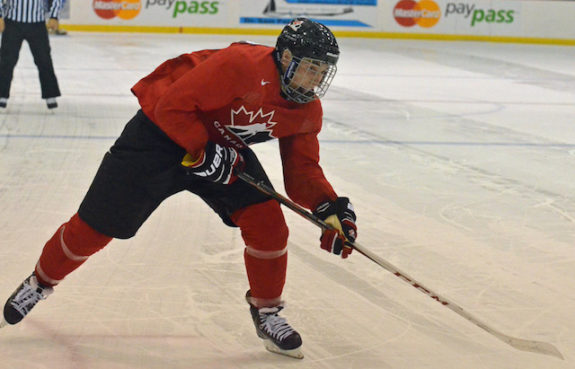 GMs of teams that have emerged as buyers leading up to the NHL trade deadline might have to dangle valuable commodities to land the perceived difference making players they desire in their quest for hockey's Holy Grail.
The Trend: Dealing Picks Versus Prospects
The trend in recent seasons is dealing draft picks and not prospects as organizations make deadline deals. One reason for this is drafted prospects already have an established relationship with the team who drafted them, making it easier to deal a commodity yet to have a name and personality attached to it.  With any given prospect they would have by now had a hand, in some form or another, in their developmental process.
10 Prospects Who May Get Dangled
If teams do decide to port prospects to different postal/zip codes, here's a glance at ten prospects (in no particular order) that may find themselves changing allegiances on or before March 2nd.
Note: Los Angeles Kings GM Dean Lombardi beat me to the punch in already dealing 2014 2nd round Roland McKeown – he was a part of my original top 10 for this article.
1. Adam Tambellini, F (New York Rangers)
The sniper with a NHL calibre release looks to be a 3rd round (2013) steal for the Rangers. He's currently 4th in WHL goal scoring with the Calgary Hitmen. Might he find his way to an organization based in Alberta – with the Flames where his father Steve played or with the Oilers where Steve was GM?
Watson is a two-way forward with a nice blend of size, versatility and hockey sense and with all-around upside. He'll be a tough asset to part with as a former first rounder, but his level of development and progress has been slower than desired. A change in scenery may benefit both parties.
The Ducks have made one move already and GM Bob Murray has been vocal about not liking the price tags at this point. It's difficult to fathom the Ducks do not make at least one more move and puck-moving defenseman Montour will be a good bargaining chip. The 2014 2nd rounder has made an impressive transition from the USHL to the NCAA ranks, averaging almost a point-per-game. Emerson Etem is another potential promising player the Ducks may move.
UMass' Brandon Montour (Six Nations) Honored As Hockey East Rookie Of The Month | NDNSPORTS http://t.co/qYahs2qtAo pic.twitter.com/44Flk10lBY

— NDNSPORTS.COM (@ndnsports) February 7, 2015
4. Daniel Audette, F (Montreal Canadiens)
The diminutive, crafty offensive forward and son of ex-NHLer Donald was a 5th round selection in 2014. The first name that emerges when discussing potential Habs' prospects who might be dangled is goaltender Zach Fucale. I'm not convinced Montreal would depart with the talented young netminder despite the fact they have the best goalie on the planet right now in Carey Price, who has plenty of mileage left on him. The savvy, skilled Audette is scoring at a 1.22 points-per-game clip this season in the QMJHL.
5. Dominik Masin, D (Tampa Bay Lightning)
The Czech Machine impressed at the World Juniors and is now evolving his game in the OHL, making fantastic strides. Yzerman won't easily part with his abundance of assets, Masin will undoubtedly be more easily attained over fellow defenseman prospect Slater Koekkoek.
6. Jayce Hawryluk, F (Florida Panthers)
The 2014 2nd rounder is a shift disturber. The Panthers prospect is averaging 1 and a ¼ points per game in the Dub this season on the powerful Brandon Wheat Kings.
https://twitter.com/DubFromAbove/status/569953653101965313
7. Matt Grzelcyk, D (Boston Bruins)
Would the Bruins really trade the diminutive blueliner shortly after he was named Beanpot final MVP? The 2012 3rd rounder's stock has never been higher and might be a difficult sell to Bruins' faithful given his recent heroics – therefore, the return better be worthwhile.
https://twitter.com/NESN/status/570070737404317696
Collberg is familiar with Trade Deadline frenzy coming to the Islanders in the Vanek to Montreal deal last season. He's a talented forward who could benefit from yet another change in scenery and could land GM Garth Snow and the Islanders another key ingredient.
9. Tyler Bertuzzi, LW (Detroit Red Wings)
Todd's nephew's progression has been impressive as the Red Wings seemingly took him off the board in the 2nd round of the 2013 NHL draft. But these are the Red Wings scouting staff we are talking about here. Bertuzzi is having a stellar campaign in the OHL, currently 8th in league scoring. Detroit would have to get a significant piece in return.
10. Vitek Vanecek, G (Washington Capitals)
The athletic netminder is uber-talented with superb reflexes. A rebuilding franchise can afford patience with his development.
Honourable Mentions
Mark McNeill, F/Ville Pokka, D (Chicago Blackhawks)
McNeill is another former first rounder who could use a change in scenery. Pokka is a skilled two-way blueliner who GM Stan Bowman might be forced to dangle should the right opportunity present itself.
***
How many, if any of the above prospects will get dealt on or leading up to the trade deadline or will we simply continue to see a multitude of draft picks moved?
Chris is THW's senior draft/prospect analyst and a Managing Editor. Watch for "The Next Ones" Prospect Profile series, exclusive rankings, mock drafts, as well as the annual THW NHL Entry Draft Guide. Follow @ChrisRalphYQ on Twitter as he infiltrates, dissects and analyzes all happenings of hockey prospects and the NHL entry draft. Email: cralph[at]thehockeywriters[dot]com