There are several players who are within striking distance of hitting very special milestones during the 2015-2016 NHL season.
Every generation has their all-time great players. In the 1950s Gordie Howe and Maurice Richard were the standard bearers. In the '60s it was Bobby Hull, Jean Béliveau and Jacques Plante.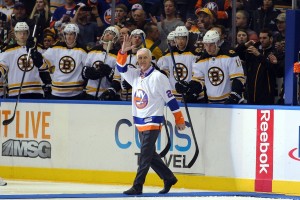 During the 70s it could have been players like Bobby Clarke, Bobby Orr, Rod Gilbert, Phil and Tony Esposito, and Bernie Parent. In the 80s, started with guys like Mike Bossy, Marcel Dionne, and Larry Robinson and ended with Mark Messier, Mario Lemieux and Wayne Gretzky.
Over the last two full decades, we have had Steve Yzerman, Dale Hawerchuk, Paul Coffey, Patrick Roy, Cam Neely, and Joe Sakic.
Every year players who have laced up their skates game after game, season after season accumulate stats that give one pause.
The numbers these once-a-generation players achieve are noteworthy and deserve a few minutes of our time to see what milestones might be reached this season. Some of these veterans are playing for one more chance to hoist the Cup, while others are playing for their place in NHL history.
All-Time Goals Scored
Jaromir Jagr,with 722 goals scored over his career, should pass Brett Hull for third place all-time behind Wayne Gretzky and Gordie Howe. As most of you know, Gretzky has 894 goals followed by Howe at 801 and Hull is currently third with 741. Splitting his year between New Jersey and Florida last year, Jagr tallied 17 goals,but a 20 goal season would put him one goal ahead of Hull.
Jarome Iginla will likely pass the 600 goal plateau to become the 19th player to accomplish that feat. With 589 career goals, Iginla needs 11 goals to reach that mark; and he scored 29 last season.
Marian Hossa should leapfrog a few players on the all-time list and break the 500 goal mark; he stands at 486 right now. Speaking of leapfrogging, Alexander Ovechkin with 475 goals will definitely surpass 500 career goals and should also pass Hossa during the season.
Rick Nash will likely join the 400 goal club as he is 22 goals away from that right now. Coming off a 42 goal season, Nash should easily blow past 400 by the All-Star Game. Marian Gaborik has an outside shot at the 400 club, being 26 goals shy. If Gaborik duplicates his 27 goals from last year, he'll end the season with 401.
Membership in the 300 goal club is about to explode. Pavel Datsyuk and Thomas Vanek could reach the mark during the first week of the season as they both have 298 career goals. Two goals behind them is Henrik Zetterberg and Corey Perry at 296 goals each. Brad Richards, who stands at 288, has a fairly good shot at eclipsing 300 career goals also.
A little further away from the 300 mark is Jeff Carter who needs 17 goals and Scott Hartnell who needs 22 to reach 300. Carter netted 28 goals last year so there's no reason to think he won't hit three bills. Hartnell also scored 28 last year but he'll need to almost duplicate that to surpass the 300 threshold. Lastly, Steven Stamkos needs 24 goals to hit 300 and should undoubtedly reach that with room to spare, as he scored 43 goals last year.
Games Played
Jagr will likely reach the 1600 games played mark and join the top ten all-time ranks.  Shane Doan and Iginla will break 1400 games played and both should be in the top 30 all-time.
Joe Thornton will surpass the 1300 number of games played while Zdeno Chara will join 104 other all-time players who have played more than 1200 games. Marian Hossa with 1172 games played and Vincent Lecavalier at 1163 should also hit 1200 games, but are further behind than Big Z.
Total Points
Jagr has a fair chance to end up third all-time in points. He currently has 1802 and needs 49 to pass the legendary Gordie Howe. Thornton needs 41 points to hit the 1300 total.
Hossa has a bead on 1100 total points and should be in the top 60 all-time when the season is over.
The 900 total points plateau will be obliterated by several players this year among them are Doan, Ovechkin and Daniel Sedin who are all within 20 points of 900.
In addition, Datsyuk and Sidney Crosby should also pass 900 points during the course of the year.
Goalies – Games Played
Henrik Lundqvist should break the 650 games played mark and end the season in the top 30 all-time in games played by a goalie. Ryan Miller and Marc-Andre Fleury both have an outside shot at 650 but neither can risk a long term injury if they want to do so this season.
Carey Price could surpass 500 games this year but needs 65 games to do so. Jonathan Quick will likely pass the 450 mark and end up in the top 75 all-time.
Mike Smith, Pekka Rinne and Jonas Hiller are all within a few games of hitting 400 games for their careers.
Goalies – Wins
Roberto Luongo can pass Tony Esposito and end up seventh all-time in wins for a goalie with more than 435 victories. Miller and Fleury should both surpass 325 wins and be in the top 25 all-time.
Kari Lehtonen and Cam Ward are both less than five wins away from 250 and both should blow right past that mark. Price, with 223 wins, should eclipse the 250 mark and join the top 50 all-time this year if he has a season as strong as last.
Coaches – Wins
Scotty Bowman's 1244 wins as an NHL coach is a record like Joe DiMaggio's 56 game hitting streak: It will probably never be broken. So 2nd place in wins for an NHL coach is the place to gun for and Chicago's Joel Quenneville should pass the late Al Arbour this year.
Quenneville has 754 victories while Arbour retired with 782. St. Louis Blues coach Ken Hitchcock is also in the top five with 708 wins. Hitch won't catch Arbour, but to be in the same group as Bowman, Quenneville, and Arbour says quite a bit.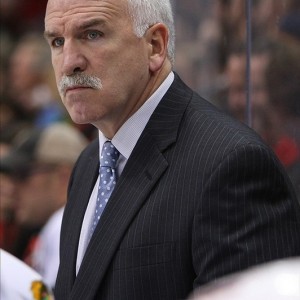 Lindy Ruff needs 48 wins with the Dallas Stars to hit the 700 win plateau. He probably needs at least that many victories to reach the playoffs in the Western Conference. Barry Trotz in Washington also needs 48 wins to hit the 650 mark.
Coaches – Playoff Wins
Quenneville is eight games behind Arbour in this stat and if he can get his Blackhawks to win two playoff series plus one additional playoff game, he'll surpass Arbour.
LA Kings' Darryl Sutter and Toronto Maple Leafs' Mike Babcock both need a long playoff run to surpass the 100 win mark for playoff victories.
The goals and milestones ahead for some of the players illustrated here will be worth watching and rooting for. Veterans are looking to lock up their places in the record books and put the exclamation points on their fabulous careers.
Born in Chicago, Illinois. Grew up playing and loving sports. Spent most of my formative years playing, debating, arguing and talking sports. for the last couple of years I have written about hockey. I am currently a Tampa Bay Lightning contributor for The Hockey Writers. I know that I may not always be right, but I am passionate about hockey and it is damn hard to hide that passion in my writing.