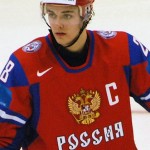 The Nikita Filatov experiment in Ottawa may be coming to an end sooner than expected.
Last Sunday Filatov and Ottawa Senators GM Bryan Murray had a meeting to discuss Filatov's future. Filatov made it clear he would rather be in the NHL where he would be earning his $2.195M contract, or in the KHL where he could earn similar money, rather than be playing in the AHL where he makes $65,000
Murray spoke to the media from Rexall Place, in Edmonton where the Senators are on a two week road trip.
"He has a contract and an obligation to our organization. What I told him is, 'We're going on a road trip for two weeks. Go down and play in Binghamton, play hard. If we feel at the end of the trip that we'd like to give an opportunity to you again … and if by the end of November you're not in the NHL, I will sit down and talk with you again.' That may happen sooner."
In his six games with Ottawa, Filatov has only one assist, while in Binghamton, he has four goals and two assists in 11 games
When Ottawa returns home to host the Carolina Hurricanes on November 27thit will be interesting to see if Filatov has taken Murray's advice and earned a chance to play in the NHL. If he has, he will need to show head Coach Paul MacLean he can stay. That is something that has eluded Filatov. "We want him to be an NHL player. We want his skills and abilities here in Ottawa," said MacLean. "The problem we have is when he comes here and plays, he doesn't do the things that he does down there. If you come on the ice and actually do something, and play, the coach is probably going to give you the chance to do something again"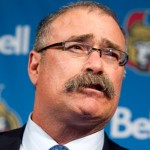 "I told him that, as well: 'I want to put you on the ice, but I can't put you on the ice just because you think you should play 17 minutes. If you come here and are prepared to work, you're going to get those minutes, but you have to play (well) in order to get them." Said MacLean
"The coaching staff here says they just want to see him compete a little more. Talent-wise, he can play in the NHL," added Murray. "But it's the other parts of the game – that don't always include talent – that you have to do regularly. We've asked him to be a little more rounded."
When the Ottawa Senators traded a third round pick at the draft to Columbus to acquire Filatov, the hope was that they had found a top six winger. Filatov was originally drafted by Columbus sixth overall in 2008. At the same time, Murray knew the risk. Columbus was all too happy to be rid of Filatov. The enigmatic Russian was never able to earn the confidence of coaches and has previously bolted to the KHL, essentially quitting on his team.
All Murray gave up to acquire Filatov was the 66th pick (T.J. Tynan) and the potential reward was significant if he was able to live up to expectations. Filatov's talent level has been compared to players such as Steven Stamkos and Ilya Kovalchuk.
Ottawa is giving Filatov one last chance in the next two weeks to make it in the NHL.  The expectations for now are simple. The team does not need him to be scoring every game. All Ottawa is looking for is a solid effort and commitment to team play. "Lots of young players, whether they're named Filatov or not, get wrapped up in being an offensive player," said Murray.
"So, he thinks that he has to be a point-getter, an offensive threat to be in the NHL. We've repeatedly told him since he has come here, and I don't know what was said to him in Columbus and I really don't care, all I know is we've asked him to be a little more grounded so that he's a contributor."
If Filatov still has not earned the confidence of the Senators coaches and managers he may not be allowed to leave.
The KHL team that is interested in Filatov is the Moscow Red Army.  Last week Moscow GM Sergei Nemchinov contacted Murray by phone to discuss permission to offer Filatov a contract. Murray told Nemchinov "nothing can be done now. Let me have the time. I will decide when – if ever." In regards to speculation Filatov had already signed with Moscow Murray said "I don't know how he could have signed a deal, the KHL honours NHL contracts and we honour theirs. So the option is not Filatov's … it's the Ottawa Senators'."
Unfortunately for Ottawa, it seems history is about to repeat it's self with Filatov. While he has a signed contract to play in the Ottawa organization, does the organization really want a disgruntled, self centered player who would be a cancer in the locker room.