At the end of the 2010 season the Chicago Blackhawks made an interesting move as they brought over Swedish center Marcus Kruger to provide the 'Hawks with more depth at the center position during their push for the playoffs. During his seven game stint with the 'Hawk last season Kruger was held pointless and struggled mightily in the faceoff dot winning under 40% of his draws.
Although statistically Kruger was less than stellar in his  transition from professional hockey in Sweden to the NHL there were flashes that Kruger had what it would take to make it in the NHL. Kruger was more than willing to the dirty areas and pay the price to make plays for his teammates.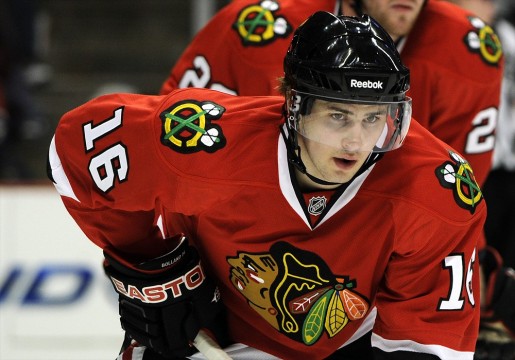 Entering training camp this season it seemed as though Kruger had a roster spot cinched up but with sub par play and the emergence of prospects Brandon Pirri and Brandon Saad, Kruger found himself on the outside looking in. The final roster spot would go to the hot handed Pirri and Kruger would find himself in Rockford.
However Kruger's stint in the AHL would be short-lived as just one game into the NHL season the Blackhawks would promote Kruger back up to the NHL squad as Pirri would be seen back to Rockford. As the season progresses Kruger has continued to improve his game, although his faceoff numbers are still awful he has played a solid defensive game and has contributed some offensively with two goals and three assists through 18 games.
Kruger has now even seen power play time on the Blackhawks extremely unconventional second unit of Kruger, Montador and Brunette which has scored three power play goals in the last four games.
So what does Kruger's emergence as a solid, dependable fourth line center mean for the Blackhawks?
Well it allows the 'Hawks to slowly integrate Kruger into the lineup because Kruger is not projected to be a career fourth line he is seen as more of a top nine forward with is good hands, smooth skating and good vision on the ice. If Kruger is to ever reach his potential as a top nine forward he must continue to prove his worth with limited minutes and when he is on the ice make sure that he leaves everything he has on the ice.
If he can continue to play well in limited minutes and continues to develop his skill set for the NHL the sky is the limit for Kruger and at the pace in which he is learning we may not be far away from him reaching that potential.