The dreaded sophomore slump is something that every team fears. There have been many instances of rookies shining, prompting high expectations right out of the gate, met with disappointment the following season. In the case of Artemi Panarin, the sophomore slump seems to be nothing more than an urban legend. Though he's 25-years-old and has already played in parts of eight professional seasons split between the KHL and NHL, Panarin is still a second-year NHL player who is showing no signs of slowing down from his impressive rookie campaign with the Chicago Blackhawks.
Remembering the Calder Trophy Season
It's hard to forget what Panarin did in his rookie season. After signing with the Blackhawks in the 2015 offseason, expectations were high for the Russian star who posted 46 goals and 102 points in 105 games over the previous two KHL seasons. With over 20 goals in each season and 50 games played in each, Panarin showed a consistency that NHL teams covet in any player they scout. Even better was the fact that Panarin had playoff experience in the KHL having played in three consecutive postseasons with St. Petersburg SKA – including a five goal, 20 points campaign in 20 playoff contests in 2014-15.
Your Calder Memorial Trophy winner, Artemi Panarin. #Blackhawks pic.twitter.com/9SIdu9DUUY

— Chris Kuc (@ChrisKuc) June 22, 2016
In his first season in the NHL, the "Breadman" led all rookies in goals with 30, assists with 47, points with 77, power-play goals with eight, power-play points with 24, and game-winning goals with seven through his 80 games in 2015-16. Scoring 30 goals and 77 points in 80 games would be impressive for any player in the NHL, let alone a rookie with zero experience on North American ice.
Another encouraging sign for fans of the Blackhawks' is the fact that Panarin became the first rookie in Chicago to win the Calder Trophy since Patrick Kane did so in the 2007-08 season.
No Sophomore Slump
As mentioned, it isn't uncommon for players to have tremendous rookie seasons and follow them up with disappointing sophomore seasons. There have been multiple examples of this throughout history, and as a result, the term "sophomore slump" has become a widely used term, and concern, in the NHL. For Panarin, his sophomore season is looking just as strong as his rookie season.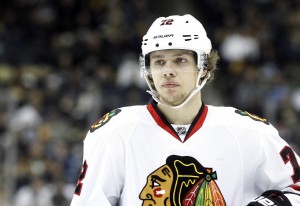 In 47 games this season, Panarin has lit up opposing teams by scoring 17 goals and 43 points. That scoring pace is almost identical to his rookie season, and when watching Panarin play, it's clear that he's the real deal. Skating alongside Artem Anisimov and Kane again this year – though there were some line changes throughout the year before the team ultimately settled on reuniting their top line from last season, Panarin has excelled once again. Panarin can score five-on-five, and he's shown that he's as lethal a player as it gets with the man-advantage.
Retaining Panarin
Players like Panarin are highly coveted around the NHL, and though many teams were certainly keeping their tabs on the young star as his contract status was up in the air with the Blackhawks given their salary cap situation, Chicago managed to lock up the winger for the next two seasons. Typically, young stars sign long-term, big money deals after showing consistent production like Panarin has – for Chicago, even offering Panarin the money they did for the term that they did was risky given their current cap situation.
For now, the Blackhawks will reap the benefits of having Panarin in their lineup. It's clear that the 25-year-old gels with Kane. Both players seem to bring out the best in each other, and it's noticeable given Kane's last two seasons with Panarin compared to his seasons without him.
Panarin's Effect on Teammates
Patrick Kane got two new linemates last season. When Anisimov was acquired, the Blackhawks seemingly found their second-line centerman. Additionally, the Blackhawks acquired the highly-sought after winger Panarin from the KHL. Little did anybody know, that would lead to Kane winning the Hart Trophy as the NHL's MVP.
Why Did Kane Win This Award?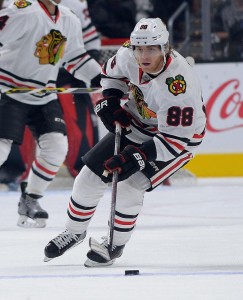 His 46 goals and 106 points definitely stand out. This is impressive, because Kane had only ever recorded 30 goals once in his career – in 2009-10, and 88 points once in that same year. Kane was always good for at least 20 goals and 50-70 points every season, but Panarin and Anisimov changed that. In the time since Panarin joined the Blackhawks, Kane has played in 129 games and has averaged 1.18 points per game. He's also scored 60 goals and 153 points in that time.
The effect has also stretched out to Anisimov as well, who has seen a significant uptick in production this year. Last season, Anisimov hit the 20 goal mark for the second time in his career. He had also only ever hit 40-plus points once at that point as well. In 77 games, he recorded 20 goals and 42 points last season – a sign that things were looking up. This season, Anisimov is on pace to crush those totals with 18 goals and 33 points in just 43 games this year.
Not a Fluke
Obviously, it would be unreasonable to say that Panarin has been the sole cause of Kane and Anisimov's success. The three have chemistry together and feed off each other's individual game habits. Still, without Panarin, the line would very clearly be missing an element of skill – something that the team has been looking for to pair with Kane for years. Similarly, the team also looked for a center for Kane for seemingly forever. With Panarin and Anisimov, Kane has been able to flourish. Similarly, Panarin has been able to benefit from the elite skill of Kane, and the consistent play of Anisimov.
At the end of the day, the Blackhawks found an absolute stud in Panarin. He'll remain with the team for at least the next two seasons, at which point he'll likely cash in on an even bigger pay-day. If Panarin has proven anything at this point, it's that his first year wasn't a fluke. He wasn't a one-year wonder, and he'll likely continue to grow and improve each season.
Brandon Share-Cohen has covered the NHL and various professional sports for seven years. Working with The Hockey Writers, Brandon works extensively on covering the Boston Bruins in addition to his role as the News Team Lead.