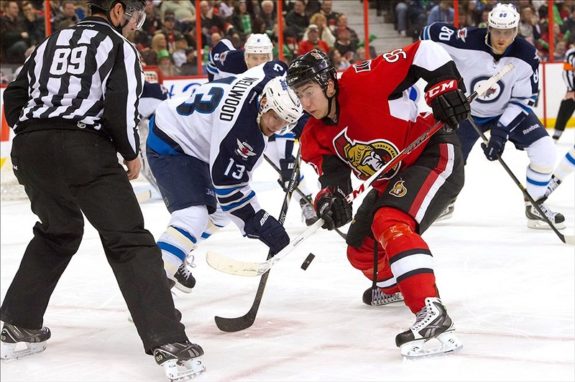 Mika Zibanejad of the Ottawa Senators is off to a slow start. Many had him penciled in as the second line center for the Senators this season, but so far he has failed to show that he belongs in the top six through five games this season.
Zibanejad started off this season in a different position from last year. After a poor training camp, he began the 2013-14 season down with the Binghamton Senators. He registered seven points in six games while playing with the club's AHL Affiliate. When he was recalled by the team, he went on to register points in four of his first five games with the big club.
He cooled down a bit after his hot start, but finished the season sixth on the team in forward scoring with 33 points in 69 games.
Is there cause for concern?
While his struggles have reflected a less than stellar start to the season, it is still early and other statistics show that he hasn't played horribly so far.
Zibanejad's Corsi percentage is right at 50%, meaning that he has been on the ice for the same amount of shots on the opponent's goal and against his own goal through five games so far. Over the previous two seasons, his Corsi has been around 57%, which shows that he is a positive possession player.
Another positive statistic is that his face-off percentage is above 54% so far this season. Through his first two full NHL seasons, Zibanejad has never had a face-off percentage above 50%. In fact, it has never been above 47%.
While his possession numbers give the Senators a reason to breathe a sigh of relief, one thing Zibanejad does need to improve on is his shot totals. He only has seven shots through five games so far. Like many players who are in a bit on a scoring slump, one of the best things you can do is just get the puck on net.
Should MacLean break up the second line?
The main reason why MacLean shouldn't break about the second line of Bobby Ryan, Zibanejad, and Alex Chiasson just yet, is because the rest of his line combinations are actually playing pretty well together. His balanced four line approach, combined with the stellar goaltending of Craig Anderson and Robin Lehner, are the main reasons why the Senators have four wins through their first five games.
This team doesn't have a bona-fide top line, even if Kyle Turris and Clark MacArthur are playing like top line players through five games. This team is going to need contributions throughout the line-up if they want to build on their early season success. That means more production from their second line.
However if there is no evident chemistry between Ryan and Zibanejad over the course of the next few games, then MacLean should consider breaking up that line. The Senators are going to need production from elsewhere in their line-up other than from Turris and MacArthur. Ryan and Zibanejad have the offensive potential to give the team that extra offensive production.
The Senators play the New Jersey Devils on Saturday night, and that could be just what the doctor ordered for Zibanejad. He has three points in four games in his brief career against the Devils. He also has a shootout winner against them as well:
It may just be a matter of time before Zibanejad gets over the hump, but he has to contribute soon if he wants to prove that he is a second line centre in the NHL. The Senators has fared quite well without any contributions from the 21-year-old center so far this season, but will need more production down the middle if they are going to keep up with the other teams in the Eastern Conference.