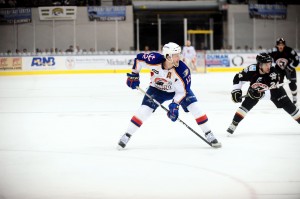 The Norfolk Admirals returned home this weekend to face the AHL affiliate of the Phoenix Coyotes, the Portland Pirates. Anaheim's top development team returned from a three game road trip where they secured two of the six points that were available.
Prior to Friday's game, the Admirals held down the seventh seed in the Eastern Conference with nineteen points while the Pirates sat in twelfth place in the Eastern Conference with fourteen points.
Norfolk elected to start rookie netminder John Gibson while Portland countered with Mark Visentin. Gibson started the Friday night contest with a 1.99 goals-against average while Visentin began the game with a 2.63 goals-against average.
Both netminders held steady until the 11:24 mark of the middle stanza. Jordan Martinook tallied his third goal of the year as he overloaded the crease and snuck a backhand shot past Gibson breaking the stalemate.
Martinook's goal paved the way for Ethan Werek's first goal of the season as he received a perfect pass from Kyle Hagel. Werek's shot beat Gibson on his blocker side strengthening the Pirates lead.
Norfolk's John Kurtz answered Werek's goal with just seconds remaining in the second. Kurtz's first goal of the year came from an angle that made it tough for Visentin to get a read on the shot. Kurtz's goal cut into the two-goal lead heading into the third.
Kurtz's goal sent a buzz through Scope that fans and players used to their advantage. Defenseman Alex Grant cashed in on the atmosphere as he sent a blue line bomb that zipped past a screened Visentin. The game tying goal was Grant's sixth of the year.
The game was tied at two as the buzzer signaled the end of regulation. While on the power play Alex Grant made a tape-to-tape pass to Rickard Rakell who whistled a one-timer past Visentin securing the win for Norfolk.
Following the victory Norfolk Admirals Head Coach Trent Yawney commented on how his squad played, "You want to control the puck. I thought we had the puck a lot tonight. That's usually going to lead to some offensive chances and the chances increase scoring."
Admirals forward John Kurtz talked about the goal he netted from a slightly odd position, "Yawney tells us to throw everything at the net even bad angles because you never know what can happen. He (Visentin) was cheating off his post and it went off him."
Norfolk ended the night outshooting Portland 33 to 26. In addition the Admirals were 1 for 4 on the power play while the Pirates were 0 for 2.
Norfolk now looks to sweep the weekend series against Portland Saturday night as the two teams square off again in downtown Norfolk at 7:15.
Follow Ted on Twitter @Bauerhockeydude
Ted grew up in Virginia. Warren has a passion for the AHL and dishes out articles about the Norfolk Admirals and the AHL. Follow him on Twitter @bauerhockeydude