The New York Rangers have lost 112 man-games due to injury already this season; and three of the team's top forwards have contributed more than half that total.
Pavel Buchnevich, the highly-skilled Russian rookie missed 32 games, sidelined on two different occasions with a disc issue in his back.
Mika Zibanejad, the gifted center, sat out the last 25 games with a fractured fibula.
Rick Nash, the club's top two-way forward and biggest scoring threat, had a pair of groin injuries which cost him 12 games.
All three are healthy again. Buchnevich and Nash have each appeared in the past two games since the bye week, and Zibanejad is again good to go when the Rangers host the Dallas Stars on Tuesday night.
.@MikaZibanejad talks about getting back into the #NYR lineup for Tuesday's game against Dallas. pic.twitter.com/iNJl3SlU6I

— New York Rangers (@NYRangers) January 16, 2017
That the Rangers are 28-15-1 and tied for seventh overall with 57 points despite missing those three stalwarts (a combined 23-23-46 in 63 games this year) for extended periods is impressive, and points to the quality depth general manager Jeff Gorton has built among the organization's forwards.
However, it is injuries to a pair of lower-profile players that could potentially derail the Blueshirts more so than those of the higher-profile threesome of Nash, Zibanejad and Buchnevich.
Off the Marc
Veteran defenseman Marc Staal suffered a concussion before the bye week, and will sit out his fifth consecutive game Tuesday. Though not nearly as flashy as Zibanejad, Buchnevich and Nash, and extremely underappreciated by the Blueshirts Faithful, Staal is an extremely important part of this team's fabric, on and off the ice, and his absence is considerable.
In fact, I made the argument on the most recent Blueshirt Radio podcast that an extended Staal absence would have greater ramifications then missing the three important forwards.
The main reason? Depth.
While Gorton's Rangers are extremely deep up front, and proved that down to the minor league level with respectable contributions from rookies Marek Hrivik and Nicklas Jensen in the past month, this team does not have the same quality organizational depth at the defense position.
Couple that with the fact that Staal has had an extremely good bounce-back season, after a borderline terrible poor 2015-16 campaign a year ago, and formed a solid second defense pairing with Nick Holden, and it becomes more clear why an extended Staal absence would be a major blow to the Blueshirts.
In the short-term, Adam Clendening has taken Staal's spot in the lineup and done a decent job, especially on the offensive end, largely playing on the third pairing and second power play unit.
However, the major void is felt in the Rangers end of the ice, in particular in front of their own net, where the club's defensive zone coverage is often mediocre, much more so without Staal in the lineup. With Dan Girardi, Kevin Klein and rookie Brady Skjei at various levels of inconsistent and/or poor with their decision-making and play from the defense position, and Clendening never an NHL regular, it's easy to see why Staal's absence is so great.
There's little help in the minor leagues, either. Steven Kampfer and Chris Summers have NHL experience, but neither comes close to filling Staal's skates. Hartford Wolf Pack captain Mat Bodie is a high-character third-year pro who, unfortunately, is real small, not to mention a -21 this season to boot. First-year pro John Gilmour has shown flashes down in Hartford this year, but he's green, not to mention a -21. Michael Paliotta is not the answer either.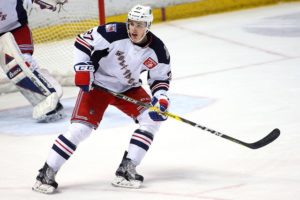 The defenseman with the highest upside in Hartford is Ryan Graves, the club's fourth round selection in the 2013 draft. Graves has good size at 6-feet-4-inches, 220 pounds, plays a strong defensive game, and is the Wolf Pack's second-leading scorer so far this year with 20 points (5-15-20).
Even with an AHL All Star Game appearance under his belt a year ago, the 21 year-old Graves is not the answer yet either should Staal be sidelined for an extended period, due to his inexperience and that he'd play a third-pair role in New York, leaving the Rangers still wanting in that second pair.
The good news is that Staal has been skating on his own and, hopefully, will not need a long-term layoff. Still, it's the third concussion of his career, so red flags are raised, perhaps forcing Gorton to make a deal for a second pair defenseman to upgrade the club's depth at the defense position.
Thin without this Finn
In year's past, if the Rangers' backup goaltender suffered an injury, it would be somewhat of a concern, but not a moment to panic. Now Antti Raanta's lower body injury suffered Saturday in Montreal, which should sideline him though the All Star break, is causing some sweaty palms in New York.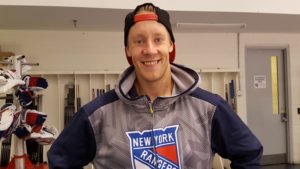 The reason for concern is multi-fold. The Rangers long-time No. 1 netminder, Henrik Lundqvist, is no longer playing at the consistent elite level we've been accustomed to. Raanta has actually outplayed Lundqvist this season, and has been an important safety blanket for the Rangers. And, as is the case with Staal and the defense position, the Rangers are thin in NHL-caliber goaltending behind Lundqvist and Raanta.
Should Raanta only miss the five games before the All Star break, the team is fine with recently recalled Magnus Hellberg watching from the bench and Lundqvist starting each contest.
In fact, Lundqvist may benefit from playing five games in nine nights, including one set of back-to-backs. He has looked extremely uncomfortable since the bye week, allowing nine goals on 49 shots in losses to the Maple Leafs and Canadiens. In the past, the more work he gets, the better Lundqvist plays. We'll see if that still holds true.
Yet, if Raanta's injury absence extends past the All Star break, the Rangers will be in a tenuous position, especially if Lundqvist's play remains spotty. The 25 year-old Hellberg only has two games of NHL experience, and his play in the minor leagues this year, and over the course of his career, does not inspire tremendous confidence.
The Rangers will be hard pressed to equal the success they had without Nash, Zibanejad and Buchnevich should Raanta and/or Staal be missing for any stretch of time simply because the depth behind those two is wanting.