When the Edmonton Oilers signed Milan Lucic to a lucrative free agent contract in the summer, it was met with mixed reviews. Some believed his experience and toughness would bring a much-needed element to the team. Others wondered if he would be able to keep up with the speed of the game enough to be effective. Halfway through the season, the results are just as mixed. But what should we realistically expect of Lucic?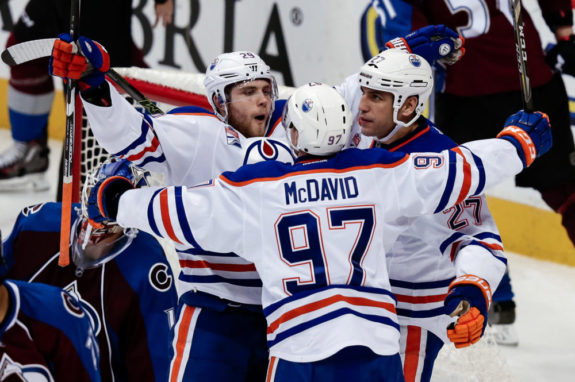 The Intangibles
The folks who swear by hockey analytics hate the word "intangibles". It's something that can't be measured in numbers, and thus they are left wondering if it's a real thing. But there's no question the effect that a personality can have in a dressing room. Work ethic is contagious. Leadership is necessary. Experience is important. But does the hockey world overvalue such characteristics?
Lucic has been struggling to score lately, though many would argue that's not what he was brought in for. Following the game against the Calgary Flames on Saturday, in which Lucic was in a mood, he had this to say:
'If I don't score for the rest of the year and we win every game, I'm OK, I'm good. Part of my success has been playing with emotion and using that emotion, whether it's anger or happiness and taking it out on the other team.' [Edmonton Journal]
That's all well and good, because the Oilers have had a reputation for years of being a soft team, and Lucic brings an edge that they hadn't had in a long time. Connor McDavid had glowing words for the guy instructed to be his "protector":
'Milan is a big presence both in the dressing room and on the ice,' said McDavid. 'He definitely plays a physical game and keeps opponents on their toes and opens up ice for other guys like myself.' [ESPN]
At the end of the day, the most important thing is that Lucic is doing his job in the eyes of his teammates. McDavid wouldn't call out Lucic publically for not scoring, but a compliment is still a compliment. Coach Todd McLellan echoed his captain's sentiments:
'Lucic has been a great addition,' said McLellan. 'Anybody who followed him in Boston obviously knows the attributes he brings on the ice — his size, his ability to protect pucks, get to the blue paint. The safety and security part of it for some of our star players also went up a lot when he arrived. In the locker room, he's provided a tremendous amount of leadership.'
So despite the lack of production, it seems that Lucic is doing exactly what the team expected of him. But at a cap hit of $6 million dollars per season, is he really worth that much more than say Patrick Maroon who only costs $1.5 million?
The Anaheim Ducks are paying Patrick Maroon to be what the Oilers are paying Milan Lucic to be. My head hurts.

— Dimitri Filipovic (@DimFilipovic) January 6, 2017
The Reputation
A big part of Lucic's hefty price tag was his track record and the sense that he has "earned" that money. He had his best years as a member of the Boston Bruins, where he terrorised opponents physically and on the scoresheet. He emerged as the perfect dual threat of size and scoring ability. He was the kind of player that every NHL team wanted on their roster. But there was a reason the Bruins traded him rather than re-sign him.
Milan Lucic is great in the room. After the second period I would have left him there.

— VisuallyBetter (@Isuckatpicking) January 15, 2017
The current state of the game is predicated on speed. Players are faster now than they've ever been, and guys who can't skate are starting to fall by the wayside. Lucic isn't a bad skater, but he couldn't be described as fleet-footed. That was a concern for many when they pictured him playing with McDavid. He scored 20 goals as a member of the Los Angeles Kings last season, but their overall game is heavier and more defensive than fast.
Red-hot Patrick Maroon providing the Oilers everything that Milan Lucic was supposed to, but hasn't, and at a bargain rate.

— Robin Brownlee (@Robin_Brownlee) January 15, 2017
Lucic has scored at least 20 goals in four of his nine seasons coming into this one, so to describe him as "20-goal scorer" may not be accurate. This season with the Oilers he has ten goals, and there's a good chance he could hit 20. So to suggest he's been disappointing offensively may not be accurate either. Especially when you consider Jordan Eberle, who also makes $6 million, and has eight goals on the season, on pace for the worst output of his career.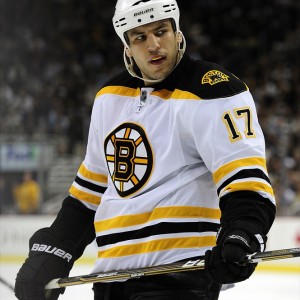 There is the perception of Lucic that is better than the reality, that he was paid for who he once was, rather than who he is. He was a great player for many years in Boston, but his best days are probably behind him. The Oilers likely knew that, but they valued what he brought to the table, and they felt he was worth the price. Lucic isn't the first overpaid player and he won't be the last.
We don't know what's going on internally, but on the outside, the Oilers to a man feel satisfied with what Lucic has provided thus far. Whether he's a reason or not, the Oilers are a much better team this season than they were last. He's a part of the team, and every member deserves their share of the credit. Will the overall success of the team become more important than individual stats?
It's not easy to look past his price tag. But if the expectations are being met in the eyes of the team, then the fans should be satisfied. Of course, it's difficult not to expect a lot of an expensive player. But for now, we'll have to trust that Lucic is doing what he came to do. At least that's what they tell us.