The past week or two have been rough on the Columbus Blue Jackets. Solidly in Stanley Cup Playoff contention – or so it seemed – their 0-4-1 slide took the team from the upper end of the pack to the bottom in the up-and-down Metropolitan Division, where the order shuffles every night.
That five-game skid became one of the lowest points in the Blue Jackets' season and captain Nick Foligno quickly admitted it:
"We were disappointed," Foligno said, reflecting on the string of losses after Saturday night's commanding 6-1 win over the New Jersey Devils. "It was not fun to be around here because we knew we could play better."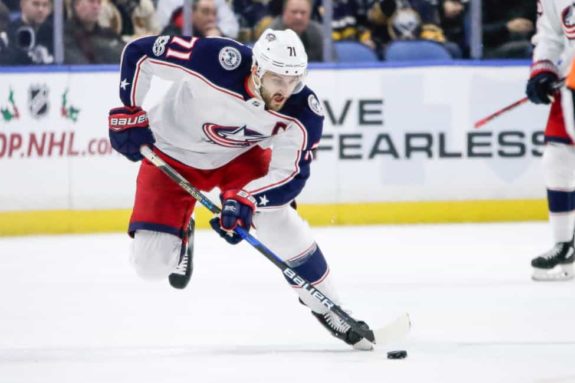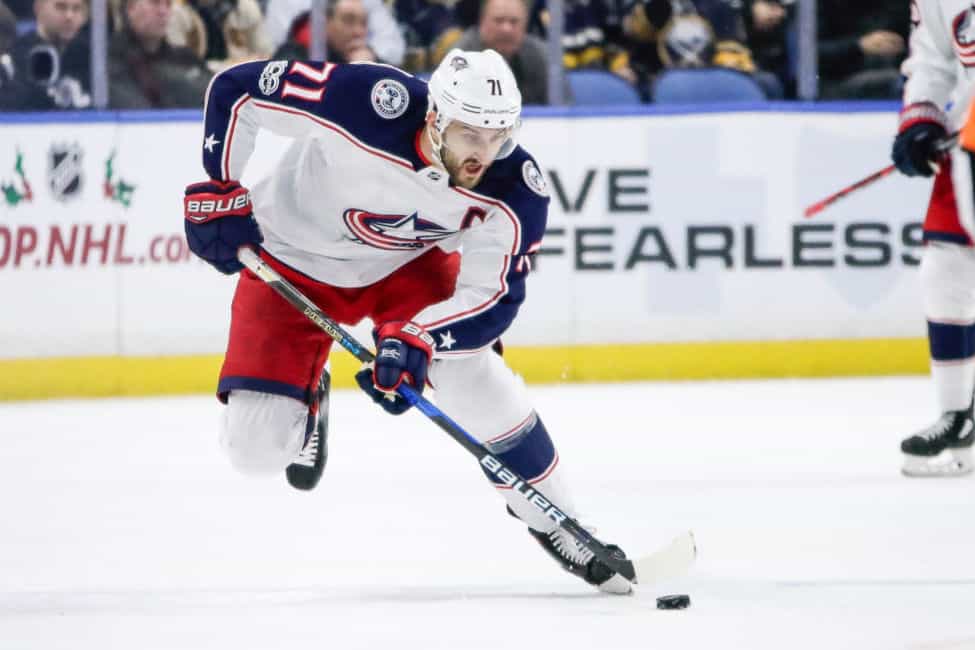 Tough times have defined the Blue Jackets throughout the years. Qualifying for the playoffs was a major marker of success. Foligno said the time is now to change that mentality:
"We're a good team – we're not the Blue Jackets of old. We really feel that we have taken a lot of strides and steps forward. It's still going to be hard. We aren't saying we have arrived. We just know that we are a good, solid team here."
Blue Jackets Sticking With the Game Plan
Foligno said he understands the fans' frustration when their team goes through lulls in the season, especially in the second half. However, the Blue Jackets talked about how they could not dwell on the past or get down about their misfortunes. Instead, they needed to stay with it and believe the results would follow.
[miptheme_quote author="Nick Foligno" style="text-center"]"When you go down the negative road, it takes your team away from you," Foligno said. "I'm really proud of us sticking with it when everyone else was wondering and questioning it, and wondering what was going to happen. We knew we were a better team than what we've shown."[/miptheme_quote]
Like Foligno, Blue Jackets head coach John Tortorella also talked about how concerned he was about the young team's mentality and how they would respond to playing good hockey while losses continued to pile up.
"There [have been] missed chances where I say to myself, 'man, is this going to break?' I just wanted something to happen for them the right way where they can bang one in and gain their confidence. They can listen to us [coaches] trying to build them up all they want and yeah, yeah, yeah, but they need to feel it. They need to see the result. [A win like this] lifts your spirits and makes you feel like you are doing the right things. Sometimes when you think you're doing the right things and you still lose the game and don't get rewarded, you start wondering 'am I really doing the right things?' and then you start doing things the wrong way."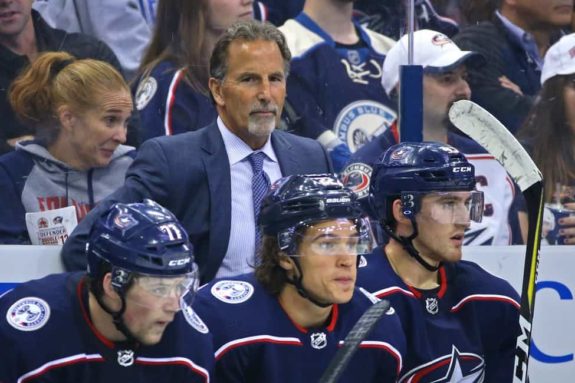 Rookie forward Pierre-Luc Dubois is one of the players Tortorella was worried about. Dubois said he talked to veteran players in the room about what the team was going through, as well as his personal struggle to score, and they assured him his time would come if he stuck to what he has done well all season.
"The older guys tell me that in the NHL, you'll score in a couple of games, then you're cold, then you're hot again," Dubois said. "This win and [my goals] get the confidence up moving forward. We just want to keep going with it."
Is This a Turning Point?
Could Saturday's six-goal game be a turning point in the Blue Jackets' season? Foligno said he hopes this game will serve as something for the team to keep in their minds moving forward:
"I hope the mentality is driven home here because it's been awhile since we [have had a two-goal lead]," Foligno said. "I hope guys understand that we have to have that hunger after a goal. It can't be 'okay, let's wait and see what they're going to do.' It's 'let's go right back at them. Let's go get another one.'"
That responsibility does not only rest on the Blue Jackets' top guys. Contributions have to come from the entire lineup like they did on Saturday night. A full, consistent team effort has been few and far between all season, but it's what they need moving forward. Tortorella knows it:
"I hope everyone feels like they're contributing," Tortorella said. "[On Saturday] I was able to use the fourth line in a lot of situations. When you're asking a team to play fast and play with energy, it's up to the coach to get them on the ice, too. They start feeling better about themselves, I start feeling better about the lineup and when everyone contributes, it's a good thing."
#CBJ posted a season-high 50 shots on goal tonight. The club has posted 175 shots in the past four games. It's a new franchise record for shots over a 4-game period, surpassing the 172 shots recorded from Nov. 26-Dec. 3, 2016.

— CBJ Public Relations (@BlueJacketsPR) February 11, 2018
Dubois noticed the same thing:
"We've known that we have the depth all along," he said. "A game like [Saturday's] gets everyone's confidence up and it's what we need moving forward. Everyone, every line, every defenseman, [goaltender Sergei] Bobrovsky… everyone played really well tonight and helped the team. It was a team win. We need more of these."
Foligno agreed that depth will have an impact moving forward, especially on the team's momentum and energy level.
Forward Boone Jenner agreed that the team's energy has led to success in the past – especially during last season's win streak – and is something the team has to hold onto and bring every game from here on out.
"You see what happens when we play like that," Jenner said. "We feed off energy and the momentum. It's what we need. We're great when we play quick."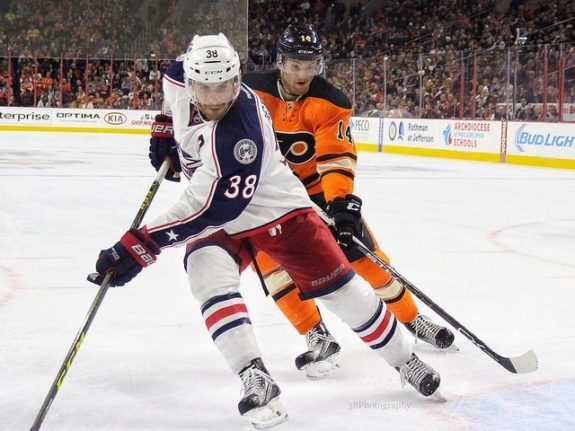 Although the Blue Jackets don't play for a few days, Foligno said holding onto the energy and confidence from a big win is key for the rest of the season:
"That's what winning brings; you win and you feel good," he said. "For us, it's just about winning games. No more moral victories. The message is, find a way to win the game."
Do that, and the Blue Jackets will be in the playoffs. Then, they may look back on the 6-1 win over the New Jersey Devils on Feb. 10 as the turning point in their season.
Related – Blue Jackets Mailbag: February Edition
After living in two NHL cities (Orange, CA and Raleigh, NC), Kristyn graduated from Ohio University's E.W. Scripps School of Journalism and worked in the Columbus Blue Jackets' Digital Media department. She currently resides in Columbus and has been an NHL-credentialed reporter since the 2013-14 season.