The Arizona Coyotes hit the ice at Gila River Arena this weekend as they try to bounce back from what might have been their worst game of the season. Their last game on Monday night in Denver saw the Coyotes go without a shot on goal for the entire second period against the Colorado Avalanche. In any season, especially like the one Arizona is currently having, there are bound to be some moments that fans will want to forget. Here is a look at some of the lowlights from previous Coyotes seasons.
Alex the Great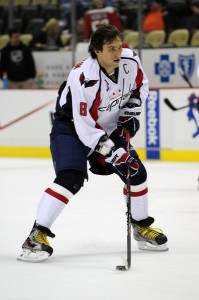 It is a thrill to see a highlight reel goal occur during a game, but the excitement can also be dismay when it happens to come against your team. Alex Ovechkin is without a doubt one of the league's star players and has been for almost a decade now. In a visit to Glendale during the 2005-06 season, Ovechkin dazzled the hockey world when he scored a goal while sliding on his back against the Coyotes. While that goal continues to be played on hockey highlights long after it was scored, it was a difficult one to watch for Coyotes fans at the time.
Smith Scores on Himself
Goaltender Mike Smith provided one of the biggest highlights from last season for Arizona when he scored a goal against the Detroit Red Wings in Glendale. Unfortunately, he was also the focus of one of the most embarrassing moments from the 2013-14 season. This infamous moment has now become known as the Butt Goal. In an overtime game against the Buffalo Sabres, the puck popped into the air near the Arizona goal and landed in the back of Smith's pants. Smith then backed up into his net and inadvertently carried the puck across the goal line. After a video review, it was determined to be a good goal and the Sabres won the game.
The Other Side
Arizona has also had these kinds of moments go in their favor and left their opponents shaking their heads. Oliver Ekman-Larsson's recent shorthanded goal from center ice against the Toronto Maple Leafs immediately comes to mind. In addition, there was an instance that took place in 2009 at home against the Vancouver Canucks. Former Coyote Viktor Tikhonov took an offensive-zone penalty, which led to the Canucks pulling their goaltender for an extra skater. However, a Vancouver misplay in their own zone caused the Canucks to send the puck into their own empty net. Tikhonov received credit for the goal and then had to sit in the penalty box for two minutes.
Charles Woodall-Pike is a journalist who writes about the Arizona Coyotes for The Hockey Writers.