This weekend the top-ranked University of North Dakota travels to Kalamazoo, Michigan, to take on the Western Michigan Broncos in an important two-game conference series. With three weeks remaining in the season, this is the first meeting between the two teams.
Series History
All-time, UND leads the series against the Broncos 9-1-0 (.900). In Grand Forks, UND leads the series 3-1-0 (.750). In Kalamazoo, UND leads the series 4-0-0 (1.000). At neutral sites, UND leads the series 2-0-0 (1.000). Under head coach Dave Hakstol, UND leads the series 5-1-0 (.833). In the last 10 against the Broncos, UND leads 9-1-0 (.900). Last season, UND had a 4-0-1 record against the Broncos.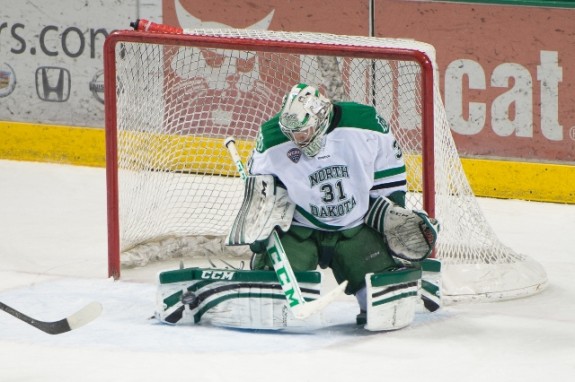 Tale of the tape
#1North Dakota (20-6-3, 11-5-2-0 NCHC) vs. Western Michigan Broncos (12-12-4, 5-9-4-3 NCHC).
Date: February 20-21, 2015
Game Time: Friday 7:37 p.m. CT, Saturday 7:07 p.m. CT
Location: Lawson Ice Arena, Kalamazoo, Michigan
Last time out: WMU split with UNO (2-1 W, 1-3 L)
Last time out: UND took four-of-six points from DU (4-2 W, 3-3 T)
WMU Offense: 32nd Nationally
WMU Defense: 34th Nationally
WMU PWR: 23rd
WMU Last 10 games: 5-3-2 (.600)
UND Offense: 7th Nationally
UND Defense: 9th Nationally
UND PWR: 2nd
UND Last 10 games: 7-2-1 (.750)
TV: Friday:  CBS Sports Network, DirecTV 221, DISH Network 158
TV: Saturday:  None
Live Streaming: NCHC.TV
Key Players to watch
North Dakota – Forwards: Drake Caggiula (13g-16a—29pts), Michael Parks (11g-18a—29pts), Mark MacMillan (15g-8a—23pts), Nick Schmaltz (4g-17a—21pts), Brendan O'Donnell (10g-5a—15pts), Luke Johnson (6g-12a—18pts), Defense: Jordan Schmaltz (3g-20a—23pts), Paul LaDue (3g-12a—15pts), Nick Mattson (2g-9a—11pts), Tucker Poolman (6g-4a—10pts), Keaton Thompson (1g-7a—8pts), Gage Ausmus (2g-2a—4pts). Goalies: Zane McIntyre (20-6-2, 2.00 GAA, .930 SV%), Cam Johnson (0-0-0, 5.54 GAA, .765SV%).
UND Injuries: None reported.
Western Michigan – Forward: Colton Hargrove (12g-10a—22pts), Sheldon Dries (11g-11a—22pts), Justin Kovacs (4g-17a—21pts), Frederik Tiffels (8g-8a—16pts), Will Kessel (5g-10a—16pts). Defense: Kenney Morrison (5g-9a—14pts), Chris Dienes (1g-12a—13pts), Taylor Fleming (2g-9a—11pts). Goalies: Lukas Hafner (10-8-4, 2.28 GAA, .919 SV%), Frank Slubowski (2-4-4, 3.18 GAA, .908 SV%).
WMU Injuries Nolan LaPorte (9g-11a—20pts) lower-body injury.
Special teams
Western Michigan University – The Broncos penalty kill is ranked 36th in the nation (106/131, 80.9%). The Broncos power play is ranked 5th in the nation (25/108 23.1%).
North Dakota – UND's penalty kill is ranked 23rd in the nation (100/118, 84.7%). UND's power play is ranked 20th in the nation (26/119, 21.8%).
Head coach Dave Hakstol talks to the media as his weekly pres… http://t.co/0CMTG6jRws

— North Dakota MHockey (@UNDmhockey) February 18, 2015
UND on playing the Broncos
Here's what a few of the players had to say about their upcoming series with the Broncos in Kalamazoo, Michigan.
"I don't like to look at records too much because all of these teams are so good," senior defenseman Nick Mattson said. "We beat up on each other throughout the season. So, it's hard really to just look at a record and gauge a team. I am sure that they're extremely hard to play against. We're not going to take them lightly."
"Early in the year they struggled, their record showed that," senior forward Mark MacMillan said. "Their record is pretty good in the second half, so far. They've been a good team in the second half.  At times, one of the better teams in the country. We've seen it over and over this year. Our league has incredible parity. Where they are in the standings and their record,  doesn't mean anything. Obviously, they're a great hockey team. They play really hard. They're big and strong and it's going to be a great test for us going into Western this weekend."
Here's what head coach Dave Hakstol had to say about the upcoming series with the Broncos.
"I just think they're good," Hakstol said. "Their record is kind of a tale of two stories. They didn't have a great start. They've had a good last 20 games of the year. So, they're a big strong team. They have a great team game. Their record is similar to ours or the last 10-12 games."
Series prediction
The stretch run is here and UND hockey team is in playoff mode already. Make no mistake about it, the team is on message and no one is coloring outside the lines. This team is also very focused and knows what needs to be done.
Cue the cliché, they're taking it one game at a time.
This team has been on a mission since the beginning of the season. Some will question their non-conference schedule, but that is meaningless now. This season, there's no need for a second half surge to make the NCAA playoffs; they're pretty much in the tournament already, barring a late season meltdown.  That being said, the players aren't getting ahead of themselves.
I like UND's chances of going to KZOO and sweeping the Broncos. I am going with a series sweep.
Eric is a 1996, 1999 graduate of the University of North Dakota. Eric covers the University of North Dakota Hockey and Division I college hockey. Eric is the Contributing Editor for Inside Hockey.