End of an Era or Sekera?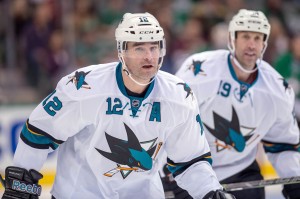 The San Jose Sharks are floundering at the moment, on track to possibly miss the playoffs for the first time since 2003. Given their apparent wish to get younger, missing the playoffs altogether could actually be better for them in terms of winning the Stanley Cup in future seasons. However, as a top tier possession team just a season ago, they aren't far off from being a contender again. That is the most frustrating thing for many Sharks fans. Their team is only mere tweaks away from having the goods to go deep in the playoffs but they seem unwilling to make those necessary alterations. Given their needs at both defense and forward, a simple trade could spark both the blue-line and the offense. This is of course if GM Doug Wilson is willing to give up a little bit of the future.
A trade partner the Sharks should consider is the Carolina Hurricanes. The Hurricanes are once again sellers this season. Leading up to the trade deadline GM Ron Francis will be looking to acquire picks and prospects for his expiring veteran contracts. One of those types of players Carolina would be looking to move is defenseman Andrej Sekera. The 28-year-old Sekera is on the last year of a deal that comes at a cap hit of under three million, so the Sharks can easily fit him in under their cap. He is a puck moving left-handed defenseman that could come in and fill multiple needs. Not only would he be an immediate impact upgrade into the top-4 defense, but he would supplant Marc-Edouard Vlasic on the second power-play unit. Vlasic is not a strong offensive player from the blue-line and Sekera would be a huge improvement. Furthermore, acquiring him would give the Sharks the option, one they would be nuts not to take at that point, and that is to move Brent Burns back to forward.
Sharks Still Possess Prominent Pieces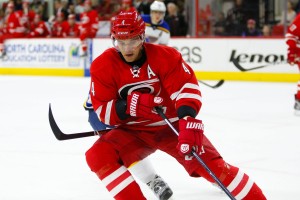 If the Sharks were to make this deal happen they would have nearly the exact same makings of a roster/lineup that saw them steamroll the Vancouver Canucks in the first round of the 2013 playoffs. That season the Sharks were a bounce away from the Western Conference final. Right now as they are currently constructed they are about 200 bounces away from the third round of the playoffs. Prior to their win over Dallas on Thursday they were on the outside looking in on the postseason. For those who say the Sharks need more than a couple tweaks, well, look at the Nashville Predators. A playoff bubble team for years all of a sudden is the best team in the regular season thus far. With the right changes the Sharks could catapult back into not just the playoff picture but the Stanley Cup picture.
An underrated defenseman for years with struggling franchises, Sekera won't cost an arm and a leg the way someone like Jordan Eberle or Taylor Hall of Edmonton would. A young defenseman and a second round pick would be a fair price and would fit what Carolina is looking for. While the Sharks don't have a deep pool of prospects, they do have some very good ones at the top of their list. San Jose trading 19-year-old defenseman Mirco Mueller and a second round draft choice for Sekera would help both teams. Of course the Sharks and many of their fans may not want to give up on Mueller but as Doug Wilson says time and time again, "you have to give to get."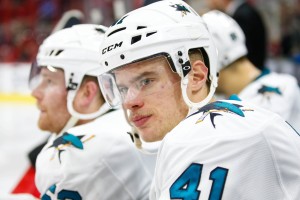 The Swiss born Mueller has No. 1 pair shut down potential and that is certainly difficult to trade away. Obviously long term keeping Mueller wouldn't be a bad move. However, given the fact the Sharks have Marc-Edouard Vlasic solidifying their top pair for years to come and that they acquired 24-year-old Brenden Dillon in November, the Sharks would still have two guys who can play the left side long term. Even though it seems like he has been around for a decade, Vlasic is somehow only 27. While Dillon has had his ups and downs this season, like Mueller, he has the potential to develop into a top-4 shut down guy. All three of these guys are left-handed defensive defensemen. While trading Mueller loses some depth in that spot for the future, the stay at home left side of the defense is currently a source of strength going into the near future.
And who knows, maybe the Sharks have a great playoff, get close to or win the Stanley Cup and Sekera resigns at a reasonable rate. There is always risk in rental trades but they don't always end up with the player leaving for free agency like Brian Campbell did in 2008. If the Sharks were able to acquire Sekera, they could go Vlasic-Dillon together and Sekera with Justin Braun for a solid top 4. That would more easily allow Burns to be moved up front. The Sharks would have the necessary puck moving abilities on the back end and would be much stronger up front than they have been all season. It isn't likely to happen (pretty much a pipe dream) because the Sharks seem unwilling to admit mistakes and improve their lineup despite their current free fall. However, these simple tweaks and the Sharks would once again be a contender.
Andrew has been credentialed to cover the Sharks since 2010 and the 49ers since 2012. He graduated with his BA in Broadcast Electronic Communication Arts in 2013 from San Francisco State University.