Thanksgiving is this Thursday here in the US and there's plenty of hockey to watch leading up to Turkey Day with the St. Louis Blues in Buffalo tonight and Pittsburgh Wednesday. While I'm counting my blessings I figured I'd share a few things about the Blues I'm thankful for. While I could come up with more, here are three that stand out as we kick of the holiday week.
Finally, a Number One Goalie
Jake Allen has come into his own this season, putting up gaudy numbers through the first two months of the season despite the Blues winning only 2 of his last five starts. Allen makes highlight-reel quality saves on a nightly basis, few possibly better than this one on Marko Dano of the Chicago Blackhawks. Dano even starts to raise his hands in celebration of what would've been at the time a game-tying goal, which makes the save even sweeter:
Allen has already recorded three shutouts this season after having just four all of last year. He's playing with confidence and is getting most of the starts lately and that's what makes me most thankful about his emergence as the number one guy. Coach Ken Hitchcock tends to favor the hot hand in net but continues to go back to Allen which only fuels Allen's fire. Brian Elliott, relegated to a mostly backup role this year, could probably start for other teams and it's nice to know he's there to pick up the slack and give Allen a breather when necessary.
A Rising Russian Star
Vladimir Tarasenko burst onto the national NHL scene last season with his amazing one-handed goal against Cam Talbot in New York, but fans in St. Louis knew well before he was destined for big things. Big contracts for one, and the young Russian phenom scored in a huge way with an 8-year, $60 million deal he signed this past summer. Tarasenko has remained on the superstar trajectory he began with 37 goals last year and is currently second in the league with 13 goals in 2015-16.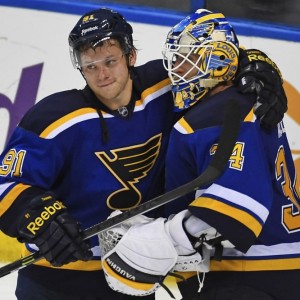 Too often professional athletes get the massive payday only to see a letdown in performance but Tarasenko has shown little to suggest he's ready to rest on his laurels (or dollars as the case may be.) His attitude was shaped largely by his father and grandfather and he continues to display a hunger for the puck in all situations and a team-first, one-day-at-a-time humility that his teammates and Blues fans alike are thankful for.
A Return to Iron Man Form
The 2014-15 campaign was really one to forget for Blues defenseman Jay Bouwmeester. After starting the season as part of St. Louis's best defensive pairing with Alex Pietrangelo, a lower-body injury cost Bouwmeester his Iron Man games-played streak and the usually smooth skating blue liner was never able to fully recover his edges. His play, particularly in the Blues own zone, suffered greatly, as did his offensive production, leaving him essentially just trying to keep up most of the time he spent on the ice. His 13 points last season was the lowest total of his then 13 year career.
During the off-season Bouwmeester told the St. Louis Post-Dispatch that he knew the injury took a toll on his play and that he may have rushed to come back which only made the situation worse.
"I probably tried coming back a couple of times and that might not have been the smartest thing. I probably felt that I could just try to get through it, and once I got back, things would kind of fall in to place. But sometimes, you know, things don't come around as quick as you want them to. It definitely set me back a little bit."
He also said he'd healed up over the summer and was going to be ready to play in 2015-16 and I'm thankful to see it appears he was absolutely right. It's obvious watching him play this season that he's got that quickness back, that ability to make the first step and get his legs going under him and allow him to be in better position defensively. He's also been able to get more involved in the offense, something the entire team has been doing more often so far, without putting himself and the team in quite as many bad situations.
And if he does- it happens to the best of them- Allen has been there to steal a game more often than not or at least give Tarasenko a chance to win the game in overtime. I'm very thankful to be a Blues fan.
Sean is a native St. Louisian and long time Blues fan. A doting father, boyfriend, son, brother, friend, sports fan, computer geek, technology consultant, listener, philosopher, writer, and music lover. He works for a local business supply company.