Most Philadelphia Flyers fans would agree that the team has performed below expectations this season. The level of one's disappointment will depend on what one's expectations were going into the season, but all can agree that things have been rough.
Although nobody expected them to be Stanley Cup contenders, the general consensus was that they would be in the running for a wild card playoff spot. Over the past two weeks the team has remained relatively steady halfway between the bottom of the Eastern Conference and the last playoff spot while struggling to score goals.
At times the Flyers have looked like a playoff team. When they are aggressive in the neutral zone and generate a fast attack, they are difficult to beat. But when they play a passive, slow game, they become almost unwatchable.
Despite an underwhelming start, there are three things that Flyers fans can be thankful for this holiday season.
1. Shayne Gostisbehere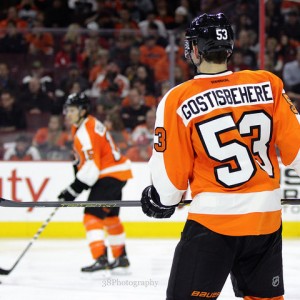 Shayne Gostisbehere is everything that the Flyers defense has not been over the past few years: fast, skilled, and lots of fun. In his first NHL game this season he set up the game-tying goal with a beautiful deke at the blue line, only to follow that up with his first NHL goal in the next game.
At 22 years old, Gostisbehere still has his best years ahead of him and is clearly NHL-ready right now. For the past few seasons, Flyers fans have been waiting on the "youth movement" to begin within their defense. With the appearance, and stellar play, of Gostisbehere, it looks to have finally arrived.
2. The Prospects Are Shining
Right now, the Flyers have prospects shining in amateur and professional leagues all over the world.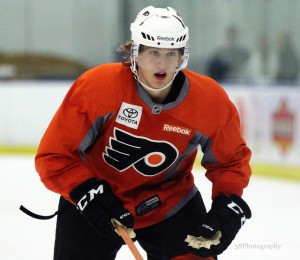 In Sweden, both Oskar Lindblom and Felix Sandstrom are
helping Brynas IF be one of the top teams
in the SHL. In Russia, Mikhail Vorobyov has averaged over a point per game in the Russian Junior League and was also given a 4-game KHL call-up opportunity.
David Kase is playing well over in the Czech Republic as well. Much like Vorobyov, he has been given sparing ice time while in the men's league, but has four goals and four assists through five games in the junior league.
In North America, prospects like Ivan Provorov, Travis Konecny, and Travis Sanheim are doing exactly what fans would expect them to do. But there are some other prospects who are lighting it up.
Anthony Stolarz is one of the top goalies in the AHL right now and Merrick Madsen is off to a great start at Harvard. Cooper Marody is leading the Michigan Wolverines in points and Nicolas Aube-Kubel, after a rough patch of games, is back to his high scoring ways (he has 14 goals in 20 games).
Samuel Morin scored his first professional goal on Sunday evening and is settling into his role in pro hockey while Reece Willcox has almost matched his career high in points through 8 games (he has 1G, 5A, his career high is 7pts) in his senior season at Cornell.
I could go on, but you get the point. It is hard not to get excited about the Flyers prospect pool. They seem to have drafted some solid players and even if only a few of them "hit," they will be very fortunate down the road.
3. Michal Neuvirth
It was clear when the Flyers did not re-sign Ray Emery this summer that they would be looking for an upgrade at the back-up goaltender position. In Michal Neuvirth, they have found a player who does not break the bank, but can fill in when necessary.
However, Neuvirth has done more than just "fill-in." With three shutouts in his first nine appearances, Neuvirth has shown that he has what it takes to be a good NHL goalie.
With Steve Mason struggling through personal issues earlier in the season, it was Neuvirth who kept the Flyers afloat. Last year, had the Flyers lost Mason for a long stretch of games, they would have completely derailed. This season, Neuvirth has instilled confidence that the team can win without Mason between the pipes.
Although the Flyers have been filled with problems, their goaltending has not been one of them. Once Mason and Neuvirth are 100% healthy (both physically and mentally), this goaltending tandem could be one of the top units in the league.
I am 23 years old and I've been a Flyers fan since I was six years old. I love to break down the game and take a look at prospects. I always appreciate your thoughts and feedback, so feel free to use the comment section or interact with me on Twitter.