After the goaltenders stole the show on day one of the NWHL's 2021 season in Lake Placid, the scorers announced their presence with authority on day two. There were ten goals scored in the opening game on Jan. 24, or one more than was scored in all three games combined the previous day. In the second tripleheader in league history, there was a total of 23 goals scored. 
The Toronto Six almost had their first win, but they blew a 5-1 lead and dropped a 6-5 decision against the Minnesota Whitecaps in a shootout. After that, we still had two more games and they did not disappoint.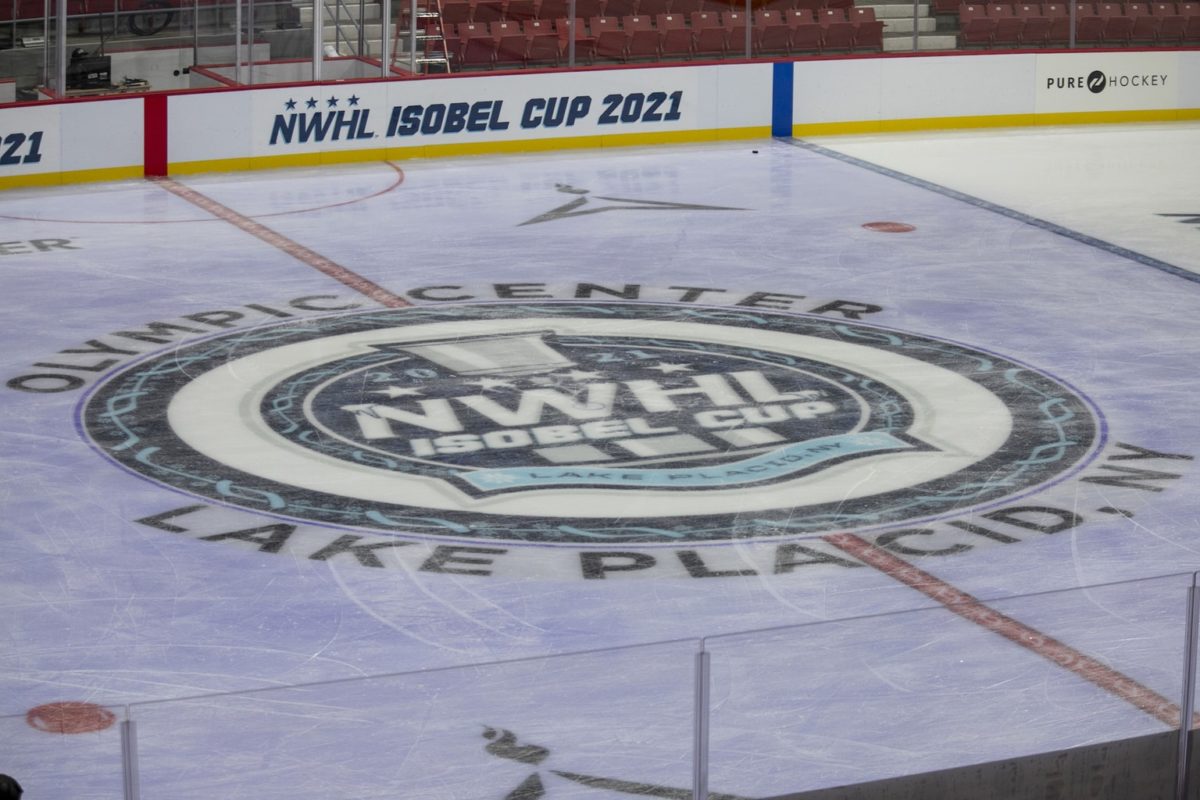 The Metropolitan Riveters joined the Whitecaps atop the NWHL standings, securing their second win in as many games with a 4-3 triumph over the gritty Connecticut Whale in the day's second game.
In the nightcap, the Boston Pride rebounded from a rare loss and dropped five goals on the Buffalo Beauts in a 5-1 win to get them back on track. The win was costly though for the Pride as they lost defender Jenna Rheault to a broken wrist following an awkward collision along the boards.
A Day of Firsts
While the Six weren't able to lock up that first W, they did have an amazing game that was filled with fantastic performances. 
8:03 into the game it was rookie defender Lindsay Eastwood who netted the first goal in team history. Eastwood's goal came on the power-play and was the first of Toronto's first two power-play goals as a team.
Breanne Wilson-Bennett also scored her first NWHL goal, and she liked it so much that she became the first Six player to have a two-goal game for Toronto. She could have had a third, but just missed on two glorious chances near the end of overtime. The Six did record their first point in the standings when the game went to overtime.
Some other firsts for Toronto: Samantha Ridgewell made first her NWHL start, and Taylor Woods netted her first NWHL goal. Amy Curlew, Brooke Boquist, Emma Woods, and Sarah Steele all registered their first NWHL points/assists.
On the other side of that game, Minnesota's Hayley Mack netted her first goal as a pro and defender Rose Alleva picked up her first assist/NWHL point. Mack also had the game-deciding goal in the shootout.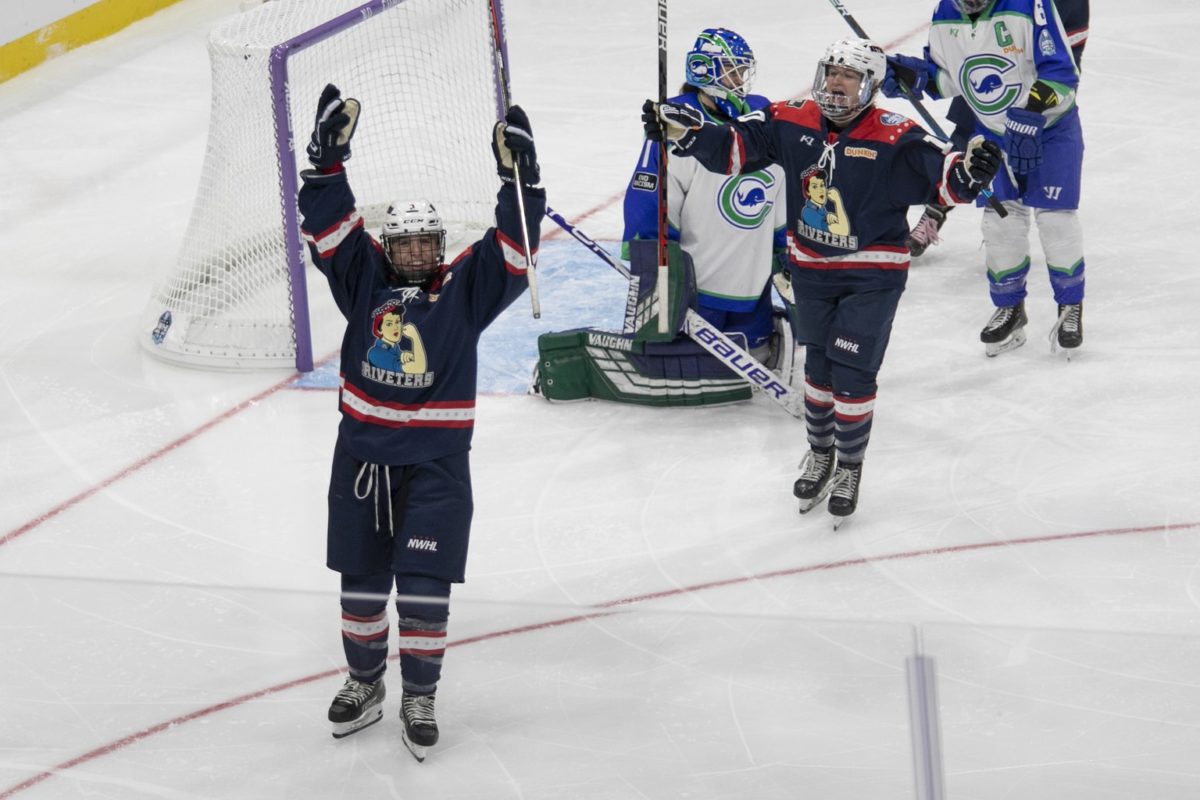 Riveters goaltender Tera Hofmann made her first NWHL start and picked up her first win, turning aside 33 of the 36 shots she faced. Defender Saroya Tinker recorded her first NWHL point/assist, forward Brooke Avery picked up her first NWHL assist, and rookie forward Theresa Knutson netted her first NWHL goal/point with her third period, game-winning goal.
Two Connecticut draft picks picked up their first NWHL points when Maddie Bishop assisted on Amanda Conway's goal that got the Whale on the board in their second game of the season. Katelynn Russ also picked up her first regular-season NWHL goal; she had two goals in the playoffs last March.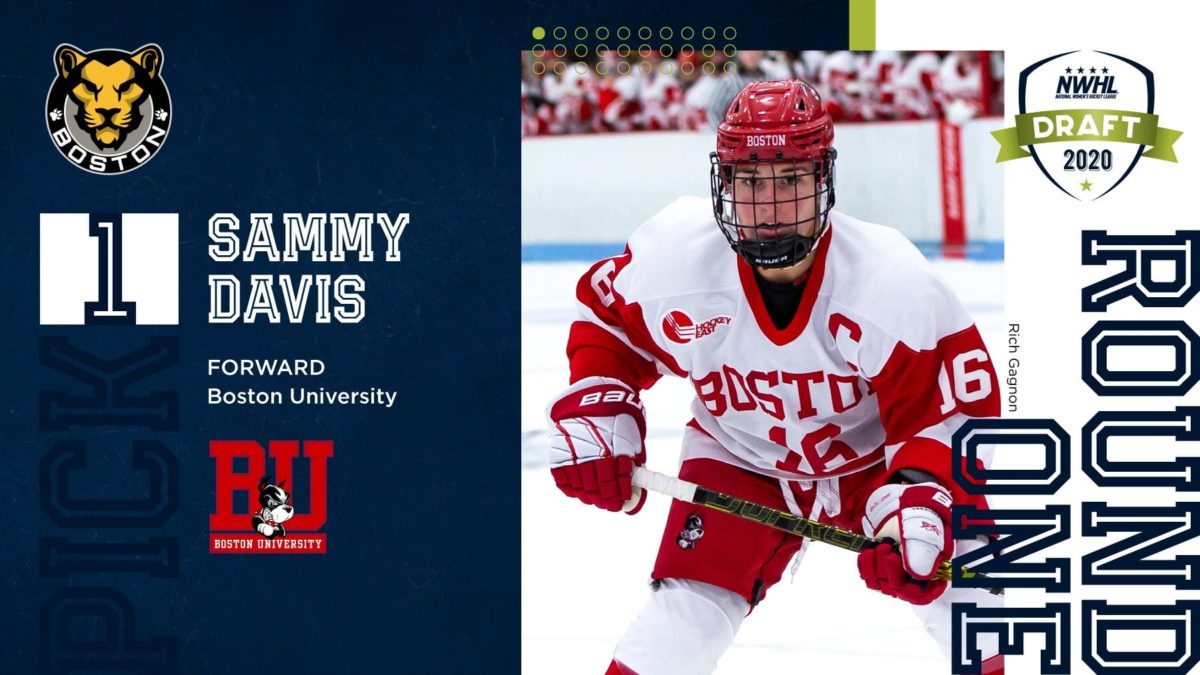 In the nightcap we witnessed the first NWHL goal/point for Boston's Sammy Davis, who was the first overall pick in the 2020 NWHL Draft. The lone assist on her goal went to fellow rookie Taylor Wenczkowski, and she liked that feeling so much she went out and netted her own first NWHL goal 13 minutes later. Tereza Vanisova recorded her first NWHL assist/point on Wenczkowski's goal. 
Dempsey hits 100
Not to be outdone, Boston's captain Jillian Dempsey netted her first goal of the season to open the scoring of that game. When she added a second goal later in the game she became the first player in NWHL history to crack 100-career points (48g-52a).
Dempsey has been with the league and the Pride since their inceptions and has become not only the face of the franchise as their captain but also the face of the league. She is one of the hardest-working players in the hockey world and is showing no signs of slowing down, in fact, she seems to be getting better!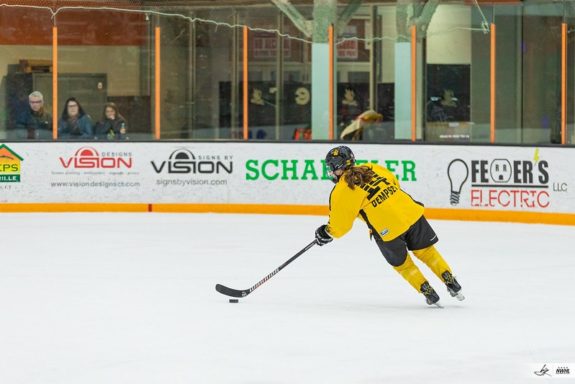 Her point totals by season: 14, 15, 15, 14, 40, 2 (and counting).
"I thought she hit 100 points last year. Jillian is our leader. She's the face of our franchise and league," said Pride head coach Paul Mara when asked about Dempsey's milestone.
She did crack 100 points (regular season and playoffs) last season and now has an overall total of 108.
Quotes of the Day
"When we won the Isobel Cup in overtime, that's a tough one to beat. This one, with the comeback, is right up there. We don't have too many of these games (this season), so every point and every game means so much." – Whitecaps captain Winny Brodt Brown on her team's epic comeback.
"It's always good to get that first one out of the way. I didn't overthink it." – Whitecaps rookie Hayley Mack after scoring her first NWHL goal.
"That was a huge goal, and huge effort to build on. Once she got that goal it dialed us in and we took over from there." – Brodt Brown on Audra Richards' shorthanded goal.
"How do you think we're feeling? Not so good!" – Six head coach Digit Murphy.
"It was a tough one. I watched it again and I probably had a little more time than I thought I did." – Six rookie Breanne Wilson-Bennett after missing a chance to get a hat trick/end the game in overtime.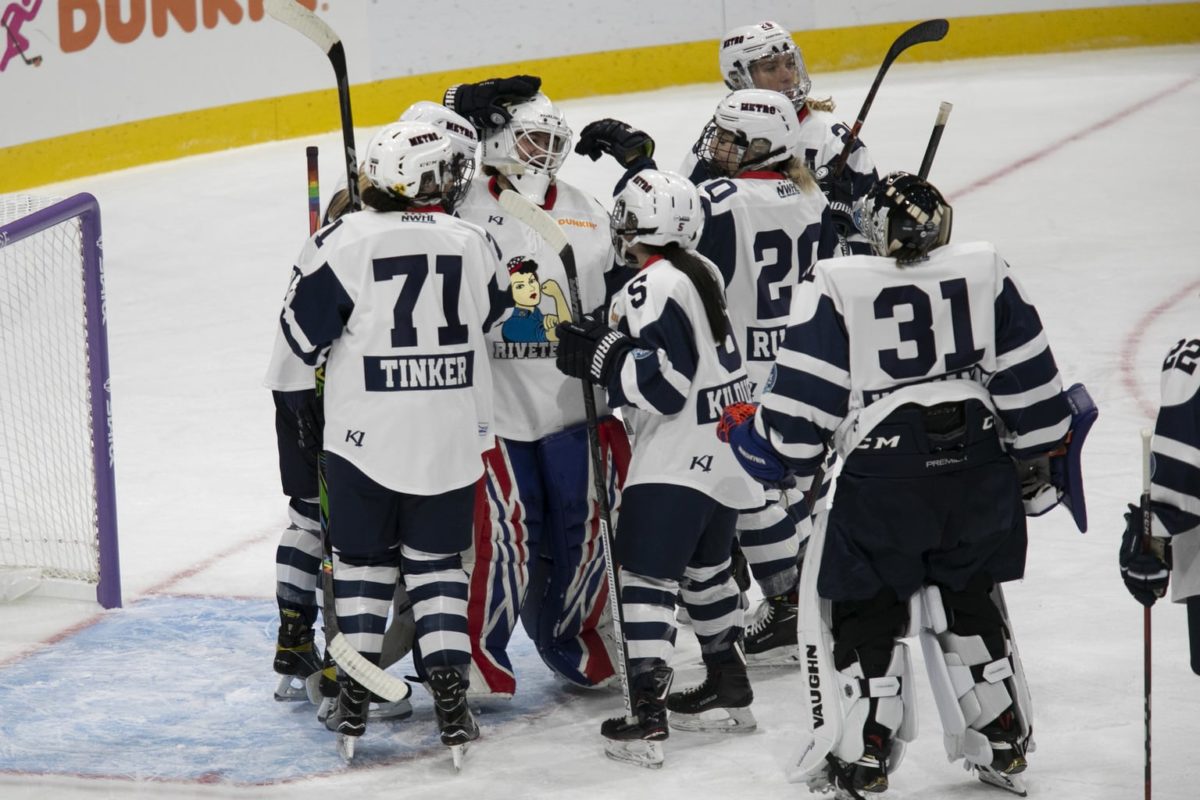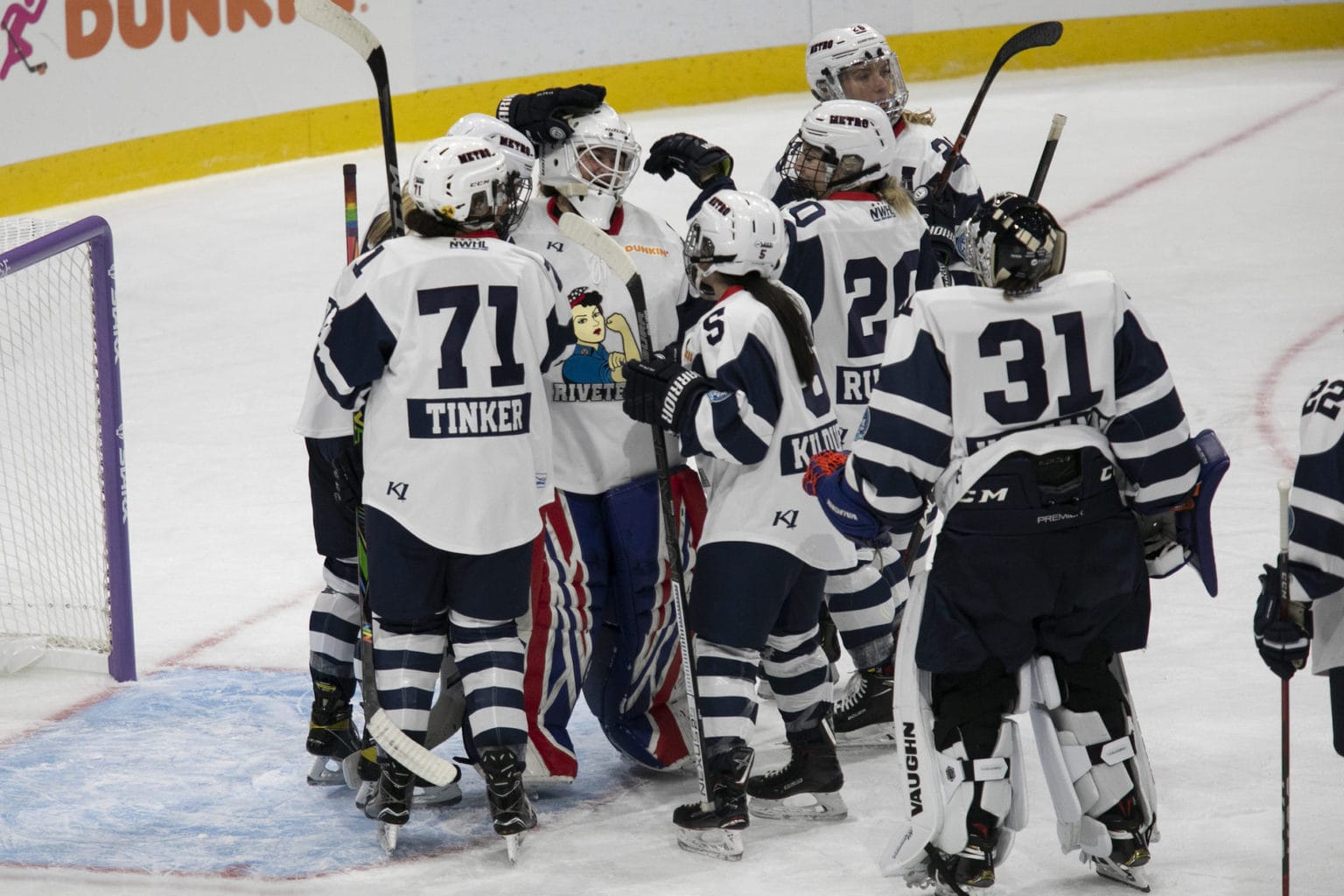 "Everyone who was on the ice wanted to be there, wanted to be a part of the win." – Riveters assistant coach Stretch Johnston.
"It feels great. My hips are happy that we're done playing." – Johnston on transitioning from player to coach.
"For those that don't know, this is my seventh year playing with Hoff. I'm always confident when she's behind me. She had a great game." – Saroya Tinker on Riveters' teammate Tera Hofmann. 
"I looked up and saw no one in front of me other than the goalie. I took a deep breath and it all happened in slow motion. I was able to think about it and then looked, and picked pick my corner. I was definitely very excited, to say the least." – Riveters rookie Theresa Knutson on her first NWHL goal.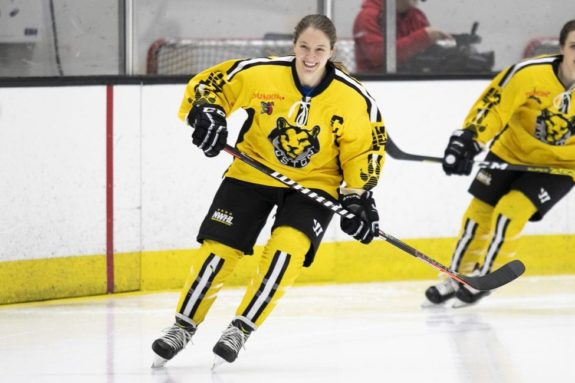 "We have more points than the Buffalo Beauts now, so we're happy." – Pride head coach Paul Mara.
"Honestly the main focus coming into tonight was us bouncing back, being resilient from our loss last night. – Jillian Dempsey's response when asking if she was thinking about reaching 100 career points.
"I don't think the score really shows how we played (tonight)." – Beauts defender Marie-Jo Pelletier.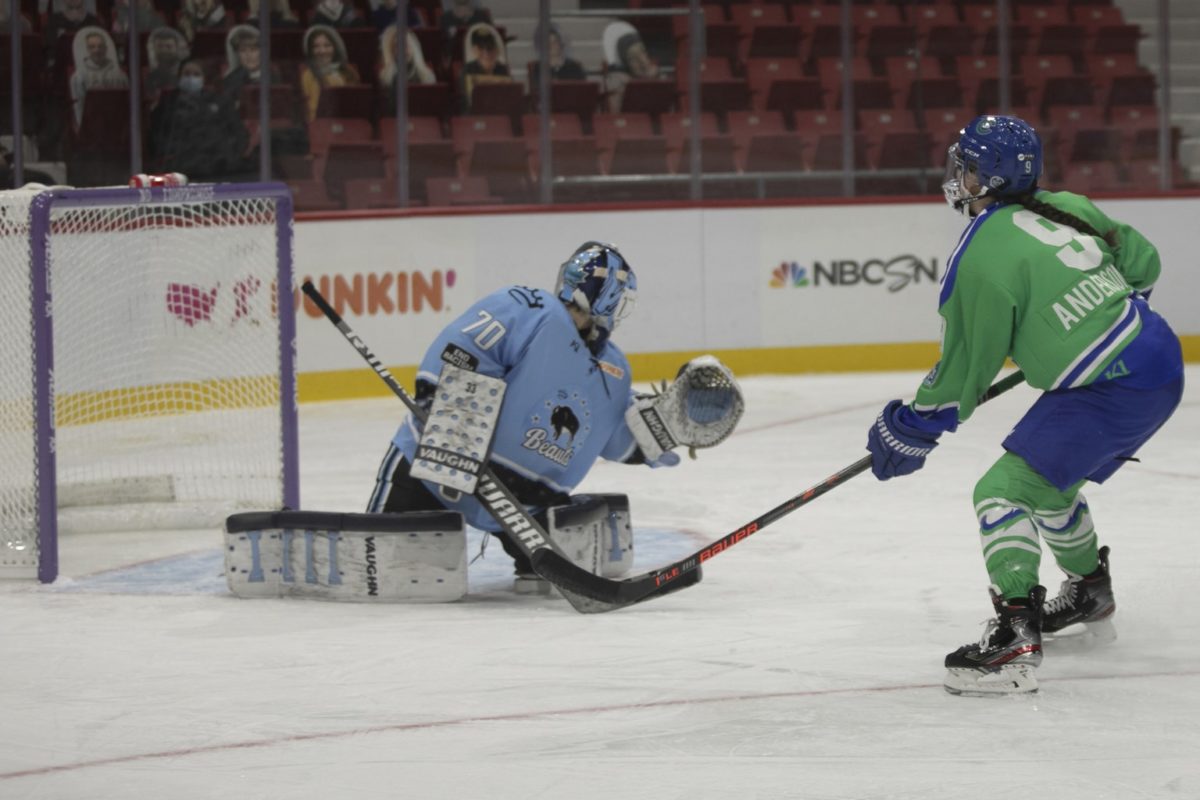 "Honestly, I don't think any of the goals that went in were her fault." – Beauts associate coach Rhea Coad on goaltender Carly Jackson.
"This team has a lot of heart. We're out there playing for each other and we've dealt with a lot of adversity already this season. We are rolling with the punches and won't be quitting on each other. We're here for each other and we have each others' backs." – Jordan Juron on her team's state of mind after two losses.
My 3-Stars of the Day
1) Jillian Dempsey (Pride) had two goals to help Boston rebound from a rare loss, giving her 100 career NWHL points. She is the face of the NWHL and a living legend that we are lucky to witness.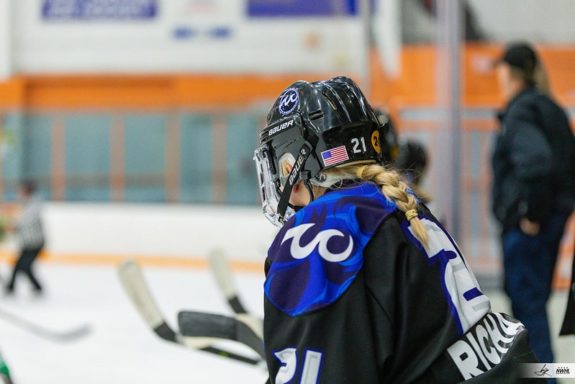 2) Audra Richards (Whitecaps) had the shorthanded goal that changed the momentum in Minnesota's come-from behind win. She also drew a penalty on the play and her teammates scoring the tying goal on the ensuing power play.
3) Tera Hofmann (Rivs) had 33 saves in her NWHL debut to ensure that the Riveters will be playing for the top spot in the standings when they take on the also undefeated Whitecaps in both teams next game on Jan. 26.