Québec Remparts center and 2022 top prospect Nathan Gaucher recorded his first career Quebec Major Junior Hockey League (QMJHL) hat trick on Saturday night. One of the top prospects for the 2023 NHL Entry Draft, Matvei Michkov, continues to dominate Russia's junior league, the MHL. Los Angeles Kings' prospect Martin Chromiak is excelling on loan in Slovakia.
Gaucher Records First QMJHL Hat Trick
Heading in to the Québec Remparts game against Blainville-Boisbriand on Saturday, top prospect for the 2022 NHL Entry Draft Nathan Gaucher had zero goals through seven games played. He broke out in a big way on Saturday night, recording his first career QMJHL hat trick and notching an assist for a four-point night. Gaucher was drafted eighth overall by the Remparts in the 2019 QMJHL Entry Draft. During the 2019-20 season he amassed 13 goals and 11 assists for 24 points in 59 games played.
Gaucher has a late 2003 birthdate and therefore just missed out on eligibility for the 2021 NHL Entry Draft by a few months. Gaucher got it done on special teams on Saturday with his first two goals coming on the power play and the eventual game-winning goal coming shorthanded. He represented Canada Red at the World U-17 Hockey Challenge where he posted two goals and three assists for five points in five games played.
Through eight games played during the 2020-21 season, he has recorded three goals and five assists for eight points. He currently sits in a tie for third in team scoring with Théo Rochette and trails leader Pierrick Dubé and Viljami Marjala by one point. A big year from the 17-year-old could set him up well for the 2020 Draft.
Michkov Dominating In MHL
Speaking of future NHL Entry Draft's, Matvei Michkov is again making the case that he is the best player available for 2023. The Russian phenom has taken the MHL by storm this season as a 16-year-old. He currently sits 12th in league scoring with 41 points in 40 games played and his 26 goals are good enough for second in the entire league, trailing only Alexander Kisakov who has 30 in 48 games. Michkov does have the edge in goals-per-game, leading the league with .65 scoring rate.
It's quite the impressive feat when you sit back and remember that he's two-to-three years younger than most of his peers. It's unprecedented territory for a player his age to be putting up numbers like this in Russia's junior league. When you look at what Shane Wright did in his 16-year-old season in the Ontario Hockey League (OHL) with the Kingston Frontenacs, it's hard not to draw comparisons to the level of dominance.
Michkov made the switch to SKA-1946 St. Petersburg from SKA-Varyagi im. Morozova earlier in the season and has recorded 23 goals and 14 assists for 37 points in 34 games played since the move. He's two years out from his draft season, but you'd have to think at some point he'll make his way to Russia's top division.
Chromiak Excelling in Slovakia
Kings' prospect Martin Chromiak has been on loan with HK Dukla Trencin of the Slovak top tier men's league since the OHL season has been on hold due to the pandemic. It's a familiar place for Chromiak as he originally transferred from Dukla Trencin's program to head to the OHL. Through 15 games played, he had three goals and five assists for eight points heading in their game on Sunday. He left the game with his first career hat trick in Slovakia and a four-point effort. His totals now sit at six goals and six assists for 12 points in 16 games played.
THW's Zackary Weiner had this to say about the Kings' selection of Chromiak in the 2020 NHL Entry Draft.
This pick has the possibility of being the steal of the draft, and certainly the steal of the draft for the Kings. Chromiak, who stands at 6-foot, 187 pounds, forechecks hard, has a great shot, and solid hockey IQ. He does need to work on his skating, though, as well as his strength when playing defense. Hopefully, the Kings can turn this under-the-radar steal into a great NHL winger, playing with some of the best centers in the league.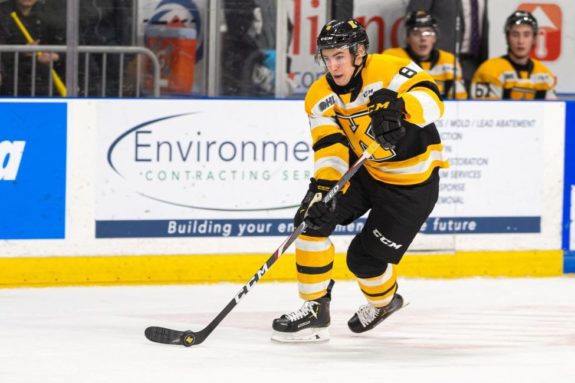 During the 2019-20 season, Chromiak amassed 11 goals and 22 assists for 33 points in 28 games with the Frontenacs. He spent the first half of the season playing for HK Dukla Trencin where he registered five goals and one assist in 32 games played. He was ultimately drafted 128th overall by the Kings' in the 2020 NHL Entry Draft.
---
---