Don Sweeney has seen it all as a member of the Boston Bruins.
The 48-year-old was drafted by the club that he played 1,052 games for between 1988 and 2003. He then proceeded to trade in his Black and Gold sweater for a suit and tie as a member of their front office in player development.
After spending the past six seasons as assistant general manager, Sweeney completed his rise to the top.
Sweeney becomes the 8th GM in Bruins' franchise history & will enter his 10th season in the Bruins' front office after 6 years as Asst. GM

— Boston Bruins (@NHLBruins) May 20, 2015
The former defenseman was named Boston's new GM Wednesday morning. The move comes five weeks after Peter Chiarelli was fired after the Bruins missed the playoffs for the first time in eight seasons.
Sweeney's hiring was not a surprise since he was the consensus favorite to occupy Chiarelli's old post. He now faces some difficult decisions in a significant offseason for Boston.
Deciding Claude Julien's Fate
The number one priority for Boston's new general manager is to decide the fate of coach Claude Julien. As you may recall, Neely said in April the new GM would decide whether he stays or goes.
"…we will leave it up to that GM to decide what he wants to do with our coaching staff."
Sweeney addressed Julien's organizational status during his introductory press conference Wednesday afternoon.
"He's the coach of the Boston Bruins as of today, for sure. I have some things I want to sit down and go through with Claude in a very orderly fashion, as to where I think things need to change and what direction we need to change as a group."
Not exactly the most ringing endorsement for Boston's current bench boss.
Spoke to a league source, who said if Don Sweeney becomes GM of #NHLBruins, all signs point to Julien staying on as coach.

— Shawn Hutcheon (@ShawnHutcheon) May 14, 2015
However, the prevailing theme is that if Sweeney was hired, Julien would stay. The possibility of Julien being fired is still there but he can breathe a little easier, presumably since the Bruins went in-house to fill Chiarelli's position.
If he does start next season behind the bench, the leash will be short. Make no mistake about it.
If the club is slow out of the gates, Julien could find himself out of a job early.
Re-Sign Dougie Hamilton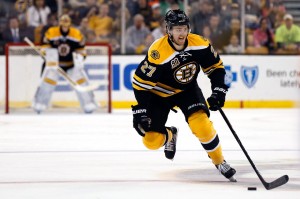 Sweeney's second order of business is negotiating a deal to keep his franchise defenseman of the future in Boston.
Dougie Hamilton is 21 and coming off the best season in his young career. He is also a restricted free-agent this summer. Zdeno Chara and Dennis Seidenberg are not getting any younger while Torey Krug could see an expanded role as a top-four defenseman next season.
Hamilton is the future of Boston's blueline and will only get better. At six-feet-five-inches, the ninth overall pick in 2011 still has work to do in his own end but is a gifted offensive defenseman capable of playing over 20 minutes every night.
The asking price to retain his services will be high. Boston does not have a lot of cap room. Sweeney will have to get creative to clear enough space to sign Hamilton to the long-term, big money extension his play has deserved.
Could Milan Lucic, Reilly Smith, or another higher-priced player be sacrificed to make this happen? Only time will tell.
Acquire Goal Scorer(s)
The Bruins need offense. Specifically, they need a goal scorer. Or two.
Boston finished in the bottom-third of the league this season in goals scored and lacked a consistent forward who possessed the golden touch when it came to lighting the lamp consistently.
The problem is that goal-scoring wingers are at a premium as this summer's free-agent class lacks players of that ilk. Sweeney may believe the answer lies within the organization.
He served as GM for Providence in the AHL as part of his previous duties as Chiarelli's assistant. He knows the ins and outs of young players like Ryan Spooner and David Pastrnak, who were bright spots during Boston's dim season.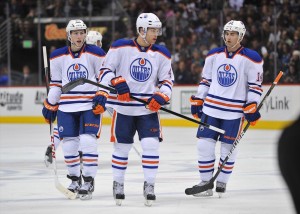 The Bruins cannot expect the 18-year-old Pastrnak to become an elite scorer overnight, so they will have to look elsewhere for a more consistent point-producer.
As I wrote earlier this month, Chiarelli and the Oilers could be in the market to trade away either Jordan Eberle or Taylor Hall with the impending addition of phenom Connor McDavid on draft day.
Could Sweeney and Chiarelli strike up a deal to help each other out and make good first impressions in their new roles?
Don Sweeney has much to celebrate. A man who has only known the Black and Gold from his early days as a player has now been handed the keys to return the Bruins to the Promised Land.
However, it will be a baptism by fire for the amateur GM as crucial decisions await him in the near future.
Joe is a writer covering the Boston Bruins. He is a lifelong native of Massachusetts and is currently a content writer/manager for a newsletter at a Human Services Agency. Joe can be found on Twitter: @JoeCherryTHW