On Thursday, the Ontario Hockey League playoffs will take centre stage for eight teams and a league that has had to deal with some controversy during the 2015-16 season. With a lot of attention drawn away from the good of the league and toward one of its teams having the worst inaugural season in league history.
[ALSO: OHL Playoffs Schedule and Seeding Announced]
But on Friday, the curtain will rise in London, Ontario as the third seeded Knights begin their first-round series against the sixth seeded Owen Sound Attack. While the Knights came out on the short end of a late-season home-and-home series with the Erie Otters (which could've landed them in first in the OHL's Western Conference and secured them a date with the eighth-seeded Saginaw Spirit), this matchup with the Attack could actually be beneficial for Dale Hunter's team in the long run.
London Knights will host Attack on Friday and Saturday night to open series. Owen Sound will be home Monday and Wednesday. #OHL

— Manny Paiva (@paivatheway) March 20, 2016
The Attacking Knights: A Head-to-Head Glance
Through their 68-game regular season, the division rival Knights and Attack faced off a total of six times. London outscored Owen Sound in their six games by a score of 24-9 – winning four of the games and all three at Budweiser Gardens in London.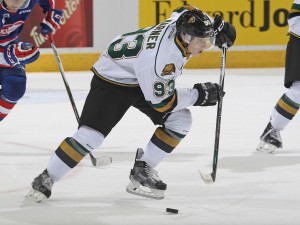 The Knights outshot the Attack 202-181 in their six games and held an advantage in the face-off dot as well winning 52 percent of the draws. Their special teams were also a major asset killing 90 percent of the Attack's power plays (28 for 31) and taking advantage of nearly a quarter (6 for 25) of their opportunities.
The last time the two teams met in the regular season was February 5 when the Knights beat Owen Sound 5-0 behind a solid start from goaltender Brendan Burke. London went on to win 16 of their remaining 19 games while the Attack won 11 of their final 20 games to finish off the regular season. So, while it would've been nice for the Knights to have the chance at the number eight Spirit in the first round, they seem to be in a good spot against their division foes.
The Knights' Watch
London may be one of the deepest teams in the OHL this season with four lines that can create difficulties for opponents defences. But it's names like Christian Dvorak, Mitch Marner and Matthew Tkachuk that've really caught the eye of hockey fans this year.
[ALSO: Marner Scores Goal-of-the-Year Candidate]
When it comes to playing the Attack, there are some Knights that've put up impressive numbers this season.
Dvorak's notched 11 points (6g-5a) in just five games against Owen Sound this season. Overall, the Knights' co-captain has found the back of the net 52 times this season with a total of 121 points. He's the leading scorer for the Knights against Owen Sound and has certainly created a lot of discussion for the Arizona Coyotes who drafted the 20-year-old 58th overall in 2014.
Next to Dvorak, Marner has 10 points (2g-8a) for the Knights in five games against the Attack this season to go along with his impressive season. Fellow Leafs prospect JJ Piccinich also has impressive numbers in the Knights-Attack rivalry this season with four points (2g-2a) in six games.
Draft-eligible Olli Juolevi has four assists in five games against Owen Sound this season, while fellow draft prospect Tkachuk has also notched six points (2g-4a) in five games for the Knights.
In net, the Knights could be safe starting either Tyler Parsons or Brendan Burke in their first-round matchup. Parsons has a 1.71 goals-against average and a .941 save percentage in four games against the Attack, while Burke racked up a 1.18 goals-against average and a .963 save percentage.
On The Attack Against London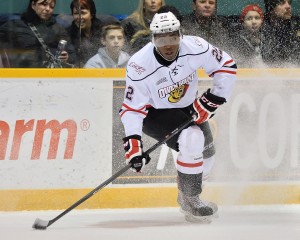 When it comes to the other side of the puck, Owen Sound will be searching for some contributions from throughout their lineup. During the regular season, the highest any one player had against the Knights was two points. Ethan Szypula, Kevin Hancock and Sean Durzi all had a goal and an assist. Bryson Cianfrone and Jaden Lindo finished with two assists and Nick Suzuki notched two goals for the Attack.
That being said, the Attack will look to Cianfrone who led the team in scoring this season with just 50 points (17g-33a) in 58 games. He finished 65th in league scoring just one point ahead of fellow teammate Petrus Palmu who finished with 49 points (23g-26a) in just 52 games.
Between the pipes, the Attack will struggle with their decision on who to start throughout their first-round series with the Knights. Michael McNiven struggled this season against London seeing time in all six games versus the Knights posting a 4.69 goals against average and an .860 save percentage. While the free-agent signing of the Montreal Canadiens hasn't exactly exuded confidence in his abilities against the Knights, his fellow tender – Daniel Dekoning – had some success in the two games he played in against London.
Dekoning posted a 0.86 goals against average and a .974 save percentage in parts of two meetings with London. While it certainly isn't enough to go on, it has to be intriguing for the Owen Sound coaching staff.
This is certainly going to be an fun first-round series. A number three seed that could've easily been atop the OHL's Western Conference will likely give the sixth seed Attack a hard time. Alongside the Erie Otters, expect the Knights to be one of the toughest teams to be beat in the West and in the OHL overall. To add to this, the Knights will have three of the top 20 prospects in this year's NHL draft – something worth keeping an eye on as their playoff push kicks off.
---
Series Schedule
London Knights (3) vs. Owen Sound Attack (6)
Game #1: Owen Sound Attack (1) at London Knights (4) – Knights lead series 1-0
Game #2: Owen Sound Attack (2) at London Knights (0) – Series tied 1-1
Game #3: London Knights (5) at Owen Sound Attack (1) – Knights lead series 2-1
Game #4: London Knights (8) at Owen Sound Attack (5) – Knights lead series 3-1
Game #5: Owen Sound Attack (4) at London Knights (3) OT – Knights lead series 3-2
Game #6: London Knights (5) at Owen Sound Attack (2) – Knights win series 4-2
Game #7: Tuesday, April 5 at London – 7:00 p.m. (not needed)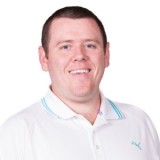 Andrew is in his 8th year reporting for The Hockey Writers covering the Toronto Maple Leafs. He began his broadcasting with CBC's Hockey Night in Canada team as well as being part of their coverage of the 2014 Winter Olympic Games in Sochi. He's the former play-by-play voice of the London Jr. Knights for Rogers TV and currently hosts the Sticks in the 6ix podcast. You can follow him on Twitter at @AndrewGForbes.