On March 23rd I was joined by Mark Howe in an exclusive interview.
Mark Howe is a former professional hockey player from 1973-1995. He played left-wing from 73-79, defense from 79-95 and was the 25th overall draft pick in the 1974 NHL entry draft. He accumulated 742 points in 929 career NHL games and is a plus+400 skater in NHL action. Howe has been inducted into the United States Hockey Hall of Game and the Hockey Hall of Fame which he was inducted into in 2011 and he currently serves as the director of pro scouting for the Detroit Red Wings.
Michael Pityk (MP): The first question I have for you is a lot of people don't really know or understand how a hockey team works on the back end. Would you be able to describe you role as director of pro scouting and what some of your responsibilities might be?
Mark Howe (MH): Well a pro scout is by definition a scout that goes out and watches players that are professionals that a signed under professional contracts. Therefore they'd be playing in the National Hockey League, the ECHL, the American Hockey League, basically anyone who is not playing amateur hockey. Although the pro scouts will at times go and watch some amateur players to give a little of their feedback on a team.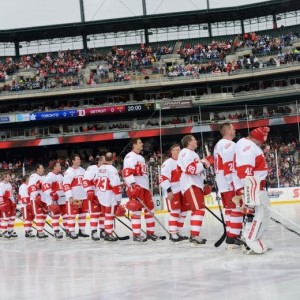 I know the way a lot of teams work, because between the NHL and the AHL there's 60 teams, it's awfully difficult to get a really good read on all the players if you're trying to cover all of those teams every year. Normally, as in the case in Detroit, we have five pro scouts and every scout is assigned certain teams and you're responsible for knowing the individual players on that team and their American league affiliates.
Some guys might have four or five teams because of cost and travel related things, if you have a scout that lives in say California you might have him scout the five California teams and the American hockey league, but if it's a team out west that has an American league affiliate in the east, then you have someone else fill in.  There's no sense in having a scout live all the way out there going all the way east to see just one team.
We (Detroit) have one in Canada, one in the Detroit area, one in the New England area, I'm located in the central Philadelphia/New York area and we have one out in the western states. You're kind of spread around but that's a scout's job and duties.
Being a head pro scout that means I'm more or less trying to define what region, what teams that people scout in, then it's just a matter of communicating and discussing, going over players. Basically everyone will get a similar read on a player, but there are differences at times and part of the job is to talk those things out and work on a common goal, which is for the better good of the team.
MP: Based on what you said, how do yourself or other scouts go about choosing which teams to attend games at and how often do you see those teams during a given season?
MH:  Well initially, most of the time it's by region, like me being in the Philadelphia area it's much easier for me to go to games in Brooklyn, in Newark, go to Philadelphia or Washington is close by, Pittsburgh is one of my teams, I'll also see Carolina and I've had the two Florida teams for years.
One scout who lives up in the North Eastern area will cover Boston, Montreal, Ottawa, Toronto and teams in the Buffalo area. Then the guy in the central area has Chicago, Minnesota, St. Louis. Nashville and he'll watch our team in Detroit.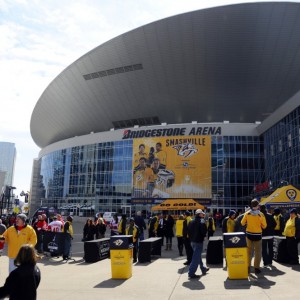 Part of a scouts job is to watch your parent club and your farm club as much as possible, because it's extremely important that you know your team, it's probably the most important thing that you know your team and your system so you understand what your organizational needs are.
That's basically it, during the beginning of the year you try to get out and the season starts in October ever year and you try to get out and see every one of your teams as soon as possible. Like I have nine teams in the NHL and then their farm teams, I think I have eight of those, and counting the Red Wings and Grand Rapids, I've got close to 20 teams. So in the first month of the season I'll make sure I see each of those teams at least once and start to get a feel for that team right away. Once you get into a few games, some teams will have a number of new players in the American league and some don't, so you put a priority on getting to know the newer players.
When you start getting into looking at free agents, sometimes teams will have four, five or six free agents coming up and some teams might only have one or two. You end up putting a priority on the team that has five or six and if a team only has one or two, you go to four or five games and watch them very closely you get a good feel for them.
Generally as a rule, most scouts will see 150-155 games every year. You do the best you can to spread it out to get to know your teams the best you can. I ask of my staff, and myself, to get a good view of every NHL team and give a detailed report. So in addition to watching their own teams I ask they at least watch every other team at least once as a minimum and put a good report in so when you go to a meeting, if you haven't seen a team play and they have a free agent and you're pushing another free agent, how do you know which one is better if you haven't seen the other one play? When it goes to putting lists together, you have to rank the players, who's a better player and you're comparing an apple to an orange, but if you haven't seen the orange, how do you compare the apple to it?
MP: Absolutely, so going off of what you said, you said watching your own team and trying to get a good read on team is very important. So how much, if any, impact do pro scouts have on whether a player goes up or down from the minors to the majors, or are pro scouts kind of removed from that process?
MH: No, they do have input and you go to watch your farm team play, you try to rate you players. Some have played in the minors and will continue to play in the minors for one reason or another, they're just able to make much of an impact in the NHL.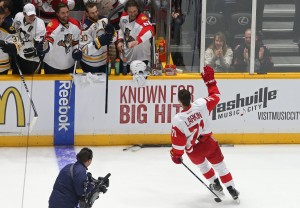 There's other players who are beginning out and they're struggling in the American hockey league, but you can see they have a lot of potential. There's other guys who you come in and they come in and they a sure-fire thing to make it to the National hockey league, so you to the best of your knowledge try to put a label on players, what you think their upside is, if they're going to be an NHL player, are they going to be a top-line player, a fourth line kind of player, a top-four defenseman, a bottom-two defender. You try to envision what you see five or six down the road.
That's your first job, and normally when players are going up and down between the minors and your parent NHL club, 99.99% of the time it's based on what the coach of the team wants and what the general manager sees, but they hear and see what goes on and talk with the coaches at the American league level, so they have a lot of input. So as scouts, we periodically get called in and we'll put in our opinion as well, but for the most part that's the job of your National and American league coaches and your general manager.
MP:  You are also working with USA hockey, so when you're watching games and evaluating players for that role, do you look at players differently, do you look for different things and what is the difference between building a roster for an international competition versus an NHL team?
MH: Well I don't really work for USA hockey, I was asked and it was a privilege to be asked to help participate in the selection of the world cup team and I know a lot of people with USA hockey so I gladly accepted that role.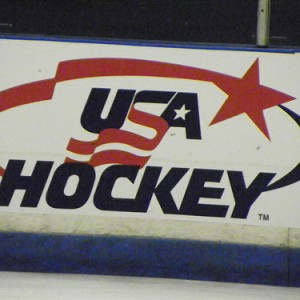 As I'm out doing my normal scouting duties, working for the Detroit Red Wings, I'm looking at free agents, I'm getting to know all of their players and part of that is that the USA people have a list. So it's really a lot different from my normal duties, but if I get to a game and I'm watching a couple teams play, it's more comparing apples and oranges. So if you have six defensive guys who are up for a position a right-wing position, you put those names on a list and go watch guys play, you have to build a ranking and in the reports you identify what you see in the player, what his see his role being, it's more feedback.
In years past, it was more just general managers watching and I don't necessarily know if they've used scouts in the past because I had never been asked. But it's not a lot different than what you do for your normal team and it's like zeroing in on a free agent, you watch that player a lot closer than you normally would. So there's no sense in going to a Flyers game and really watching Claude Giroux, one he's a Canadian, and two the Flyers aren't going to have any interest in trading him. Rather than spending my time watching Giroux play, you know Shayne Gostisbehere was new this year so my job was to get to know the player he is so I spend more time watching him, learning what his tendencies are, rather than watching Giroux.
You change the way you watch the game a little bit, depending on what you need to do to make yourself more knowledgeable.