It may not seem like much but for fans of the Edmonton Oilers, a 30-win season is nothing to sneeze at. For a club who has failed to qualify for the post-season over the past decade, celebrating even the smallest of victories can sometimes be a necessity. In fact, outside of their run the 2006 Stanley Cup Final, this franchise has played a grand total of six playoff games over the last fourteen years. One would think a little positivity could be a nice change of pace for this group.
The Oilers improve to 30-40-7. It's their first 30 win-season since they won 32 in 2011/12.

— Reid Wilkins (@ReidWilkins) March 25, 2016
[Related Article: The Edmonton Oilers and NHL Draft Lottery]
With that being case, it is difficult to few last night's 6-3 come from behind victory over the San Jose Sharks as anything other than a "win" for the organization…albeit a marginal one. So while this season may not have gone the way many had hoped, for this collection of players to put together what could turn out to be the Oilers best year since 2008-09 is certainly an accomplishment and a sign that things could finally be headed in the right direction in the Alberta capital.
The Taylor Hall and Connor McDavid Show
While year one of the Peter Chiarelli – Todd McLellan regime hasn't exactly been a roaring success, it is not as though the last six months have been a complete and utter disaster. Just take a look at this roster and you will find players who have performed and an admirable level in 2015-16. After his two-goal effort against the Sharks on Thursday evening, Taylor Hall reached the 25-goal mark for the third time in his career and the 60 point plateau for just the second time since being selected first overall in the 2010 NHL Entry Draft.
Connor McDavid is kind of ridiculous pic.twitter.com/EOKvym7Mbu

— Gregory Balloch (@GregBalloch) March 25, 2016
As hard as it might be to believe, Connor McDavid has arguably been even better than advertised during his rookie campaign. As impressive as his 43 points in 40 games may look, and don't be surprised to see him surpass the 50-point barrier before the year is out, the fact he has been the best player on the ice, on either team, in almost each and every one of those games is simply stunning.
[Related Article: Connor McDavid Is On Another Level]
For this kid to be doing what he is currently doing after missing three months of action with a broken collarbone and with a lineup as flawed as this one, most notably the lack of puck moving defenders to get him that little black disc with any sort of regularity, is staggering and it has been breathtaking to watch. Perhaps the scariest thing in all this…McDavid is just 19-years old and appears to only be scratching the surface on what he might end up accomplishing when all is said and done.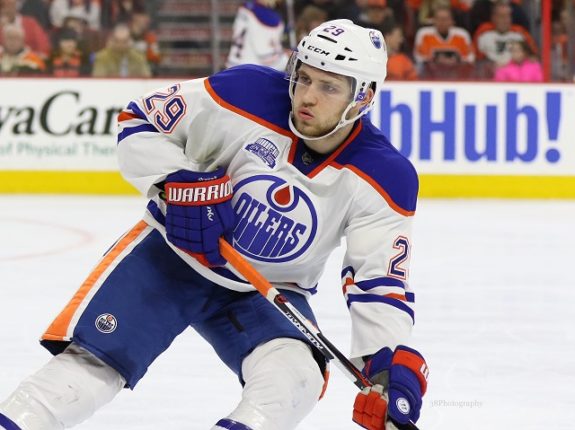 It Can Only Get Better From Here
Jordan Eberle sits one goal behind Hall for the team lead with 24 and despite missing 13 games due to injury, the 25-year old has produced goals at a clip he has only been able to surpass on one other occasion, 34 goals in 2011-12, since his rookie season. Leon Draisaitl needs just one more point over Edmonton's final five games to reach the 50-point mark and just two goals to hit 20 for the season. Cam Talbot has proven to be more than capable of carrying the load that comes with being a No. 1 goaltender in today's NHL and defenceman Brandon Davidson has been among the league's biggest surprises in 2015-16.
"That always helps. It gets you into the game." @patmaroon on strong play from linemates 97 & 14 in return to actionhttps://t.co/xsPxbB97Bw

— Edmonton Oilers (@EdmontonOilers) March 25, 2016
[Related Article: The Ryan Nugent-Hopkins Effect]
That doesn't even take into account Ryan Nugent-Hopkins and Oscar Klefbom, who have had injury riddled campaigns, nor a guy like Patrick Maroon who has had an immediate impact since coming over from the Anaheim Ducks at the Trade Deadline. Make no mistake, there is still a lot of work to be done with this roster but there sure are more than a few things to like about what lies ahead for the Edmonton Oilers in the coming years. It may not have been the smoothest of rides but believe it or not…there does appear to finally be a light at the end of this tunnel.
Rob Soria is the Author of Connor McDavid: Hockey's Next Great One. He has chronicled the Orange and Blue since creating his Oil Drop blog in 2011 and has also had his writings featured over at HometownHockey.ca and Vavel USA, where he has covered the NHL, MLB and ATP Tour. Rob was born, raised and still resides in Edmonton, Alberta and can be reached via twitter @Oil_Drop.