It's come down to the top two teams in the Ontario Hockey League's Western Conference Finals when the London Knights head south to take on the Erie Otters. In what is easily one of the most anticipated series of these OHL playoffs, the Otters and Knights will surely make for an interesting round of hockey.
The Otters have done a pretty good job of clearing their way into the West final with a four-game  sweep of the Saginaw Spirit to start their playoff run, followed by a five-game series win over the Greyhounds.
The Knights seemed to need a wake-up call coming into the playoffs having been taken to six games by the Owen Sound Attack. Their encore was a four-game sweep of their rival Kitchener Rangers which landed them in the conference final against the Otters.
The Best of the West Head-to-Head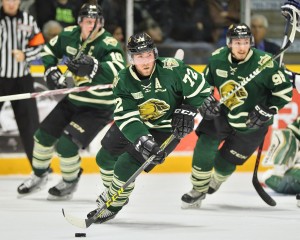 When it came to playoff seeding for the Otters and Knights, it was all decided in the final two games of the regular season. With the 4-2 win over London in Erie, the Otters were able to secure first in their conference with one more regulation win over their divisional rivals.
That being said, both clubs finished the season with 105 points while the Knights led the entire OHL with 319 goals for during the regular season. But looking at their meetings in 2015-16, it's hard to choose a dominant team in this head-to-head matchup.
[ALSO – London-Erie: 3 Keys to Winning the OHL West]
The Otters and Knights met six times over their 68-game season – splitting their series 3-3-0. Both teams won two games at home and one on the road and (believe it or not) both teams scored a total of 19 goals in their six meetings. Pretty even, right?
When it comes to other numbers, this might be the first time this postseason that London is looked at as an underdog. Erie outshot London 192-152 in their six games, winning 52 percent of the draws over that span.
Dealing with special teams, however, the Knights dominated. They went 6-for-21 on the powerplay during the regular season (nearly 29 percent) and killed almost 77 percent of Erie's powerplays. That being said, the Knights will have to find a way to stay out of the box if they are going to be successful in this playoff series as 30 penalties over six games is far too many.
Knights Eerily Good
London's top players weren't as successful against Erie as they were when it came to their two previous playoff opponents during the regular season. However, they still managed to put up some pretty significant numbers.
Max Jones, Mitch Marner, Matthew Tkachuk and Christian Dvorak all averaged over a point per game against Erie this season. Marner had nine points (1g-8a) in five games, with Dvorak notching three goals and six points in five games. Tkachuk tallied two goals and three assists in five games and Jones scored four goals and added an assist in five games. Only, the Knights will be without Jones for another six games – thanks to his suspension handed down in the first round of these playoffs.
Therefore, the Knights will need to look even deeper into their lineup for some scoring. Players like Cliff Pu, Aaron Berisha and J.J. Piccinich are going to have to step up if the Knights plan on playing into the OHL Finals.
It helps, though, having a guy like Tyler Parsons between the pipes. While he struggled at times this season against Erie, Parsons played in all six games against the Otters this season sporting a 2.49 goals against average and a .920 save percentage. He'll need to be a difference maker for the Knights in this series.
Otters Golden Against London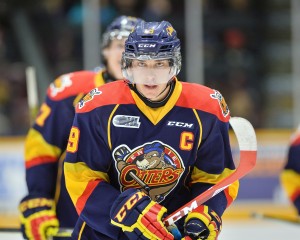 Unlike their previous opponents, some Otters have dominated London this season – including Arizona Coyotes' prospect Dylan Strome. In six games against the Knights this season, Strome led the Otters against the Knights tallying 11 points (2g-9a) – just one of two players who were able to average over a point per game during the season series.
The other is Alex DeBrincat – a draft-eligible forward who has made a name for himself as a pure goal scorer. Yet, against the Knights, DeBrincat has notched just two goals to go along with four assists in five games against London this season. Both Strome and DeBrincat will be players the Knights will have to keep a very close eye on during this series as their success against London speaks for itself.
In net, the story is much the same. Devin Williams played all six games in the Otters-Knights season series (aside from just over nine minutes). He gave up 18 goals and added two penalty minutes to his stat sheet – finishing the six games with a 3.10 goals against average and an .878 save percentage. While they are unbelievable numbers, Erie will be relying heavily on Williams to step up his game as the series gets underway Wednesday night.
Toronto Eyes Another Series
As for a series storyline, the NHL's Maple Leafs will be eyeing this series closely once again as they have a number of highly ranked prospects in the game and will certainly be thinking about the upcoming draft with what will be a top-four pick.
London's Marner and Piccinich are both pursuing careers with the Toronto franchise, while on the other side of the puck Travis Dermott is expected to be a major part of the Leafs rebuild.
While it promises to be one of the best series yet in these OHL playoffs, Leafs' fans and management will likely be just as invested as fans of the two franchises involved. Marner leads the playoffs with 24 points (9g-15a) so far.
Dermott's 12 points (3g-9a) and Piccinich's six points (1g-5a) have them ranked 20th and 64th respectively in the OHL's playoff scoring race. This will certainly be a chance for these players to make a name for themselves with respect to the Maple Leafs.
---
Playoff Leaders (Prior to the Western Conference Final)
Goals: LDN – M. Tkachuk (10) / ER – D. Strome (10)
Assists: LDN – M. Marner (15) / ER – A. DeBrincat (11)
Points: LDN – M. Marner (24) / ER – D. Strome (18)
Wins: LDN – T. Parsons (8) / ER – D. Williams (7)
GAA: LDN – T. Parsons (2.47) / ER – D. Williams (2.16)
S%: LDN – T. Parsons (.919) / ER – D. Williams (.881)
---
Series Schedule
Erie Otters (1) vs. London Knights (3)
Game #1: London Knights (7) at Erie Otters (4) – Knights lead series 1-0
Game #2: Sunday, April 24 at Erie – 7:00 p.m.
Game #3: Tuesday, April 26 at London – 7:00 p.m.
Game #4: Wednesday, April 27 at London – 7:00 p.m.
Game #5: Friday, April 29 at Erie – 7:00 p.m. (if needed)
Game #6: Sunday, May 1 at London – 2:00 p.m. (if needed)
Game #7: Monday, May 2 at Erie – 7:00 p.m. (if needed)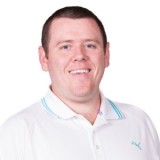 Andrew is in his 8th year reporting for The Hockey Writers covering the Toronto Maple Leafs. He began his broadcasting with CBC's Hockey Night in Canada team as well as being part of their coverage of the 2014 Winter Olympic Games in Sochi. He's the former play-by-play voice of the London Jr. Knights for Rogers TV and currently hosts the Sticks in the 6ix podcast. You can follow him on Twitter at @AndrewGForbes.