The Edmonton Oilers made a trade and acquired Nick Bjugstad at the trade deadline to bolster their middle six and make a run at a Stanley Cup. Unfortunately, they weren't able to make it out of the second round losing to the Vegas Golden Knights in six games. Now that the season is over, Bjugstad is looking for a new contract as an unrestricted free agent. The Oilers are the fifth team he's played for in his career, along with the Florida Panthers, Arizona Coyotes, Minnesota Wild, and Pittsburgh Penguins.
He was a solid addition to the team, playing a solid two-way game in the playoffs, and putting up four goals and two assists for six points through 19 games. He will be looking for a pay raise, which he has earned, but the Oilers may not be able to give it to him, forcing him to choose a new home for the 2023-24 season.
Arizona Coyotes
2023-24 Cap Space: $27,061,794
There is some uncertainty surrounding the Coyotes organization following their failed arena proposal, but they seem to be dialed into remaining in Arizona for the upcoming season and the ones following. Bjugstad making a return to the Coyotes isn't impossible, as he could be a leader and have a bigger role while getting a good pay raise from a team he's already comfortable playing with.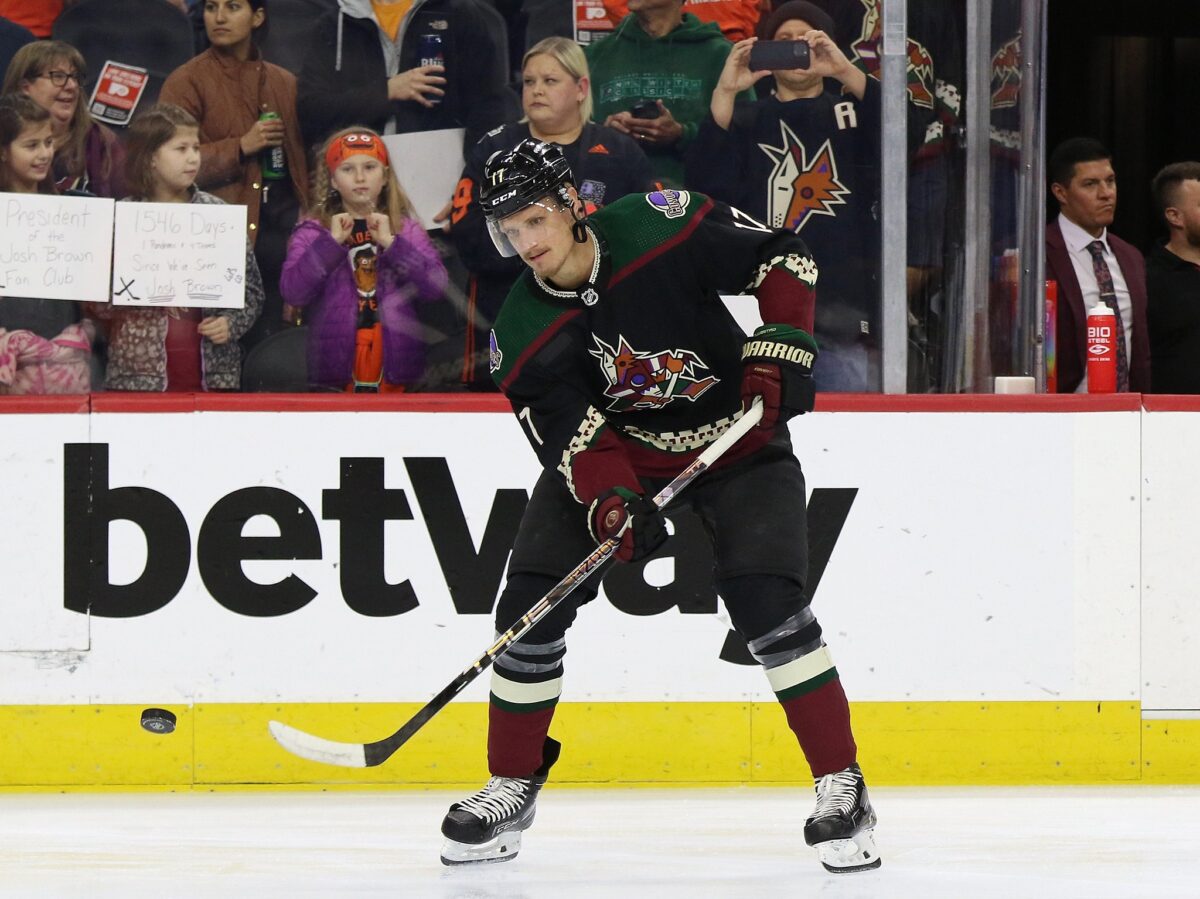 With a ton of money to work with, Bjugstad could sign with them on a bigger, one-year contract and be a trade deadline rental piece yet again. It entirely depends on what Bjugstad wants to do and what he values come free agency, but a reunion with the Coyotes shouldn't entirely be off the table.
If he signs for longer than a one-year deal, he'd be going back because he loves the team, which is something I'm sure plenty of players consider. He would be getting the opportunity to lead alongside up-and-comer Dylan Guenther, as well as Logan Cooley, coming up the pipeline. Either way, the Coyotes could be an intriguing option for him.
Seattle Kraken
2023-24 Cap Space: $19,589,167
The Seattle Kraken went deeper into the playoffs this season than they were expected to, losing in the second round to the Dallas Stars after defeating the defending Stanley Cup champion Colorado Avalanche in the first round. They will be looking to add firepower to their lineup in order to make another run at a Stanley Cup.
---
Latest News & Highlights
---
If the Kraken are looking for a player to add depth to their forward core with solid defensive play and a touch of offensive skill, Bjugstad should be their guy. He provides leadership and plays the game the right way in any role he's given. He was relied upon with the Oilers in the playoffs to try and shut down the top lines of the Golden Knights and Los Angeles Kings during their playoff run and did a really good job of doing so.
Calgary Flames
2023-24 Cap Space: $1,791,216
This one will hurt Oilers fans, but the Calgary Flames may be a spot Bjugstad goes in order to gain some momentum and be a trade deadline rental piece for a playoff run with a contending team. The Flames are currently going through a rough patch and will likely be forced to retool their roster entirely and sell for some draft picks at the deadline.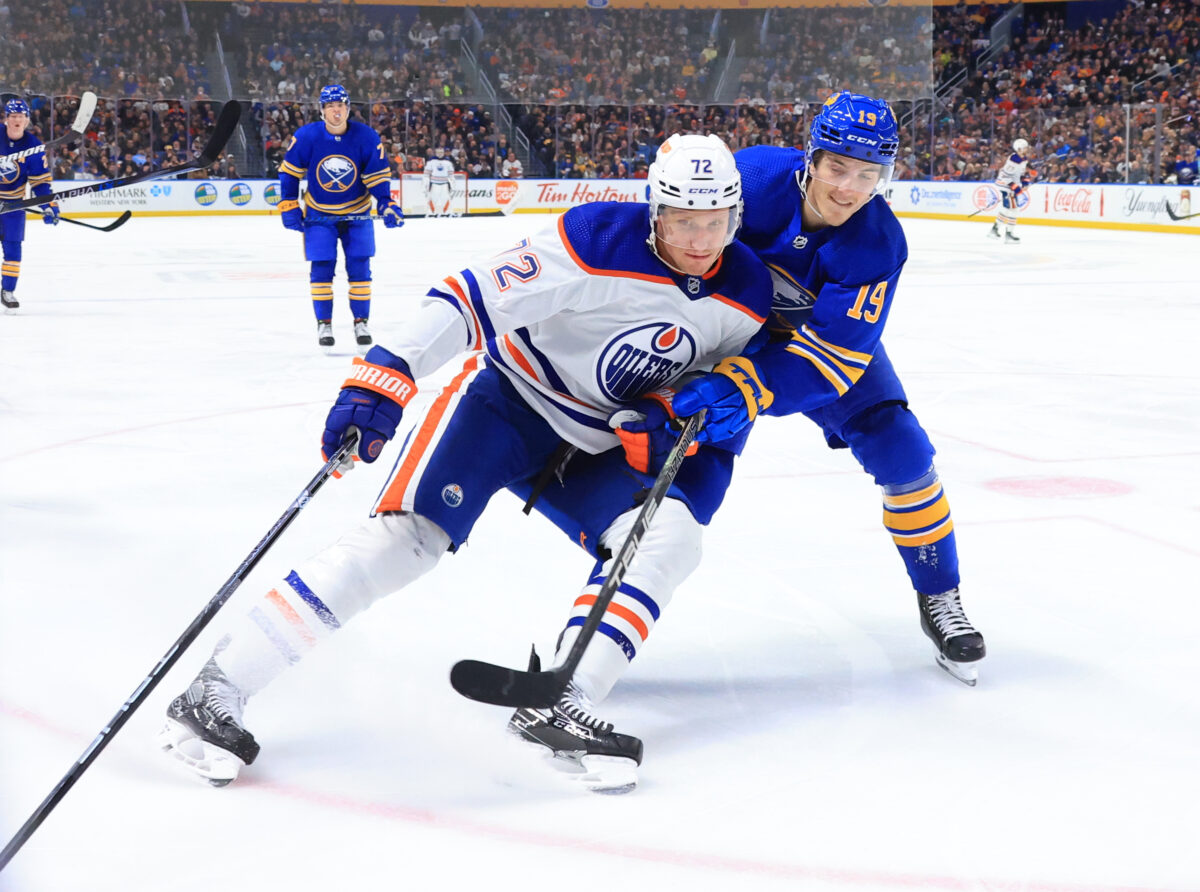 While the Flames' goal will likely be to turn their team around and try to force their way back into a playoff spot, they don't have the roster on paper to make it back into the playoffs. If that's the case, signing a couple players so that they can be dished at the trade deadline for some future assets isn't an awful idea. They will have a brand new coach and general manager which will make it enticing for some players.
The Flames will have to move some money around if they intend to bring him in, but that shouldn't be too tough. They're a little tight on money but they have a few players they can afford to move to ease the pain of the cap crunch a little bit.
What's Next for Bjugstad?
Bjugstad will be looking at a nice pay raise for next season. If he opts to sign a deal longer than one year, he's going to be looking at $3.25-$4 million a season. He is worth it and will get it on the open market. I'd love for the Oilers to try and bring him back if he drops his asking price, but it seems unlikely at this point. He plays a really strong game and would be great to have in any team's middle six.