With Tyson Barrie gone and Mattias Ekholm in, the Edmonton Oilers are a much more solid team defensively than they were just 24 hours ago. That said, depending on how Evan Bouchard responds to the move, there is a potentially gaping hole now on the Oilers' right side where the roster is thin.
The pressure on Bouchard has just ratcheted up a number of notches and while last season it appeared the young defenseman was ready to take the next step in his development and eventually supplant Barrie as the No. 1 Oilers' offensive driver from the blue line, his 2022-23 season has been nothing short of a disappointment. Can Bouchard step up and deliver with added responsibility and a new opportunity? Unless GM Ken Holland makes another move, we're about to find out.
Bouchard Becomes the Top Offensive D-Man On The Right Side
Following a 2021-22 season where he posted 12 goals and 43 points in 81 games, the sky was the limit for Bouchard who was on his way to being anointed the quarterback on the best power play in the NHL and a top-four solution. So too, the offseason saw rumors that Barrie might be headed elsewhere because the Oilers didn't need a surplus of the same kind of player taking spots where a more well-rounded defenseman could go. 61 games and just three goals later, the jury is still out on Bouchard who has clearly lost his confidence and playing trepid hockey.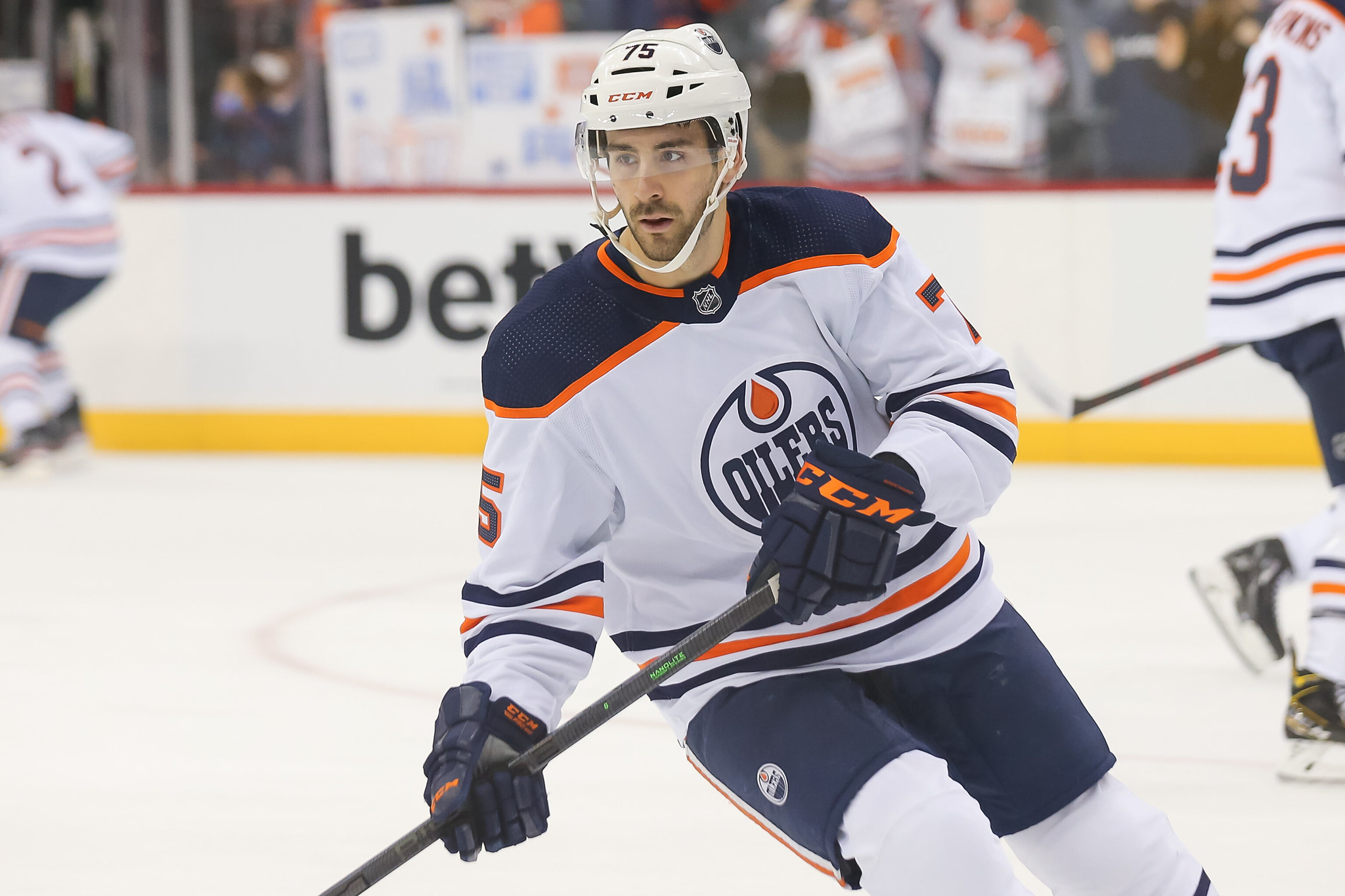 Now, ready or not, Bouchard is going to get the opportunity he was working his way toward when last season ended. The Oilers now have Bouchard, Cody Ceci, and Vincent Deharnais on the right. Even if Ekholm comes in and is prepared to play the right side (which he said he's comfortable doing), none of these options are known as offensive juggernauts. This is now Bouchard's moment and he'll need to seize it.
Can Bouchard Run The Power Play?
Some concern in Edmonton since Tuesday's trade is that Holland took a key component of the top-ranked power play out of the lineup. Barrie fit like a glove in that regard and if special teams take a hit because of it, that's not good news. Again, Bouchard will be asked to fill a key role here and so far this season (granted 110 fewer minutes), he's been just as good as his predecessor.
The good news is that the power play numbers with and without Barrie might surprise people. As popular Twitter user @Woodguy55 points out, the numbers aren't glaringly different when Barrie isn't the quarterback. Furthermore, when Bouchard is in that role, things stay fairly steady. In other words, outside of the 2021-22 season (when ironically Bouchard was quite productive), it's Connor McDavid, Leon Draisaitl, and Ryan Nugent-Hopkins who really stir the drink there.
The argument here is that almost anyone can run this potent power play. Whether that's Bouchard or even Darnell Nurse, the numbers might take a slight dip, but all Bouchard needs to do is avoid glaring mistakes. Get the puck to the forwards and shoot when a lane opens up. Keep it simple. In fact, should he start to produce on the man advantage, the hope is that his confidence will improve and so will his 5-v-5 play, as a result.
How Much of a Mentor Will Ekholm Be?
What the Oilers have to be hoping is that Ekholm has the same positive effect on Bouchard that Duncan Keith did. Bouchard was glowing about how important playing with Keith was to his development and Ekholm has already said he's ready to take on a leadership and mentorship role. His calming and steady presence should be good for Bouchard.
---
Latest News & Highlights
---
If Ekholm can help Bouchard simplify his game and limit his mistakes, not only will the Oilers be better defensively, but unlocking Bouchard's offense will be exponentially helpful. If Bouchard can't step up and perform to the level that is expected with Ekholm as a defense partner, the Oilers should be concerned about what level Bouchard can ever actually reach.
Bouchard is about to be given the keys to the best power play in the NHL. He's going to jump up to a top-four role on the right side and he's going to have a mentor helping him the rest of the way. This is Bouchard's time to shine and he needs to hit it out of the park. That might not mean Barrie-like production, but it has to mean fewer gaffes in coverage, more urgency when he makes plays, and overall better awareness. He needs to start getting that bomb of a shot through and he needs to prove he's ready to take on a larger role alongside some of the best forwards in hockey.
There's no Barrie anymore to do it if Bouchard doesn't.