It's hard to solely blame the goaltender when the entire team comes out as flat as the Edmonton Oilers did in Game 3, but the team, specifically head coach Jay Woodcroft, will have to answer the question anyway… Should he run with Jack Campbell in Game 4, or go back to Stuart Skinner?
---
---
A question the coach probably asked himself in the series against the Los Angeles Kings, Woodcroft chose Skinner and his hunch paid off. That said, the Oilers are now another series in, they've played a few more games in which Skinner may have tired, and Campbell looks ready to go.
Should the Oilers Go With Skinner?
When the question was asked after Game 4 where the Oilers were down three goals and Campbell was given the nod to take the net and try to spark his teammates into a better second and third period. The plan was seen as a bit questionable, but it worked and Campbell looked solid despite little action leading up to that point. Woodcroft was asked ahead of Game 5 if he was going back to Skinner and the answer was yes. The coach complimented both goaltenders but argued Skinner had earned the right to be called the starter and was largely responsible for where the Oilers were at. It was his net again, even though Campbell had done a more than adequate job.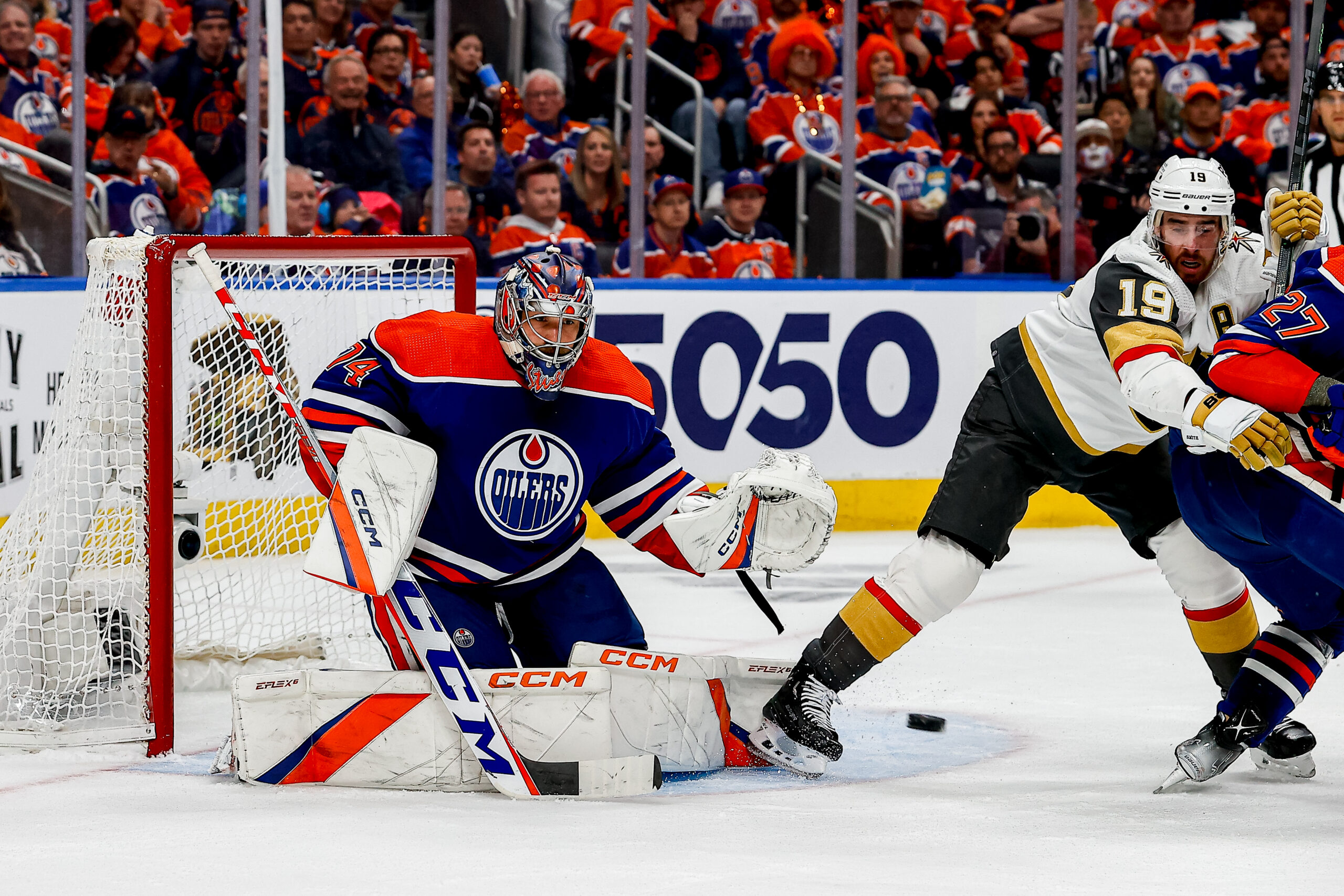 Skinner had a rebound game after being shown confidence by his coach. The Oilers won 6-3 and Skinner made 25 saves on 28 shots. It wasn't a stellar performance, but he didn't look rattled. Instead, he looked motivated and ready to prove the blip in the first period of the game prior was just that, a blip.
While we now know he's prone to having these blips every now and again, the same result might happen again if the Oilers go back to Skinner. He has shown he's got the mental makeup to bounce back from a poor showing. He doesn't let things fester or bother him long and he typically looks solid following a questionable performance.
Should the Oilers Go With Campbell?
It would be fair to argue the case for Campbell, because in Game 3, he, once again, looked solid in the backup role. He made nine saves on 10 shots and while he let in an early goal (in fact two because one was called back), it was clear the Oilers' defense just wasn't good enough. The team played about as badly in that game as any playoff game up to that point in the season and Campbell stopped the bleeding in the third period.
---
Latest News & Highlights
---
At some point, it feels like the Oilers have to reward him for doing his job and proving that he might be more rested and more than capable of taking a game while letting Skinner breathe. The next game is not a must-win, but it's close and if there's a hunch that Skinner needs a moment, it could be best to give it to him.
Related: Oilers Come Up Short in Game 3 Loss to the Golden Knights
While a smaller sample size, Campbell's numbers are better than Skinner's and it's not particularly close. Campbell has a .947 save percentage and a goals-against average of 1.53. Skinner has a .888 save percentage and a goals-against of 3.60. The Oilers need to cut down the goals against and Skinner has been missing his mark in that regard.
This Is Not An Easy Decision
Now in the second round, the stakes are higher and the goalies are more worn than they were even one week ago. The wrong choice here could put the Oilers at a 3-1 deficit and statistically, that's a tough margin to come back from. Whoever Woodcroft goes with might have a short leash on Wednesday night. As a result, it's incumbent upon the Oilers to show up in the early going of Game 4 and not leave it up to potentially shaky goaltending to be the determining factor as they try to tie the series at two games apiece.