If the Toronto Maple Leafs don't make it out of the second round, they will have set the record for losing momentum the fastest.
---
---
Following their first-round victory against the Tampa Bay Lightning, a game that should have been the benchmark for a long playoff run, I said the cursed words: "This team is different". Can you blame me? They won all three road games in overtime against the Lightning, coming from behind in two of them and, of course, winning the series in the other. It was an unconventional display from a team that's consistently managed to find new ways to lose.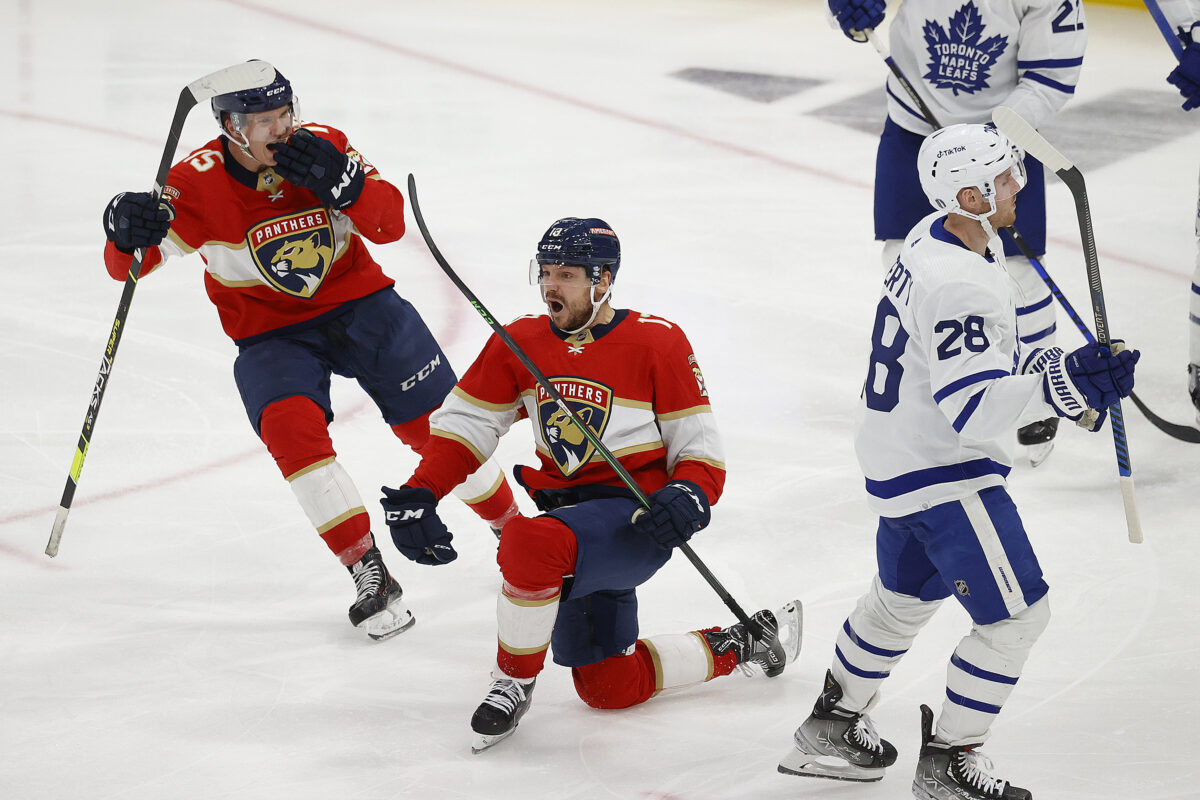 Well, it only took the Maple Leafs three games for me ready to take back almost every word I've said. The only reason I'm not all the way there is because they haven't lost the series. But they're down 3-0 to the Florida Panthers and are faced with a challenge that only four other teams in NHL history have been able to conquer. The worst part is that Florida has had an answer for just about everything the Maple Leafs have done. 
Back-Breaking Mistakes Hurt Maple Leafs Again 
The Maple Leafs didn't deserve to win at least half of their games against Tampa Bay in Round 1, but that doesn't matter. There's no "deserve to win" Stanley Cup. All that matters is the "W", and so far, it's been the opposite in Round 2. 
Toronto outplayed the Panthers in Game 1, but the Panthers got the bounces. Not ideal, but it happens. In Game 2, things started to slip. They outplayed and outshot Florida 37-29, but after carrying a 2-1 lead into the second period, the Panthers scored two goals in 47 seconds, and the Maple Leafs never recovered.
Game 3 was the worst of all of them. Not only did the Panthers tighten up and play their best defensive game of the series so far, but once again, back-breaking mistakes and unlucky bounces cost the Maple Leafs. Justin Holl lost his man and allowed Anthony Duclair to sneak in for a breakaway on the power play early in the second period and tie the game at one. Radko Gudas wired a shot off of Carter Verhaeghe's rear end to tie it at two only five minutes after Erik Gustafsson gave the Maple Leafs the advantage, and the overtime winner from Sam Reinhart was the result of a total defensive breakdown. 
---
Latest News & Highlights
---
The Maple Leafs have been the better team throughout the series in terms of puck possession and setting the pace, but Florida is capitalizing on every chance they get, making Toronto pay for every mistake they make, and they've had better goaltending, all things that worked for the Maple Leafs against the Lightning. Now, Toronto has to win four games in a row with no margin for error. 
Matthews & Marner Haunted by Old Demons 
In three games, the four highest-paid Maple Leafs forwards have combined for a measly four assists and haven't scored a single goal between them. I'll cut William Nylander some slack here because he was at least driving play very well in Game 3 – and he makes $4 million less than the rest of the core. 
Auston Matthews, Mitch Marner, and John Tavares have been completely silenced in the first three games of the series, which is disheartening considering how well they performed in Round 1. Matthews and Marner, specifically, look like they did in the 2021 first-round series against the Montreal Canadiens. The Panthers are giving them zero breathing room, and when they do get chances, they overthink them. A team can recover if their star players have a bad game here and there, but when Lafferty and Gustafsson are the only ones capable of bringing offence in what felt like a do-or-die game, it's inexcusable. 
The Maple Leafs need their star players to play like star players (gee, where have we heard this before?) if they want to even think about making a comeback in this series. Scoring two goals in each of the first three games is unacceptable for a team that thrives on a heavy offensive game and when the players who are paid to lead the way have been the quietest. 
Keefe Must Make Adjustments in Game 4 
If the Maple Leafs want to win this series – or not go down without a fight – adjustments must be made upfront. The defensive breakdowns and mistakes need correcting too. The first adjustment to make is swapping Marner and Nylander. When they are on, they're one of the best duos in the entire league.
However, the flip side to this is that when they're not playing well, like against Montreal in 2021 or during this series, they are incredibly easy to knock off their game. Lucky for the Maple Leafs, they have two dynamic wingers and two dynamic centres, all of whom have experience playing with each other. But, ultimately, the team won't go anywhere scoring two goals a game, and their stars aren't carrying any of the mail.
You May Also Like
At this point, Toronto is playing for their life, and the Matthews-Marner pair hasn't been getting the job done. Head coach Sheldon Keefe has little to cling to, so changes are a must ahead of Game 4 on Thursday. If he makes changes and the team still loses, at least people respect that he tried rather than running it back and praying it would work. It will be a real shame if the organization finally exorcises their demons only to get swept in the second round, so they have to make sure that doesn't happen.