The Edmonton Oilers made a statement in Game 2 against the Vegas Golden Knights both on the scoreboard and on the scoresheet. As a result, the Oilers now control home-ice advantage so long as they keep winning.
Leon Draisaitl and Connor McDavid each scored twice. Evan Bouchard added a power-play goal. Calder finalist Stuart Skinner made 30 saves to send the Oilers to an easy 5-1 win on Saturday night. While the stars scoring will get most of the attention, it was what Evander Kane did that has everyone talking.
---
---
Don't look now, but the Oilers have been elevated to a true Stanley Cup contender. Kane is right in the center of that too.
Recapping Kane's Night
If you just looked at Kane's stat line, you wouldn't see much except for one major eye-popping number. He finished Game 2 with 0-0-0 with five shots on goal and was a +1 on the night. The five shots were tied for the team high.
But then you look at Kane's penalty minutes. He has 24 of those on the night. While the Oilers' stars were scoring early and often, Kane was making sure that no one on the Golden Knights would push them around in a blowout.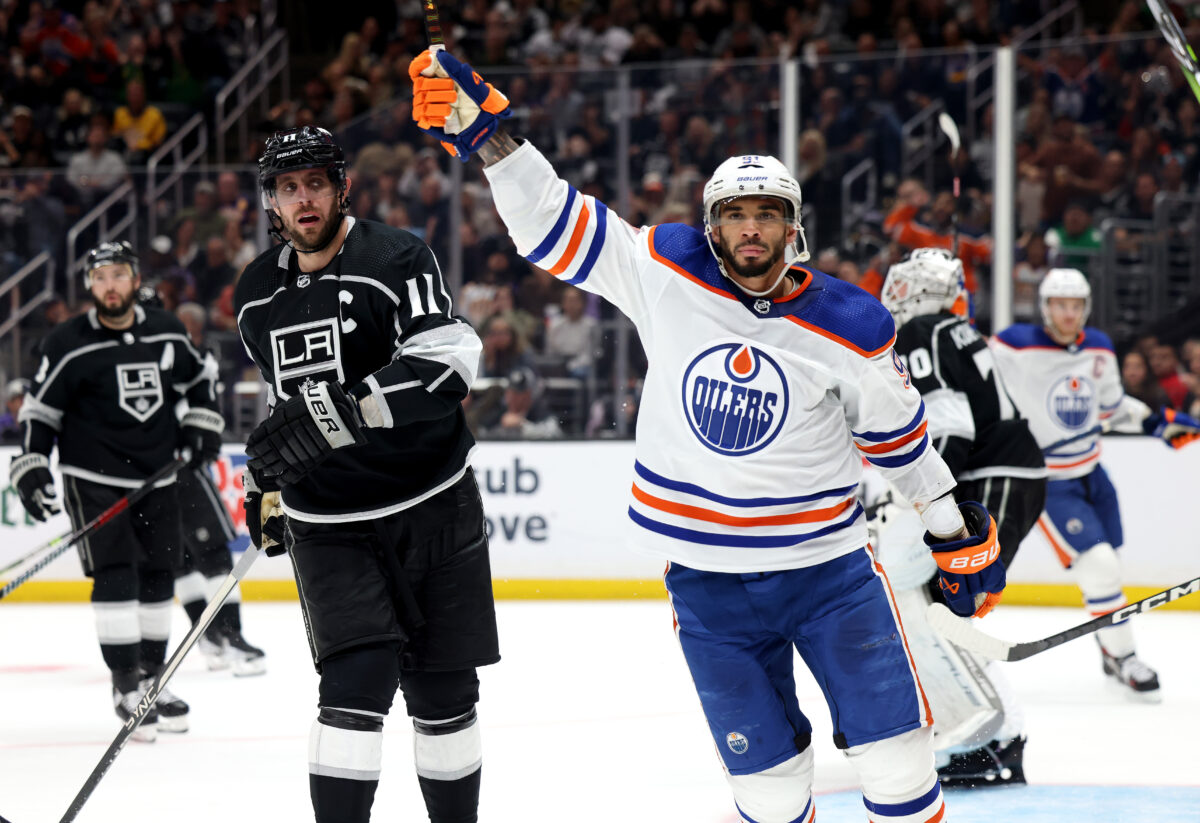 Late in the second period, a massive scrum broke out in which referee Kelly Sutherland just stood and watched as players were wrestling with each other. Meanwhile, Kane had Keegan Kolesar down on the ice in a prone position and was seen throwing punches as his midsection. Kane got 4-5 extra shots in and then was seen putting Kolesar in a headlock.
Kane was assessed 14 minutes on the play, a double minor for roughing and a 10-minute misconduct. Then late in the third period, he was assessed another 10 minute misconduct. In all, his actions amounted to 24 minutes of penalties against him.
Then postgame, Kane admitted in certain words that they weren't going to back down from anything.
Kane was rightly assessed 14 minutes on the actions with Kolesar. Punching a prone player on the ice is uncalled for. We'll see if a fine or even a suspension comes from this. But as for the rest of the game, the Oilers walked into T-Mobile Arena and made a major statement not only to the Golden Knights but to the rest of the NHL.
These Oilers are a true Stanley Cup contender. That's because they can play any style you want and have now proven they can match whatever you throw at them.
Oilers Are Elevated Thanks to Kane
Kane's presence cannot be ignored. He plays exactly the kind of game where it exudes confidence to his teammates while signaling to the opposition that he's around and ready to respond to any challenges thrown their way.
Among the questions around the Oilers had always been can they physically match a team? So far in these playoffs thanks in large part to Kane, the answer has been yes.
---
Latest News & Highlights
---
The Kings were thought of as a physical team. The Oilers eventually got past them. Now the Golden Knights are trying to do the same thing with their depth. Kane used Saturday night as a message for the rest of this series. The Oilers are not only ready to meet the physical challenge, they will answer it head on.
You Might Also Like
Here's what elevates the Oilers to true contender status. Even if the rest of the series with the Golden Knights isn't as physical, Kane can still hurt them offensively. He's the kind of player who plays the kind of game that thrives in the playoffs. He gets under the opposition's skin and isn't afraid to mix it up. But then in the next moment he can score a huge goal.
If opponents try to target any of the Oilers' star players, Kane will be right there to confront them. This extra "freedom" for the likes of McDavid and Draisaitl isn't being talked about enough. They can play their game knowing that their teammates will step up for them.
Kane's presence cannot be understated. He makes everyone better and gives them an extra boost of confidence in every situation. For a highly-skilled team like the Oilers, that could ultimately be enough to win the Stanley Cup. The only thing Kane needs to watch is taking things too far. As long as he toes the line, it will work to the Oilers' advantage.
Game 2 Aftermath
Even the fans got to display their displeasure with the way Kane was handling things. The Oilers' Twitter account posted a picture that will be seen for a long time.
If the Golden Knights' fans are upset, imagine how the players must feel. In all, 124 PIMs were assessed between the two teams on Saturday night. Game on.
Many people think the winner of this series could go on to win the Stanley Cup. This series is far from over. But if Saturday night proved anything, it's that these Oilers are equipped to win it all.
Kane is one of the biggest reasons for that.