The Edmonton Oilers have added their third player on a professional tryout (PTO) deal for the 2023-24 training camp and its forward Adam Erne. He becomes the third forward the team has invited on a PTO, along with long-time Oiler Sam Gagner and former Vancouver Canuck Brandon Sutter. The roster is very tight on the Oilers, and it's going to be very tough for any of the players on a PTO to earn a spot over certain players. Players such as Lane Pederson, Raphael Lavoie or Drake Caggiula are all under full contracts with the Oilers already, and with the star-studded lineup the team has already built over the past few seasons, it will be tough to squeeze into any bottom-six forward spot on a Stanley Cup contending team. 
Related: Revisiting Oilers' 2014-15 Prospect Pool
---
Latest News & Highlights
---
Powered by Connor McDavid and Leon Draisaitl, amongst other star-studded players, the Oilers are ready to contend and win their first Stanley Cup since 1990. Erne is a relatively young forward who has a good chance of earning a contract, as he is coming off a strong stretch of seasons with the Detroit Red Wings and has a slight advantage stats-wise in recent seasons over both Gagner and Sutter. For those who haven't watched Erne previously, he is a strong and speedy forward who plays the bottom-six forward role quite well. He's gritty, physical and can put up a decent amount of points each season. 
Adam Erne's Career So Far
Erne was drafted in the second round of the 2013 NHL Entry Draft at 33rd overall by The Tampa Bay Lightning after a strong season in the Quebec Major Junior Hockey League (QMJHL) with the Quebec Ramparts. In the 2012-13 season, his draft year, he scored 28 goals and added 44 assists for 72 points through 68 games. He was coming off a solid rookie year in the 2011-12 season with the Ramparts, where he scored 28 goals, and added 27 assists for 55 points through 64 games and followed it up nicely to get some real interest from NHL teams.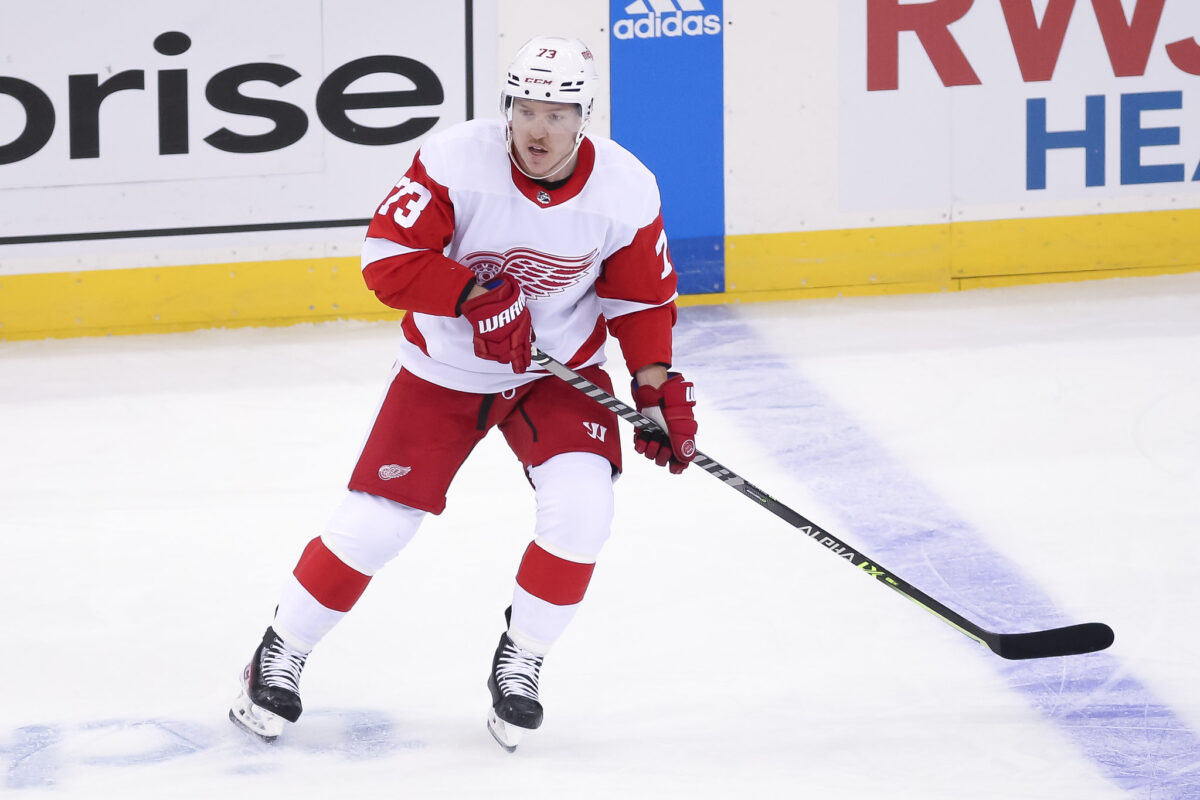 He returned to the Ramparts for the 2013-14 season, scoring 21 goals and adding 41 assists for 62 points through 48 games, and finished the season with the Lightning's minor league team, the Syracuse Crunch, in the American Hockey League (AHL) where he scored a goal and added three assists for four points through eight games. He returned to the Ramparts for his final season of eligibility in the 2014-15 season, scoring 41 goals and adding 45 assists for 86 points through 60 games. 
He played his first full season of professional hockey in the 2015-16 season with the Crunch, scoring 14 goals and adding 15 assists for 29 points through 59 games. He got his first taste of NHL action the following season, scoring three goals through 26 games, and also had 12 goals and 14 assists for 26 points through 41 games with the Crunch. 
Since the 2018-19 season, Erne has played the majority of his season in the NHL. He joined the Red Wings during the 2019-20 season, where he's been until the present day. He is coming off of a solid season with eight goals and 10 assists for 18 points through 61 games but finished the season in the AHL with the Grand Rapids Griffins, where he had five assists through nine games. Through his 355-game NHL career, Erne has 40 goals and 49 assists for 89 points, which comes out to a 0.25 points-per-game average. 
How Likely Is It That Erne Earns A Contract?
As mentioned, Erne will have a tough time earning a contract with the Oilers. He is only on a PTO and isn't the only player looking to earn a job for the 2023-24 season. While he may have a slight advantage over Sutter and Gagner, he still has to have a really good camp. Not only does he have to beat those two forwards out, he has to beat out Pederson, Caggiula, Lavoie and James Hamblin.
I would bank on Erne to earn a contract with the Oilers, but I'm not sure it will be a one-way deal. He is a skilled forward that the Oilers could utilize if injuries occur throughout the season, but there is almost no room for failure for Erne if he wants to earn a deal at all. I think he earns a deal but starts the season with the Condors. It's going to be a tough battle for Erne, but I think at some point during the 2023-24 season, he will be in an Oilers jersey. 
---

---