Wednesday, Sept.13, marked the start of the New York Rangers rookie camp. Notable names such as Brennan Othmann and Adam Sykora will aim to impress and demonstrate that they are, in fact, top prospects in the organization. Along with Othmann and Sykora, the rookie camp roster features several exciting players looking to showcase their skills and push toward the American Hockey League (AHL) and NHL rosters.
Ty Emberson, a right defenseman who made a significant impact with the Hartford Wolf Pack last season, is on the roster for rookie camp. Joining him on the blue line is Matthew Robertson, a name that has been talked about yearly but has been hampered a chance at the NHL due to the rash of left-handed defensemen ahead of him.
Brett Berard, a fifth-round pick by the Rangers, has officially left college and will be headed to the Wolf Pack this season. He looks to open eyes at rookie camp with a good performance, putting himself on Drury's radar as a potential call-up option. Bobby Trivigno, an undrafted forward who tallied 26 points for Hartford last season, is also on the roster.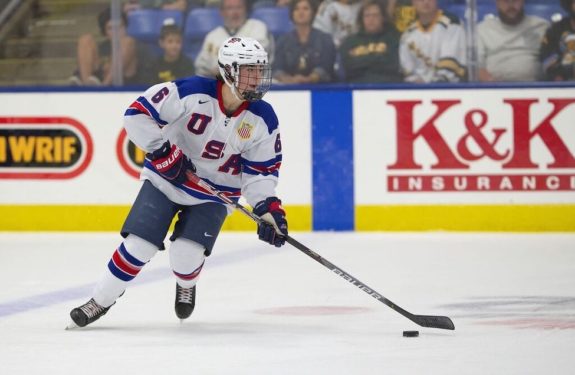 Bryce McConnell-Barker and Dylan Garand are other notable names on the roster. The Rangers' rookie camp will feature a rookie showcase against the Philadelphia Flyers, including two Sept. 15 & 16 games at the PPL Center in Allentown, PA.
Othmann, Emberson Most Intriguing Players to Watch
Although hearing Othmann's name as one of the more intriguing players to watch in this rookie showcase, Emberson's name might be. Emberson was terrific in Hartford in 2022-23, playing at a high level on both sides of the puck. Emberson impressed many during the AHL season and seems a significant consolation prize in what the Rangers intended to be a salary dump trade when they sent Patrik Nemeth to Arizona.
---
Latest News & Highlights
---
What makes this rookie showcase so intriguing for Emberson is the handedness he plays with. The Rangers are stockpiled with left defensemen. Zac Jones and Erik Gustaffson will be the sixth and seventh defensemen, both of whom shoot left.. Ben Harpur, Connor Mackey, and Matthew Robertson are also left-handed. If an injury occurs to the Rangers' right side of the blue line, there are few options outside Emberson as strong-side defensemen.
Of course, the Blueshirts could opt to play Jones or Gustafsson on their weak side, but a good rookie camp, training camp, and preseason for Emberson could make him an immediate contender for a call-up. He may not have the name recognition as some of the higher draft picks before him, but Emberson is a solid defenseman who could make a case for himself this rookie camp.
Related Story: Former Rangers Still Looking for New Homes in 2023-24
Othmann, on the other hand, is a massive name in the Rangers' prospect cupboard. He was selected 16th overall and is the goal-scoring winger the Rangers could use. Colin Stephenson of Newsday reported that Othmann will get looks on the right wing, an exciting development that could elevate the Ontario Hockey League (OHL) standout to the Rangers' roster.
Should Othmann play well on the right side during this tookie camp and throughout the preseason, he could be in the running for an NHL spot. It will be must-watch TV whenever Othmann suits up this camp and preseason, with all eyes trying to determine if he needs some seasoning at Hartford or is ready to compete now at the NHL level.
Other Rangers' Rookies to Watch For
Several players will also be battling for recognition and a chance to deem themselves worthy of a fast track to the NHL. Berard, Sykora, Trivigno, Garand, McConnell-Barker, and Robertson will all be looking to showcase their talents.
Sykora, an undersized but feisty player, won't be ready for the NHL this season but can prove that he may be closer than everyone thinks. He plays a fast, defensive-style game that would perfectly complement the higher-skill guys on the Rangers' roster. By all accounts, he is a hard-working kid who will continue during the rookie showcase.
Berard and Trivigno are two names that are relatively unknown regarding what they can be at the NHL level. Both were undervalued in their draft year and had successful college careers. They, like Sykora, are smaller forwards, but the Rangers are optimistic in their abilities. We have seen Berard play for Team USA at the World Junior Championships, scoring excellent goals and playing that pest-like game that made Brad Marchand so effective.
The rookie showcase will be an excellent place for the two forwards to showcase their abilities and how far their games have come in the past two seasons. McConnell-Barker is another forward-looking to show that he is nearing the NHL level. His play earned him an entry-level deal; as a center, he stands out in a thin position for Rangers' prospects.
He had 77 points for the Soo Greyhounds last season and was the team captain. His leadership, size (6-foot-2, 195 pounds), talent, and position make him an intriguing player at this camp. Garand, the former Team Canada World Juniors goaltender, is a player who could find his way on the Rangers as Igor Shesterkin's backup. Time will tell what his role will be, but a .935 save percentage and a 1.76 goals-against average in the AHL postseason last year certainly opened a lot of eyes.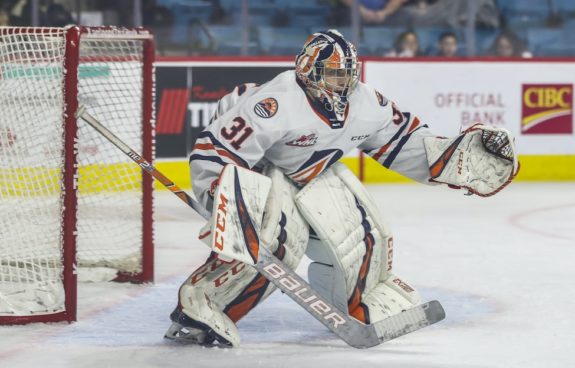 Lastly is Robertson, a defensive prospect who has been on the edge of an NHL opportunity for three seasons. Unfortunately for him, the Rangers have had other defensive prospects edge him out, and he has seemingly been just a tad behind others on the totem pole. It seems the odds are stacked against him again in 2023-24, but a good showcase could elevate his stock.
It's an exciting time in the hockey world as rookies hit the ice, and for the Rangers, several prospects will be drawing interest during this five-day showcase.
---

---